WHO SAYS WINTER HAS TO BE DULL AND DREARY? GO FORTH AND BE BOLD.
Photography + Creative Direction: Brittany Gawley
Makeup: Lyz Plant
Hair: Lori Dyck, Showpony Hair
Models: Kelsey B and Sydney of Models International Management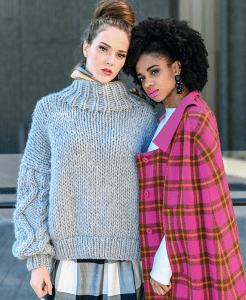 Kelsey is wearing an I Love Mr. Mittens hand-knitted 100 per cent Peruvian wool sweater from Vincent, silk taffeta black and white gingham maxi skirt from Bellwethers Vintage. Sydney is wearing a 1960s Harbro of London vibrant wool cape, 80s pleated wool Holt Renfrew trousers, 60s purple glass grape cluster earrings from Bellwethers Vintage.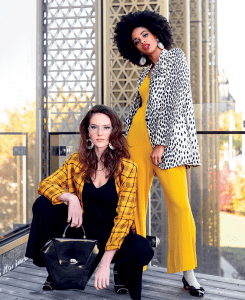 Kelsey is wearing a 90s yellow plaid wool Jones New York blazer, silver modernist earrings, aviators, 60s hexagonal frame bag from Bellwethers Vintage, Back2Front Romper (bamboo cotton lightweight jersey) in black from Duffield Design.
Sydney is wearing an Emerson Fry 100 per cent linen wingtip dinner jacket in leopard from Vincent, Back2Front Romper in mango from Duffield Design.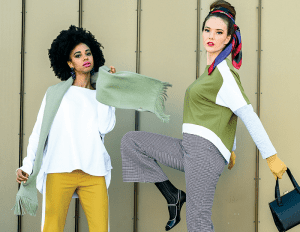 Sydney is wearing a brushed Peruvian alpaca scarf, 60s grape cluster clip-on earrings from Bellwethers Vintage, Frank & Eileen continuous sweatshirt in white from Vincent and Endurance Pants in mango and white (made from bamboo french terry) from Duffield Design.
Kelsey is wearing an 80s Picasso print scarf, 70s bell-bottom knit trousers, 50s chartreuse yellow cotton dress gloves, 60s black leather Kelly-style handbag from Bellwethers Vintage. Haroumi sweater in kiwi, white and silver from Duffield Design.
The vintage Prada black and white patent open toe pumps and black patent Ros Hommerson block heeled pumps are from Bellwethers Vintage, and the swedish stockings (knitted with Nilit® Ecocare recycled yarn) are from Vincent.