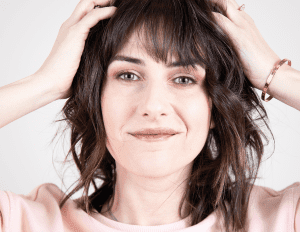 By Beka Shane Denter
Multi-talented, multi-passionate LYZ PLANT is here to cheer you on and ensure you shine.
Years ago when Lyz Plant started working as a makeup artist, she observed something unexpected. While dabbing and blending and highlighting, she'd get chatting with people. That's when it became clear the need wasn't simply for blush or eyeliner. Clients who entrusted her to make them appear beautiful didn't feel beautiful on the inside.
"I found most people who sat in my chair apologized to me for the way they looked before I even knew their names," she recalls. "Makeup sessions often turned into mini coaching sessions or deep conversations about psychology and body dysmorphia. These big subjects would occur more often than not; that's when I knew my work could go beyond the external."
Boy does it ever. Today Lyz is a change artist with a full, nuanced palette of professional skills and life experiences to help people shine. She's a personal coach, mentor, speaker, yogi, educator, environmental activist, self-described "spirit junkie" and makeup artist specializing in clean beauty and wellness.
Undoubtedly, her high profile makeup career has spurred her to look beyond the surface and "deep dive" to help people see their innate value. Former British prime minister Tony Blair, American political scientist Fareed Zakaria, British intellectual Christopher Hitchens (who passed away in 2011), Canadian comedians Rick Mercer, Catherine O'Hara and Andrea Martin, and top model Coco Rocha are just some of the public figures who've sat in Lyz's makeup chair. Her services have been used at events ranging from fashion weeks in Ottawa, Toronto and Vancouver to the high-profile Munk Debates. What's more, she has owned one of Canada's first eco makeup and skincare stores.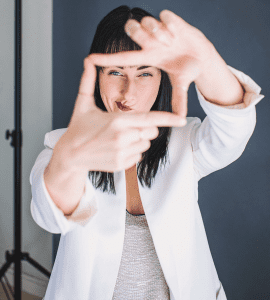 Today, that background in makeup, fashion and entrepreneurship certainly informs her coaching work, which encompasses personal branding, business, life, wellness and spirituality.
"I'm here to help people feel their very best," she says. Coaching possibilities range from a 90-minute, one-on-one Breakthrough session to the VIP Intensive: "an entire day to utilize some or all of my skills." Another option is The Ultimate, an eight-week schedule of ongoing coaching tailored to meet your needs and concerns. Not only will Lyz create custom packages for you, she also offers private and group lessons, workshops, speaking and brand consulting.
"After decades working in makeup, I figured out what I loved most about it was helping women feel their best—and makeup was one tool to achieve this. I now have many other tools and angles to do so."
She doesn't just use those tools to help people feel their best, though. She also helps clients show the world their best selves. In her words, "True, consistent confidence and a positive sense of self are everything."
Whether you're switching careers, starting your own business, re-joining the workforce, trying to get out of a rut or changing life direction, a cheerleader in your corner can make a difference, Lyz suggests.
"Everyone can benefit. Most of my clients are women, but men book in too." "Really," she adds, the coaching is geared to "anyone feeling disconnected with themselves, or who has been running through the motions of life for too long. Women especially put themselves last on the list far too often. It's important to remember that they owe it to themselves and their loved ones to show up as their best and happy selves."
Most popular are the Breakthrough sessions. "We chat for a bit, establish your main goals and needs, and choose a technique to best get you where you want to be—ASAP."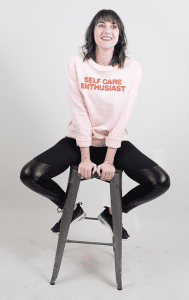 Lyz is certified in Neuro-Linguistic Programming (NLP), Emotional Freedom Techniques (EFT) and Time Techniques. "All three techniques support the goal of feeling your ultimate best," she says. "There's something magical that happens when you really, earnestly look someone in the eye and tell them how incredible they are. When people feel heard, great things can happen."
She has lots of know-how to help you get through life-blocks or change your limiting beliefs. "We work towards a goal together and build up self-confidence. I'm here to support you and be your biggest cheerleader."
She can also teach you to be your own cheerleader by, for instance, reframing situations from a different perspective or, at the end of the day, thinking of what you've accomplished. "All those little wins," as Lyz calls them. They add up.
Ultimately, Lyz's earnest eagerness to listen and lift you up is what sets her apart. Not only does she hope you walk away from coaching with a new level of confidence, she wants you to get everything you wish for in from life: Love, laughter, fulfillment, adventure. lyzplant.com
Lyz shares these mini exercises:
Keep a gratitude journal. First thing in the morning and last thing before bed, jot down three things. Nothing is too big or too small.
Be open to seeing things differently. Look at a situation from the other person's point of view and consider what lesson you can learn from it.
Let things go. Write about anything that isn't serving you any more, in as much detail as you need, including how it makes you feel. Then set the paper on fire (safely). As it burns, imagine it leaving you. Make this into as much of a ritual as you like. Make it yours.
Breathe. Close your eyes, taking three deep breaths and exhaling slowly each time. While inhaling, envision something you want, for instance the confidence to ace a networking event. While exhaling, let go of what isn't serving you, such as anger, frustration or sadness. To start simply, breathe in love, breathe out fear.
Do something you've never done before. This can be anything from travelling alone to attending your first yoga class. It can be scary to venture beyond your usual bubble, but it can also feel incredibly freeing and inspiring. Great things come from breaking through fear.