By Hattie Klotz
Photos by kathi robertson & wmlucy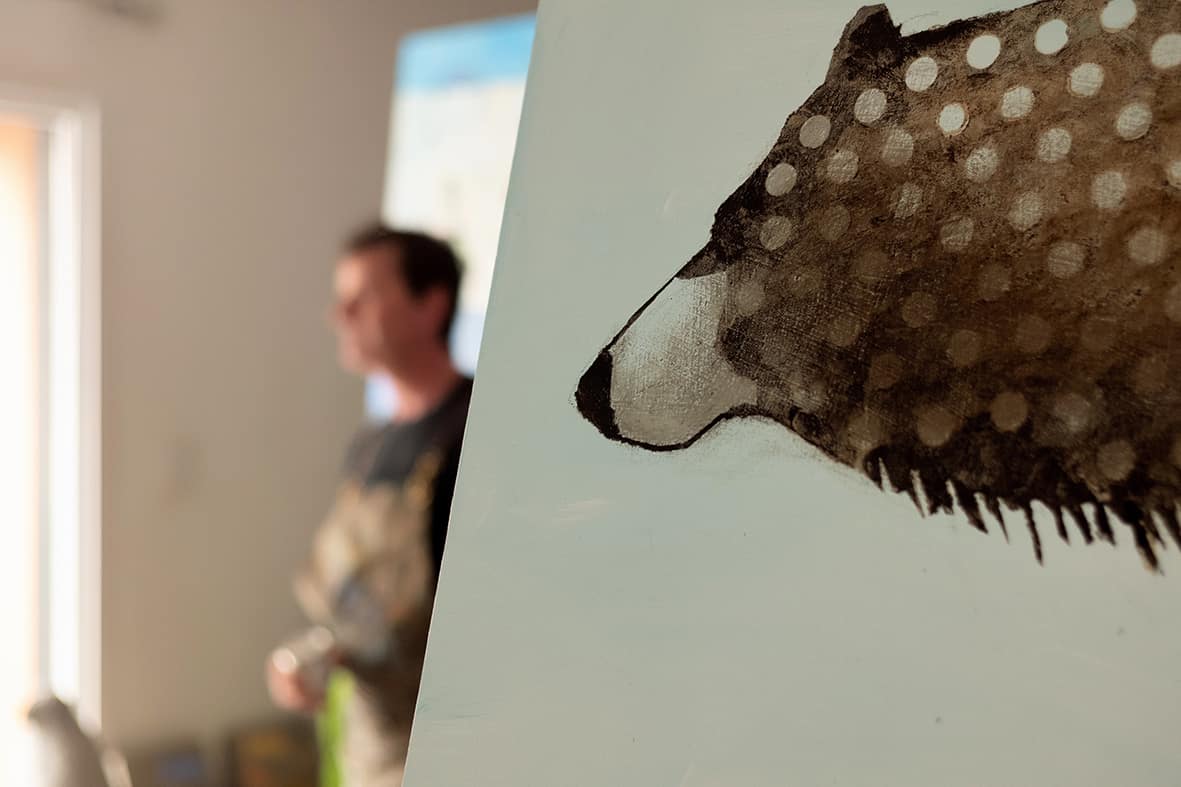 Across Ottawa and different mediums, artist Christopher Griffin is making an indelible impression.
In Grade 13, Ottawa artist Christopher Griffin received an offer from the University of Guelph to study business. He tore the letter up and never told a soul. Instead, he studied illustration at Sheridan College.
"I wasn't a very good illustrator," he recalls. In fact for the first three years of his art career—one that has seen him raise hundreds of thousands of dollars for charity, work with disabled children and adults, fulfill private and public commissions, and develop an instantly recognizable style—Christopher lived under the poverty line.
"I don't take anything for granted," he says now, seated in his Kent Street studio. "I earned less than $9,000 a year, and that's given me perspective. I'm very grateful to be able to do this and make a living as an artist."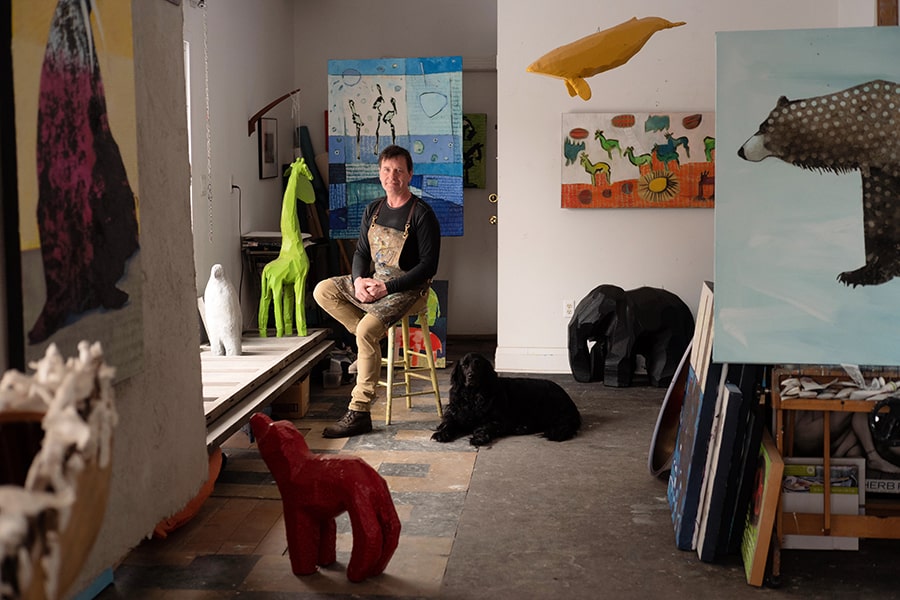 It's a gratitude he returns to the community in spades. In April of 2020, Christopher decided to help others hit hard by the pandemic. So he pulled together a plan to auction a painting a week to raise funds for the Ottawa Food Bank. "It was all rather fly-by-the-seat-of-my-pants," he says, "because I know that successful auctions take a great deal of effort. I thought it would all be too rushed."
Art lovers in Ottawa thought otherwise.
Between spring 2020 and January 2021, he raised over $50,000 via 32auctions.com, with 100 per cent of proceeds going to the food bank. His final painting on New Year's Eve depicted a cheeky donkey giving a double-footed kick to the year. Called So Long Marianne 2020, it raised $4,550.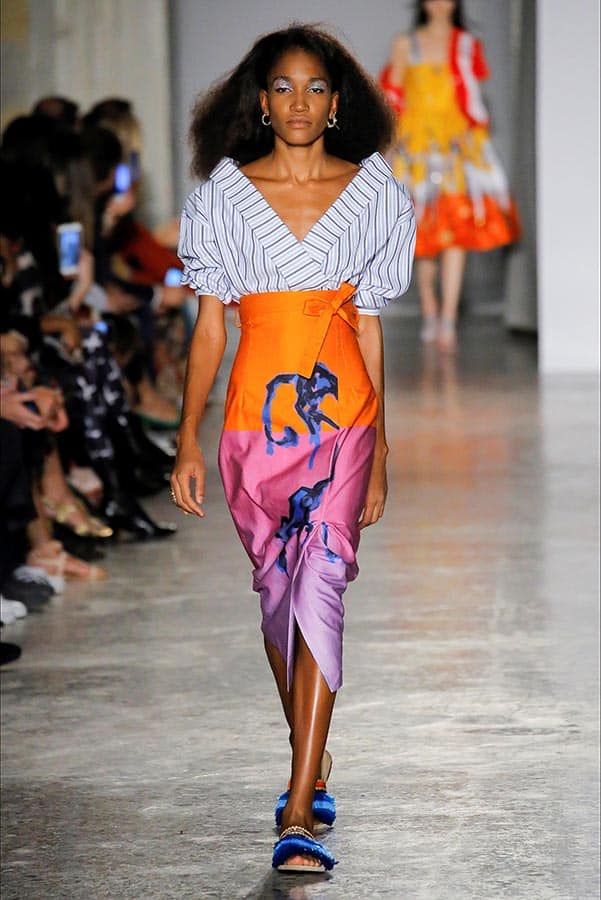 For another auction, Christopher's collaborative work with Jake Riseborough, a student at BEING Studio, was chosen as a Critics' Pick. The occasion was the Ottawa Art Gallery's virtual fundraising auction and the artwork, Bear and Monkey, is one of many he has worked on with students at the studio. Founded to support artists with developmental disabilities, BEING Studio offers space, tools and representation for these local creators.
Christopher has been giving workshops there since 2017 and working with members to finalize their pieces. "It's been really interesting, and rewarding," he says, "because these artists have none of the baggage that conventional art students have and they sometimes do the unexpected, which makes the work stronger." In 2018, he organized an exhibition at The Manx Pub, where 15 of 17 works sold, with proceeds going to the artists and the not-for-profit studio.
Even on holiday, Christopher finds an extra spark of creativity. In 2012, while in Costa Rica, he drew a series of capuchin monkeys that subsequently formed part of a show. Then in March 2018 he received an email asking if his monkeys might be used in fashion design. He figured it was a scam. But designer Stella Jean, a protégé of Giorgio Armani, turned out to have 140 outlets across Italy.
Although Christopher wasn't paid for the use of his art in Jean's designs, he appeared in Vogue magazine and flew to Milan for Fashion Week where he was given tickets to the runway show. "It was really an amazing experience," he recalls.
On a trip to Mexico, he was checking into an Airbnb rental when a whale breached over and over in the bay in front of the house. "I asked locals if this was normal," he says, "and they all said it wasn't. They explained that usually the whales stayed farther out to sea. It was like a welcome committee with the setting sun shining off the body of the whale."
Whales feature regularly in Christopher's work, both in paintings—a giant one hangs at The Whalesbone Elgin Street restaurant—and in sculpture. A sculptural whale hangs over the bar at Flora Hall Brewing.
Styrofoam is the base material for his sculptures, which he then covers in concrete or an industrial-strength protective coating, allowing the pieces to live outside. You're apt to have seen them across the city. A turn of turtles greets visitors at the Beaverbrook Library in Kanata, while a pair of Peregrine falcons perch on the Bronson Avenue/Riverside bridge, inspired by a nesting pair at the nearby RA Centre and his own concrete mural on the underpass below.
Christopher's work in concrete began in 2009 with the exterior of his own house. "It was falling apart," he recalls. "And of all the exterior cladding options we were offered, vinyl was the only affordable one." He didn't go for it. Instead, he engaged a new architect— Andrew Reeves from Linebox, known for his creativity and boundary breaking—and the pair began to investigate other options. When Bill Riseborough, concrete specialist, came on board, they found a solution. The artist worked behind the contractor, etching his designs into still-wet concrete. The result is a series of etched designs all over the exterior of his house.
Since that time, Christopher has won several public art competitions using this technique. The Bronson Avenue underpass boasts a series of panels etched with falcons, and the Glebe is home to two of his works in concrete: Raccoons roam at the community centre while the parking garage is home to wildlife commonly found in the area.
Since concrete has a certain rough-edged quality, it should come as no surprise to learn Christopher has also worked in graffiti. In Ottawa, it all began when street artists tagged his studio and a neighbouring business for the umpteenth time; he transformed the tag into a blue pony. In his recently published book, Pieces, he explains. "Even before I started this project (the book), I was thinking of what I could do with graffiti. When I got tagged, that really triggered it. It was a challenge."
Since then, he's tussled with city bureaucrats over graffiti, and to a certain degree with the graffiti artists themselves. The city removes thousands of graffiti markings each year at huge expense to taxpayers. Generally, the offending mark is painted over with a grey patch. Not only is the "fix" ugly, it encourages taggers to come back. But the powers that be don't much like Christopher's additions either, even if they're done in broad daylight with a brush and roller. And the graffiti artists? They don't want him messing with their work.
"We didn't like that he was going over tags, and we were confused as to why he was doing it," says Pété, a graffiti artist from Gatineau, in Christopher's book Pieces. "It was obvious to me that he really cared about graffiti. He thought what he was doing was harmless. But some guys were getting really pissed because he was messing with their tags."
The artist is now careful never to touch another person's tag, especially since he's been threatened a number of times. He simply enhances it by adding colour and lines around the original image. He's done this in places far and wide, pulling out his brushes in London, Barcelona, Madrid, Lisbon and Mexico. "It's a great way to see a city," he notes with a rebellious twinkle in his eye.
It's also a great way to nullify graffiti. Before COVID, Christopher was sending his book on the subject all over the world. "Can you imagine if this caught on, to neutralize gang tags? It isn't a solution, but this could really be art having some power."
His art already has power. Recently, the children of one of Christopher's first clients, Malcolm, commissioned a large painting for his 100th birthday. "We first met when Malcolm was in his 80s," he recalls. "He used to make studio visits."
Now a resident at the Perley and Rideau Veterans' Health Centre, Malcolm felt the painting of three elephants was too large for his room, so it hangs in the cafeteria for everybody to enjoy.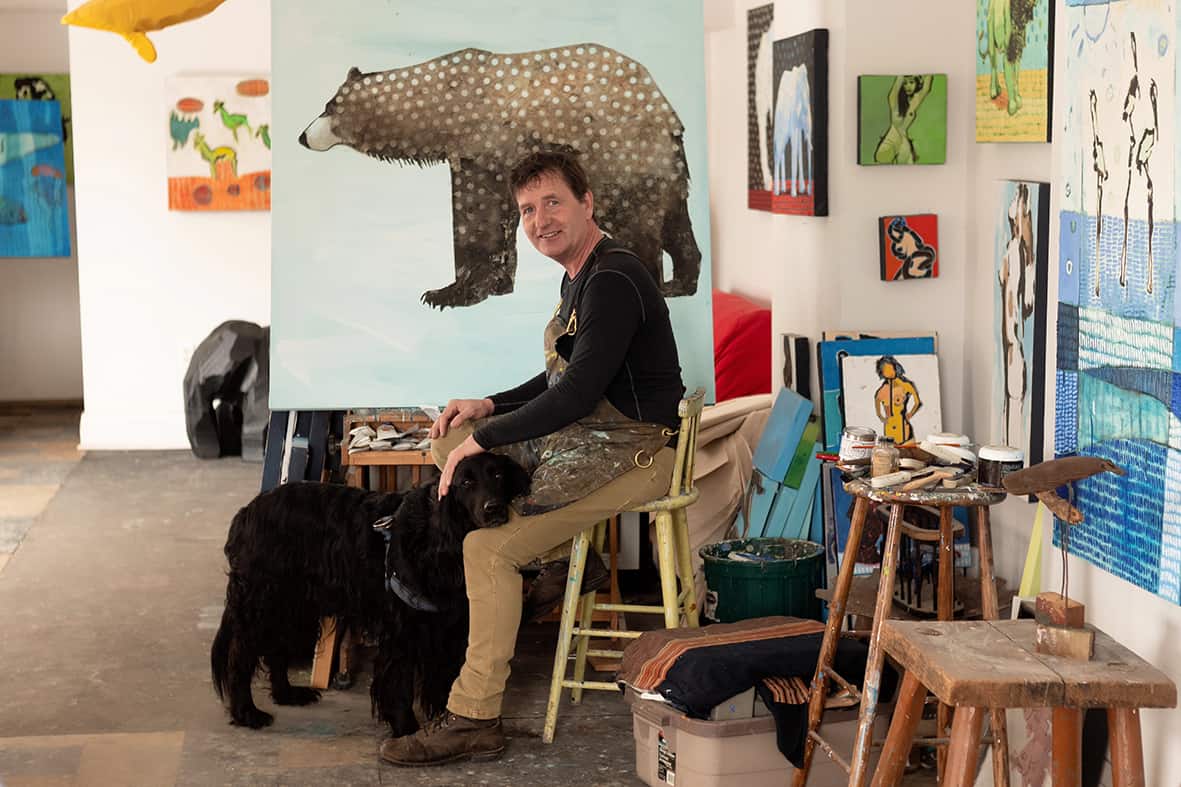 Christopher Griffin's studio is at 435 Kent Street.