Who would have thought I would be wandering on the same grains of sand as past kings that once ruled over an Arabian oasis.
There I was, on camelback, slowly passing majestic canyons in the Jordan desert all the while making my way towards an epic sunrise. A tapestry of jewel gold, fall-like orange, and vibrant red adorned the morning sky. Seeing such splendour was purely breathtaking. And to say, this is just a glimpse into my Arabian journey.
Bordered by Saudi Arabia, Iraq, Syria, and Israel, Jordan is considered one of the safest countries to visit in the Middle East; thus, it is becoming more and more of a tourist hotspot. As I observed, Jordan's many regions cater to all personalities, from the quintessential historian to the adrenaline thrill-seeker to my favourite, the lover of all things decadent and luxurious.
One of the regions is the spectacular UNESCO World Heritage site of Petra; also known as the jewel of the Middle East. Although the carved rose-red rock city was built by the Nabataeans more than 2000 years ago, time has been kind to her.
Familiar to most is the celebrated sandstone temple the "Treasury." Naturally, one cannot forgo a visit to such an iconic architectural masterpiece. So, as I walked through the rose-red valley bounded by towering sandstone walls towards the narrow cleft where the Treasury lies, I was passed by horse-drawn carriages and soldiers dressed in armoured gear. And then there it was in all its majestic beauty; and to think, this was all created by human ingenuity in a valley of rocks. The history and timeless allure it possesses are unmistakeably irrefutable. For a truly unique experience, immerse yourself in the magic of the Treasury at night. As you sit in the glow of a thousand candles while sipping Arabic tea, you are seduced by the sounds of live traditional music.
Another of Petra's awe-inspiring monuments is the "Monastery." This hidden gem sits way up in the hills, which makes it the most challenging to reach. Not one to be easily discouraged, the adventurer in me set out on an exhilarating donkey ride up the mountain. With adrenaline coursing through my veins, I couldn't stop looking down the steep slope as my four-legged escort and I ascended to the largest of Petra's temples. The Monastery, with its immense stone-carved façade, clearly doesn't disappoint. Yet the site's best feature could very well be the spectacular views of the Petra valley. Enthralled by its magnificent grandeur, I gained a true appreciation for Petra's historical significance.
Jordan's largest desert landscape, Wadi Rum, also known as The Valley of the Moon, is a popular region for all things adventurous. There is a host of activities to be enjoyed in this sandstone wilderness, from simple thrills like rock climbing and camel trekking to the more sophisticated escapades of glamping in a desert retreat. In Wadi Rum, not only did I have the opportunity to show my audacious side by jumping on the back of a four-wheel drive truck to traverse the hot desert sand dunes, I also had the pleasure of allowing my desert princess persona to shine in a lavish Bedouin style tent at the Rahayeb Desert Camp.
The 'Mini Deluxe Suite' I was allotted was well-equipped with all of the modern amenities complete with a private en-suite. I felt like royalty as I casually relaxed in a desert oasis surrounded by reddish canyons and sandy mountains without ever having to lift a finger for anything. As a fervent food enthusiast, I was salivating at the sight of Wadi Rum's Zarb, which is a traditional meal consisting of lamb, chicken and vegetables cooked over charcoal stones placed several feet underground. After such a delightful meal, I sat around the campfire mesmerized by the intensity of the thousands of stars illuminating the dark canvas. I felt as though I was witnessing an exceptional work of art.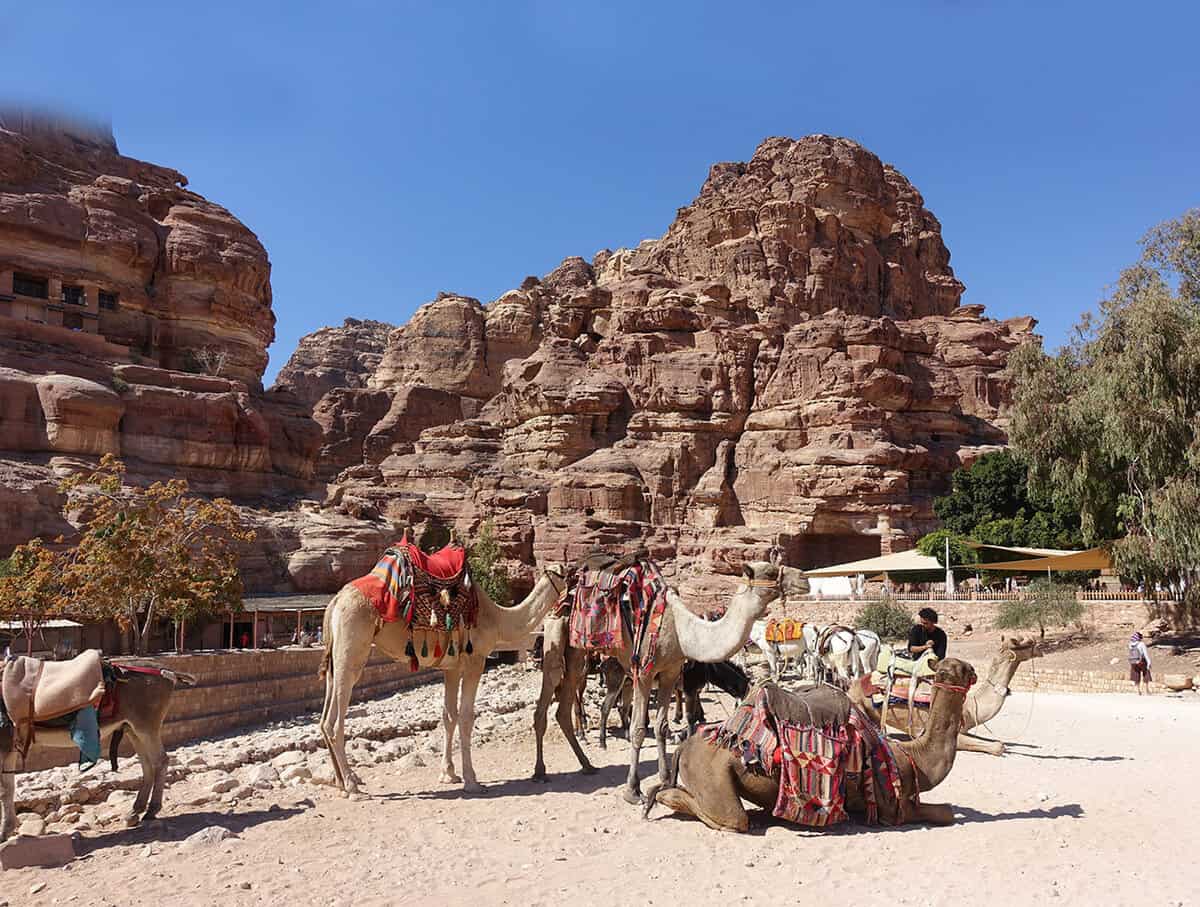 The next day, dressed for the cool morning air, I rode off into the desert with my camel and its herder to catch a glimpse of the Arabian sunrise. As the sun rose above the horizon, I recognized that this was a once-in-a-lifetime experience. Riding back to camp, I noticed our tracks in the sand and I couldn't help but reflect on this land's rich history, of which I was a part of for a brief moment.
Aqaba, a short 45-minute ride from Wadi Rum, is Jordan's Red Sea resort town. Known for its abundant marine life, Aqaba is a snorkelling and scuba diving wonderland. While snorkelling, I was amazed by the sheer beauty of the Red Sea's untouched coral reefs and its pristine waters. Another way to appreciate Aqaba is to partake in a yacht luncheon where one can savour some local barbecued fish and marvel at the view of the pink mountains. It was only fitting that during my Arabian Journey I stayed at the exquisite and opulent Kempinski Hotel Aqaba Red Sea. As the only luxury hotel to offer European services and full views of the Red Sea in every room, the Kempinski Hotel and its personalized services ensure that your stay in Aqaba is nothing short of memorable. There's something to be said about basking in the glow of the sun poolside, while sipping swanky cocktails and taking in the full sight of the Red Sea. It would almost be sinful to travel around Jordan and not visit the infamous Dead Sea. To add to my already splendid Arabian journey, I stayed at the posh Dead Sea Marriott Resort & Spa. Everything from the deluxe accommodations, first-class hospitality, and outstanding cuisine to the premier wellness spa validates its outstanding reputation. To rightly experience the beneficial properties of the Dead Sea, you must first relax your body and mind by floating in its hypersaline waters. Then, generously coat your whole body in its mineral-rich black mud and surrender yourself to the healing powers of the world's largest natural spa. And bid farewell to all of your stress.
With a blend of traditional experiences and sophisticated modern luxuries, Jordan pampered me with its exotic culture and mysterious beauty. My Arabian journey was nothing short of fabulous.
How to get there
Royal Jordanian Airlines offers non-stop flights to Amman, Jordan from several Canadian cities.
For more information about Jordan and its experiences. myjordanjourney.com
Brigitte Hasbron, owner of The Food Tease, Ottawa, Canada's only culinary and travel blog,
highlights the best that food, wine and travel have to offer. thefoodtease.com