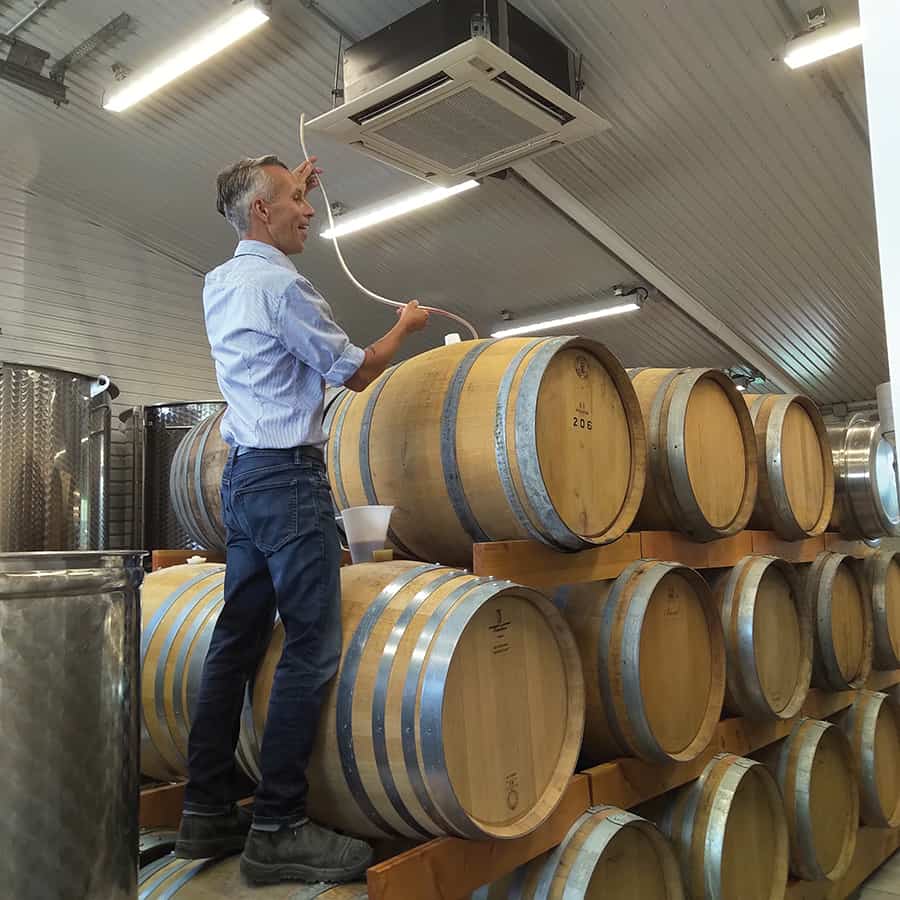 Located just outside Carp, this winery has been a game changer for the region.
Story and photos by Janet Dorozynski
If you told me when I moved to Ottawa almost 20 years ago that you could make good wine in the area, I probably would have scoffed and said it was impossible. Although we have plenty of the requisite light and heat during the summer growing season, our continental climate also means extreme winter temperatures, along with late spring frosts, that make the business of growing grapes and producing wine here even riskier and costlier than usual.
Yet despite the risks and cost, we have seen over a dozen wineries pop up within an hour or so of Ottawa, from VanKleek Hill Vineyards in the east to Scheuermann Vineyard & Winery in the southwest Rideau Lakes area. These wineries are small in scale, even by Ontario standards, with a fair number serving as second careers or retirement projects, for which the owners are often both the grape growers and winemakers.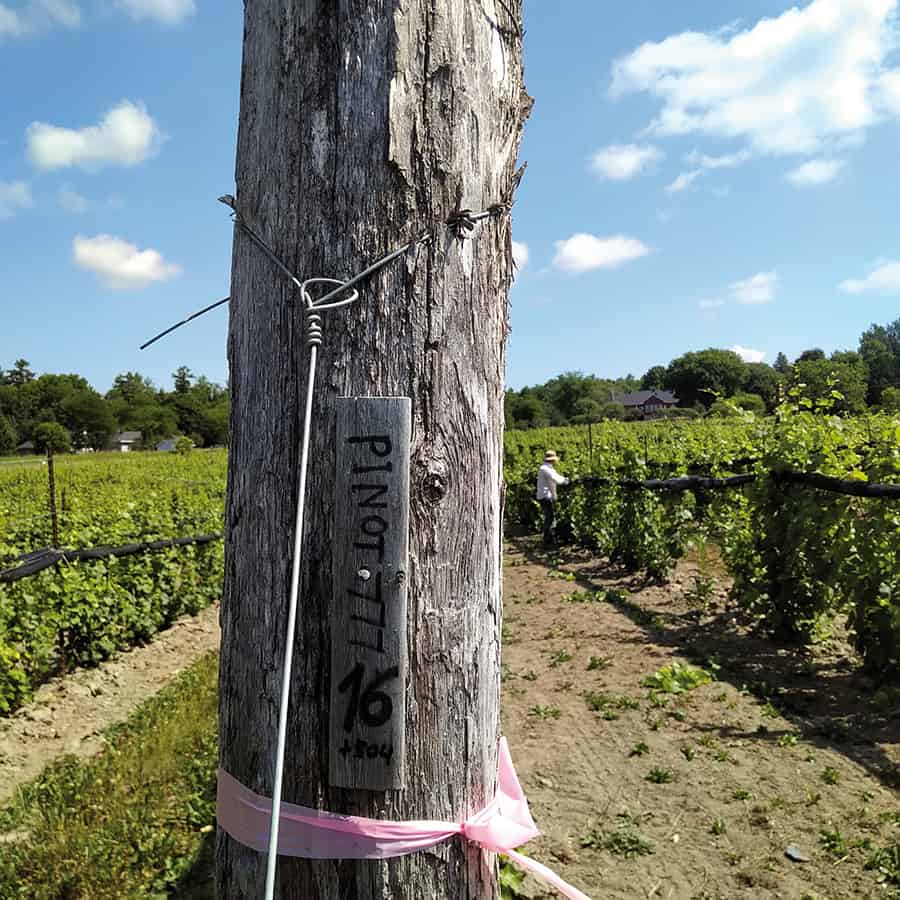 Most Ottawa area wineries make wines from French American grape varieties like vidal blanc or maréchal foch or, more commonly, from what are known as Minnesota varieties such as marquette, Saint-Pépin or frontenac blanc and noir. These hybrid grape varieties were bred for cold winter hardiness at the University of Minnesota Grape Research Program and are widely planted in Quebec, Vermont and New York State. Although shunned by some wine drinkers, wines from hybrid grape varieties have recently found a cult following in trendy wine bars in New York City, London and Montreal. VQA Ontario, the provincial wine regulatory body, also recently approved the use of marquette in VQA wines, which some say points to the promise and quality of the variety.
A few Ottawa area wineries also grow vitis vinifera—chardonnay, pinot noir and cabernet franc. Additionally, they bring in grapes or the juice of crushed grapes from Niagara to use while their own vines mature or to supplement and blend with what they are growing locally.
Kin Vineyards, located just outside Carp, falls into the latter category and has been a game changer for the region. The winery started in 2012 with a five-acre vineyard on Kinburn Road planted to hybrid varieties, along with chardonnay, pinot noir, cabernet franc and muscat ottonel. Plantings expanded in 2014 to the present-day Carp Ridge Vineyard site, which has 10 of the 47 acres planted equally with chardonnay and pinot noir along with a sprinkling of marquette and a few other experimental varieties.
Ownership of Kin changed hands last year and new owners Lorraine Mastersmith, a practicing corporate lawyer, and Shaun McEwan, a CA and former CFO, are committed to buil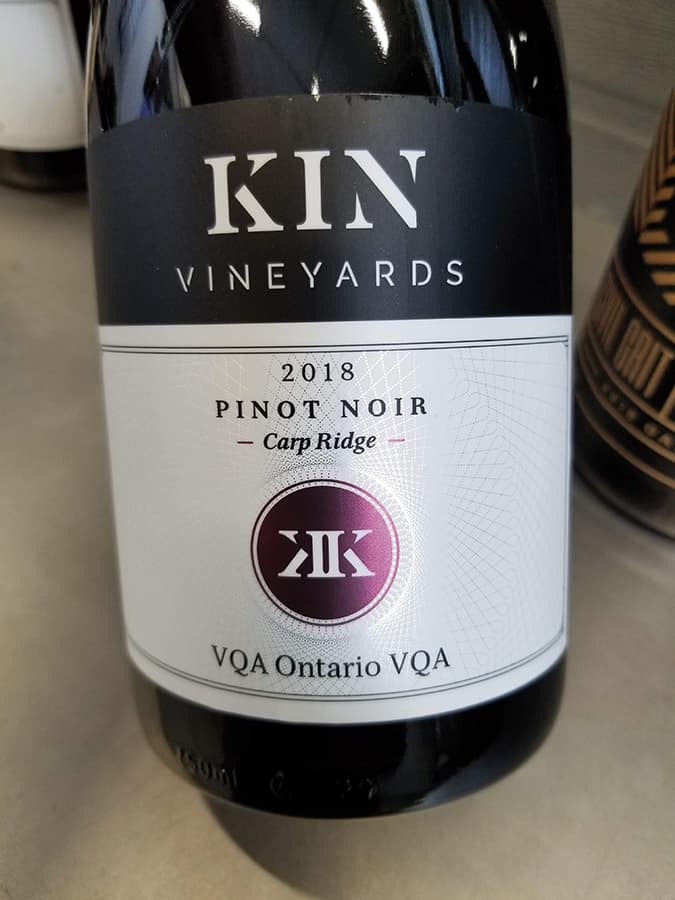 ding on the original vision, and focusing on chardonnay and pinot noir. This has been made possible under the stewardship of experienced winemaker Brian Hamilton and his knowledgeable vineyard team.
Brian has been the winemaker at Kin since its inception and from what I've tasted over the past year, he can be credited for the high quality wines being made. Hamilton trained as chiropractor, then practiced in Whitehorse. After catching the wine bug, he worked part-time at Malivoire Winery in Niagara in 2001 while taking courses in winemaking and viticulture at Brock University. He soon left his day job and worked at a number of respected wineries in Sonoma and New Zealand, as well as at Tawse Winery and Southbrook Vineyards in Niagara before coming to Kin. He brought with him a wealth of cool climate winemaking knowledge and experience, crucial when working in a frontier region where each day and vintage is essentially new and uncharted territory.
As we walked through the various blocks of the Carp Ridge Vineyard, on a brilliantly sunny and hot day in July, Hamilton was enthusiastic about the vineyard's long-term potential. He believes there is a microclimate in this area that allows grapes to thrive regardless of varying vintage conditions. The Carp Ridge Vineyard is ideally located on gently rolling, southwest facing slopes situated on glacial till soils over the limestone base of the Hazeldean Fault.
Kin farms its grapes sustainably, using organic and biodynamic methods, though they are not certified. Its wines are made with minimal intervention. Hamilton notes it's simple winemaking, with wild yeast fermentation for all the wines made from estate fruit. Similar to Prince Edward County, yields here are naturally low. Instead of harvesting three to four tonnes of grapes per acre, or more depending on the variety, as you can in Niagara, Kin's harvests are much lower, ranging from 300 kilograms in 2018 to 1.3 tonnes an acre in 2019 for pinot noir.
The vines must also be buried after harvest and unearthed each spring to enable them to survive cold winter temperatures. Kin has been experimenting with geotextiles, materials used to cover crops for winter protection, initially used in nurseries and now increasingly by vineyards in Quebec and other emerging regions north of Toronto in Ontario. Using geotextiles, like burying vines, adds to the overall cost of making wine here. According to Hamilton, though, it will be an effective means of protecting and increasing the long-term health and yield of the crop.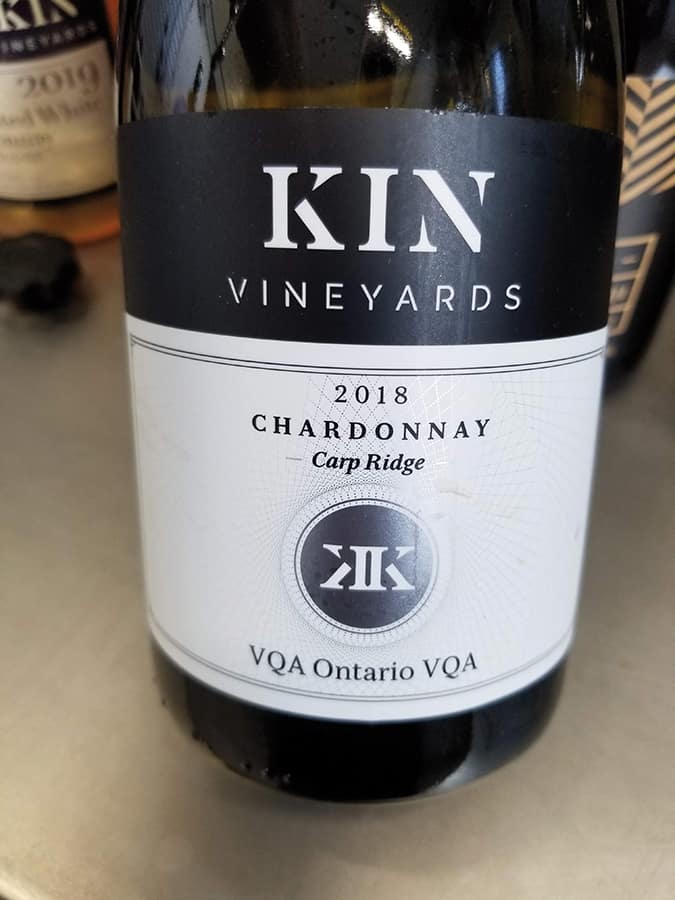 Kin Vineyards makes a dozen or so wines with grapes from the Carp Ridge Vineyard as well as fruit purchased from Niagara and other regions in Ontario. When the winery opened in 2012 it made 500 cases in total. In 2019 it made 3200 cases, of which 30 per cent came from estate fruit from the Carp Ridge Vineyard. The long-term plan is to increase plantings and make more wines from its own vineyard. Kin is moving away from planting hybrids but will continue to grow marquette, which Hamilton sees as one of the best Minnesota varieties to make quality wine. He would also like to see gamay, gewürztraminer, pinot gris and cabernet franc planted at the Carp Ridge site, as he thinks they would do well.
I tasted through a range of Kin wines during my visit, some made from estate fruit and some from Niagara, which are clearly labelled on the wines and Kin website. Winemaker Hamilton doesn't think there is anything wrong with sourcing fruit from Niagara as long as wineries are transparent so that consumers know. I am fine with that as well, but the Kin wines that stood out for me were clearly those from the Carp Ridge Vineyard fruit.
The 2018 Carp Ridge Chardonnay ($40) is aromatic with an abundance of stone fruit on the nose and palate, with a fine seam of acidity and chalky toasty notes on the mid palate to finish. It has a fair bit of richness from partial malolactic fermentation, though I think the wine might be even better if its natural acidity was left to shine through more clearly. I also tasted the 2019 in barrel, which has a similar flavour profile with even more generous fruit, so keep an eye out for this release.
Kin also makes a skin fermented chardonnay (one of 13 VQA skin contact wines made in Ontario in 2019) from Carp Ridge fruit. The grapes are left to ferment on the skins for 33 days (white grapes are usually pressed and separated from their skins for fermentation) with indigenous yeast like all the other Carp Ridge wines. The 2019 wine ($29.95) has a beautiful light orange amber hue and is slightly cloudy, with ginger spice and citrus aromas and flavours. There is a touch of leanness on the mid-palate but with the pleasant grippy texture one comes to expect with skin fermented whites.
Kin also makes an attractive pinot noir from the Carp Ridge site, which is reminiscent of some of the best Prince Edward County pinots. The 2018 ($40) is lighter in style and colour with 11.5 per cent alcohol. It's a lively and elegant wine with cranberry and cherry notes and slightly chalky tannins, which I think will only get better with some time in bottle. I also tasted the 2019 in barrel, and like the Carp Ridge chardonnay, it has a bright future in store.
Kin Vineyard wines are available at the winery, farmers markets, local restaurants and at some Ottawa area LCBO stores, so be sure to check them out. This is an exciting winery project for eastern Ontario and an Ontario winery definitely worth watching. kinvineyards.com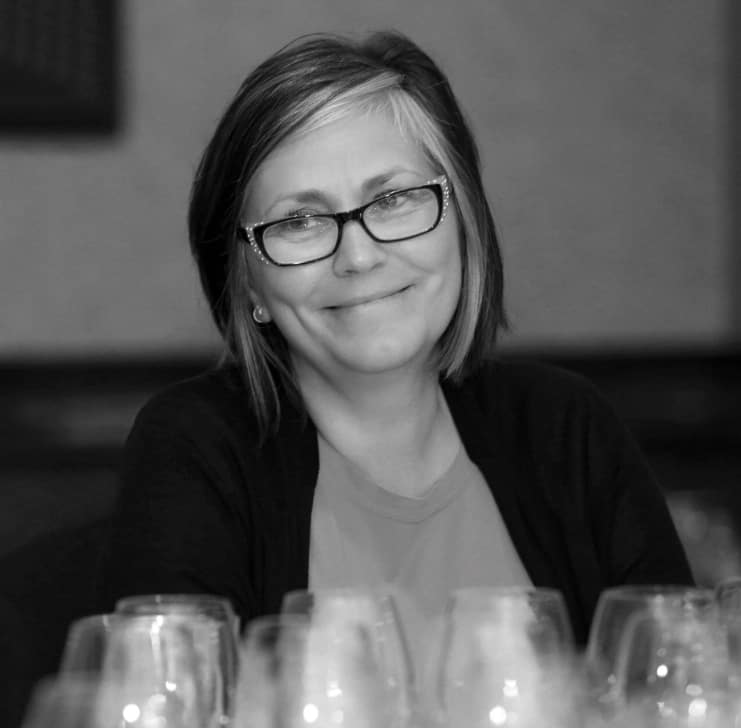 Janet is the wine columnist for LUXE. She is also a reviewer and contributor to WineAlign.com and GismondionWine.com. She has been tasting and studying wine for two decades and reviewing and judging at wine and sommelier competitions since 2001. You can follow her on Twitter and Instagram @winetrackmind.