Miami Beach's affluent enclave of Bal Harbour offers a prime location with unrivalled amenities
By Janet Wilson
Stretching out on a yoga mat at Exhale Spa inside the Ritz-Carlton Bal Harbour, I feel my shoulders relax and tension slowly subside. Our instructor welcomes the hearty band of early risers and encourages us to think of good intentions. With full-length windows overlooking swaying palm trees and the shimmering green blue waters of the Atlantic Ocean, I breath in and mutter under my breath, "Life is good."
Bal Harbour is tiny — a mere one square mile — but the shining enclave is packed with charm, stunning architecture, ultra-chic shopping, gourmet restaurants and luxury hotels. It's an exclusive neighbourhood where discerning couples and families can enjoy a quieter slice of life on Miami Beach, but be close enough to seek a taste of the action in South Beach, 20 minutes away by cab. With a pleasing year-round climate, sensational sandy beaches and a plethora of sporting and cultural activities, this sunny destination is a big draw for Canadians.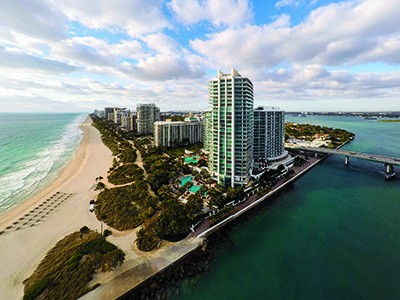 The dreamy oceanfront village was envisioned more than 70 years ago by a Detroit-based development firm headed by industrialist Robert Graham. The name Bal (letters from the word "bay" and "Atlantic") Harbour was formed to encompass the bay and the ocean with the goal of attracting an upscale clientele. By the 1950s, the area was touted as America's Riviera and was a magnet for the wealthy and famous. Home to about 3,000 residents, the area now attracts millions of visitors a year.
The Ritz-Carlton, an exceptional five-acre urban retreat, is located at the northern tip of Miami Beach overlooking the ocean and the inlet to Biscayne Bay. It is an ideal place to hang up your winter coat and relax. The hotel's interior is painted in soothing earth-tone hues with striking natural wood finishes and impressive art and sculptures throughout. Opened in 2014, the tranquil hideaway, which is pet-friendly, features 92 rooms with ocean views, including one-and two-bedroom deluxe suites, luxurious soaking tubs and semi-private elevators and personal entrances.
Intimate cabanas with private hot tubs are located close to the expansive pool area and the Pool Bar & Grill, which serves light meals through the day. The Artisan Beach House, the hotel's signature restaurant, features a flavour-forward, farm-to-table menu inspired by executive chef Todd Coddington and his culinary team.
The airy space exudes a coastal chic vibe with elegant lighting, crisp white table cloths and views of the water. An outdoor dining area centred around a large bronze sculpture by Guy Dill resembling a ship's anchor, is an ideal spot to enjoy breakfast or lunch. Try the salt roasted beet salad with greens, Humboldt Fog, pumpkin seeds and the grilled fish sandwich with lemon aioli.
At the Exhale Spa, a relaxing sanctuary, I savoured every minute of an hour-long fusion massage. I felt so rejuvenated that I headed back into the sunshine for a swim in the heated pool and then a stroll along the beach and nearby fishing pier to watch the yachts motoring by toward the bay. Exhale also offers yoga and other fitness classes.
The Quarzo Bal Harbour, a 27-room boutique hotel, is located nearby across Collins Avenue and caters to families seeking a home-away-from-home experience. With no restaurant, the expansive residence-style studios and suites are fitted with sleek kitchens and contemporary finishes. Overlooking the Intracoastal Waterway and the base of the Haulover Bridge, the outdoor lounge and pool area offers pretty views and tons of relaxation.
The Sea View Hotel, a charming establishment opened in 1947, exudes a European elegance and features 220 newly renovated guest rooms with views of the ocean or Biscayne Bay. Enjoy a nap on a lounge chair overlooking the Olympic-size pool or a meal and drink at one of its restaurants.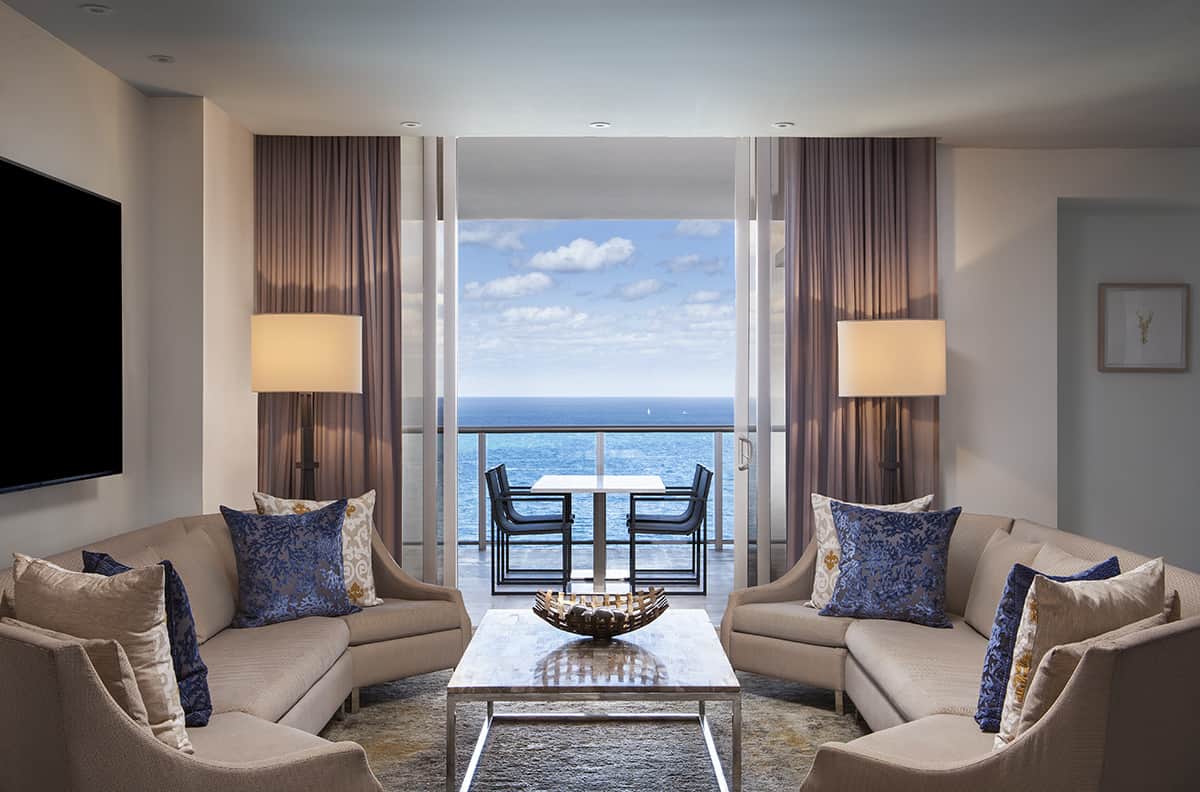 The epitome of style and class, the spectacular St. Regis Bal Harbour sits at the gateway to the village and opposite Bal Harbour Shops, one of the last family-run shopping centres in the U.S. The five-star hotel screams luxury with twinkling chandeliers, glitzy Art Deco-inspired mirrored surfaces, rare stone marble and hardwood on floors and walls and a standout art collection. My favourite is the ceramic silver and shiny crystal-beaded deer sculpture by Kohei Nawa in the reception area. With a full-time butler service, a daily afternoon tea ritual, champagne-sabring sunset ceremonies and exquisite culinary restaurants, the Astor family, who opened the first St. Regis in New York in 1904, would be proud.
Each of the resort's 244 sumptuous rooms and suites has an ocean view. With two pools, nine luxury cabanas and four restaurants, you never have to leave. The heavenly five-star Remède Spa with Finnish sauna, aromatic steam room and whirlpool, offers signature experiences, including the 24-karat Designer Facial, which begins with a copper-enriched peel and ends with a sprinkling of gold oil. I floated out of the spa after my 50-minute restorative massage followed by a glass of sparkling wine and fresh fruit plate in the relaxation lounge. I later signed out a bicycle and rode alongside joggers on the beach bike path checking out the lush properties.
Dining at Atlantikós, the main restaurant at St. Regis, offers guests an authentic Greek experience from its white-and-blue island decor to the carefully curated dishes by executive chef Tasos Chasekioglou, which have been sourced from Miami and direct from the fish markets in Piraeus. A large breakfast buffet is served here or guests can order à la carte and dine outside on the sunny terrace. Enjoy a tasty burger and tower of rings at the BH Burger Bar, an Asian-inspired meal at the St. Regis Bar & Sushi Lounge or a macaron and coffee at La Gourmandise housed inside the newly renovated lobby expansion.
Directly across the street at 9700 Collins Ave., is The Bal Harbour Shops, an open-air shopping centre with lush green space and ponds with the largest koi fish I've ever seen. Opened in 1965 by visionary Stanley Whitman, the mall remains the ultimate shopping destination boasting three floors and 100 exclusive luxury boutiques and restaurants, including Alexander McQueen, Chanel, Louis Vuitton, Pinko, Phillip Lim, Gucci, Jimmy Choo, Versace, Bulgari and anchor stores Neiman Marcus and Saks Fifth Avenue. After years of negotiations, the Whitman family recently won approval for a 300,000-square-foot, $400-million U.S. expansion to begin in 2018.
Enjoy a cappuccino and pasta lunch at Carpaccio, an Italian eatery, or a selection of French cheeses and a glass of wine at Le Zoo, a popular brasserie. Both restaurants offer expansive outdoor patios and are an ideal perch for people-watching or to ogle the Bentleys, Range Rovers and Jaguars that roll up to the valet parking. The Grill, a second-floor restaurant that features a glass room jutting out over the parking lot with views of palm trees, serves up burgers, fish, steak and salads. Start with Ahi tuna sliced and served over mixed greens with fresh mango and avocado.
The lively Makoto, a modern Japanese restaurant, is not to be missed. I sat at the long sushi bar watching the jovial interaction between sous chefs and chefs. The cuisine is rooted in tradition, but influenced by wisely sourced ingredients and contemporary flavours. The spicy tuna crispy rice with serrano chili and short rib robata with chili sesame ponzu were worth leaving my comfy lounge chair overlooking the pristine waters for a couple of hours.
Soak up the luxurious atmosphere and escape big-city stress at Bal Harbour's St. Regis Hotel, above, and Ritz-Carlton Bal Harbour, below.The Ritz-Carlton Bal Harbour is located at the northern tip of Miami Beach overlooking the Atlantic Ocean and inlet to Biscayne Bay. The tranquil hideaway is all about luxury with intimate cabanas, relaxing spa rooms and a first-rate restaurant, the Artisan Beach House.
The stunning St. Regis Bal Harbour, an ideal oceanfront getaway for families and couples, captivates with its glitzy Art Deco touches, four restaurants, including Altantikós, above, beautifully decorated rooms, two pools and priceless views.
The Bal Harbour Shops, a lush, open-air shopping mall, boasts three floors of exclusive luxury boutiques and four restaurants, including the lively Makoto, below right.