Entrepreneur Derick Cotnam combines business acumen and culinary finesse to elevate Ottawa's catering scene.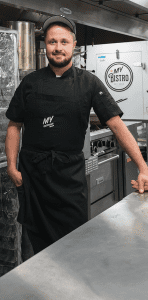 Whether it's a soiree for Canada's political elite at the country's most famous landmark, Parliament Hill, or a cannabis company's gathering for over 1000 people, Derick Cotnam is serving up the ingredients for extraordinary Ottawa parties and blockbuster occasions. At just 32, he is founder of My Catering Group and My Bistro; he's also a rising star on the city's high-end hospitality scene.
The Ottawa native's gastronomic adventures started early. At age 14, he worked at a Stittsville pizzeria, then behind the counter at a meat market. After culinary training at Algonquin College, he did stints at top west-end restaurants, excelling at management positions. Next he earned his Red Seal certification and went to work for the Fairmont Southampton in Bermuda. Returning to Ottawa, he honed business skills while studying finance and working in the field.
In those days, he was also doing occasional cooking demonstrations on the barbecues and smokers at his family's business, the Fireplace Centre and Patio Shop. During one of the demos, a captivated onlooker asked him to do the cooking at an upcoming event. That's how the idea for My Catering Group ignited, and in 2014 Derick's catering business was formally established. He dishes the rest.
How has My Catering Group changed since its start?
It has grown a lot. For the first event I did, I took apart a Big Green Egg [barbecue] and strapped it into the front seat of an old Acura I owned, then reassembled it to use at a backyard cocktail party. I catered the event with just one other person helping. Now there are six full-time employees and a team of 50 for some events. We also have a fleet of vehicles, including a 32-foot mobile kitchen that can serve over 1000 people. As a licensed, full-service catering firm, we work with the city's top vendors and event planners and we draw from a huge roster of expert culinary and hospitality professionals.
You've done many parliamentary and diplomatic events, including garden parties for the Speaker of the House of Commons. Can you tell us about a notable occasion on The Hill?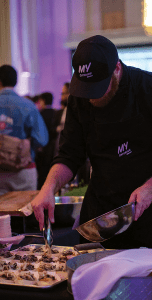 In November of 2018, we did the Centre Block Closing party for 800 people—members of parliament and the diplomatic community. We presented a culinary tour of the country at six food and drink stations in different rooms throughout Centre Block. This arrangement provided guests with a last opportunity to go through the building, because it was going to be closed for 10 years.
In the House of Commons Foyer, we served Canadian cheeses and charcuterie along with Cave Spring sparkling wine; in the Reading Room, there were East Coast oysters paired with Kichesippi Bristol Stout; in the Railway Room, braised short rib sliders were served with Old Fashioned cocktails made with Canadian Club rye; in the Commonwealth Room, house smoked Arctic char and white fish caviar were presented with a pinot noir and a riesling from Cave Spring; in the Senate Banking Room, the wild mushroom bruschetta included mushrooms from B.C. and Alberta, along with herbed goat cheese from Quebec; and, finally, in the Senate Foyer guests had dessert and coffee, including Canadian maple whipped cream. The event got rave reviews.
What is the most unusual occasion you've catered to date?
We do many events for OB Prestige Auto, a Gatineau dealership specializing in top-of-the-line exotic and luxury vehicles. Our most unusual event, so far, was an OB Prestige Auto party to unveil the first and only Pagani Huayra in Canada. The Huayra is an ultra-exclusive, hand-built Italian supercar, so the food we served was unique and exotic too. Canapés featured rare ingredients such a white truffles foraged in Alba, Italy, Acadian sturgeon caviar from Canada's East Coast, and Quebec foie gras.
What is the biggest?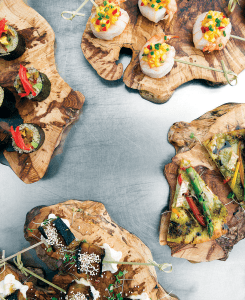 We recently did a staff party for 1100 people. It was for one of the area's emerging cannabis companies. We did a chicken and ribs barbecue. Logistically there's lots of planning and organizing for something like that. There were 60 staff members working, a big mix of chefs and bartenders. Thanks to our expansive mobile kitchen, we are able to prepare food on site for any occasion. This ensures our food is always as fresh as possible, and the quality is really really high, even when there's a huge crowd.
In November of 2018, there was a party to mark the start of a new venture, My Bistro. Tell us about it.
My Bistro is a commercial kitchen and dining space at Head Office Ottawa, the unique new co-working place at 430 Hazeldean Road in Kanata. My Bistro serves the need for drop-off catering. Whether it's a networking event, a work function or a party at your home, we provide top quality scratch-made food that can be picked up or delivered. Everything is as eco-friendly as possible; all our drop-off packaging is compostable. There's also a walk-in menu, so people can drop by for a quick bite in our modern space. We're open from 8 a.m. to 3 p.m., Monday to Friday. Since Head Office is also an ideal setting for events, we can do full-service catering here for up to 250 people. At the grand opening in November, we had a sax player, a D.J., custom cocktails and mobile bars. The food stations featured everything from custom tacos to liquid nitrogen ice cream sandwiches, and there were eight different types of passed hors d'oeuvres.
If you're looking to host a holiday event or party, this is the place to do it. Our food service is unmatched and the setting has a high-end vibe. It's a very impressive venue.