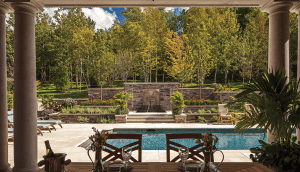 By Reba Wilson
TWO ARCHITECTS AND A DEVELOPER EXPLAIN HOW SETTING INFLUENCES DESIGN
Imagine you're standing on a vacant lot trying to decide what kind of home should be built on it. Not only will this depend on taste, but also on location. Is the lot urban, waterfront or lushly treed with acreage? You'll want to consider this when choosing orientation and window size and placement. That is precisely what Anthony Bruni of award-winning Colizza Bruni Architecture did when designing 580 Mariposa Avenue, a contemporary home in the heart of Rockcliffe Park. Anthony recalls standing on the lot and connecting with the sunlight and canopy of trees that defined it.
"There is something poetic and beautiful about any site," he says. "You have to tap into your imagination, find what it is and respond to it in your design." After all, the best design incorporates setting seamlessly.
Stan Makow, President of Makow Associates Architect Inc. in Toronto, also considers setting when curating his projects' vantage points. In a home where the backyard is a focal point, floor-to-ceiling windows or a sliding glass window wall are excellent ways of bringing the outside in. Horizontal windows can also be used to frame the landscape.
A feature window is an excellent tool for capitalizing on views, even in urban or infill settings where the view may not be the main event. "If you have a specific lot where there is a special tree in the corner, you can cut a window to frame that vista," explains Stan, whose own home benefits from this technique. Large windows looking straight out would not afford the same views as seen from a tall corner window that Stan designed to look down the street at a neighbour's mature tree. "If I were to look straight out it wouldn't be so satisfactory," Stan says. The architect also loves to employ tall windows to highlight foliage. Where other architects opt for eight–foot-tall windows, Stan will extend the glass 10 or 12 feet high, if possible. That way the resident can lie in bed and appreciate a full-length treed view. These tall windows are a personal signature.
Often, treed views are defined by the existing landscape of the lot. Architects will commission a survey with trees, which helps them envision what will be seen from each window. "If there are interesting trees on the property that are really special you try to save those trees. If it's all a new landscape you put some kind of landscape feature, so the view has a focal point," says Stan.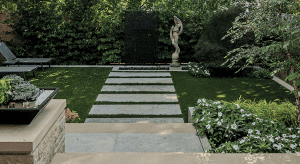 In larger-scale projects, homeowners sometimes opt for the creation of a 3-D virtual reality model that mimics the survey of the lot. Though it takes significant time to create a model with realistic elements, this enables the architect and client to navigate the interior and views as if in real life. Stan did this with his own home.
Navigating from the interior out is a thoughtful technique that prevents suboptimal views. "It is common amongst architects to design the exterior of a home before doing a detailed interior layout. When you have a property surrounded by trees and hedges it's important to design a home from the inside out. I consider what the view will be from specific interior windows. This idea helps me design a home with great views that a buyer would be happy to live with," says Shneur Bielak, president of Neoteric Developments Inc., a development firm known for its artful design. Large windows may fill a space with light and provide excellent views, but their placement is just as important as their scale. As much as one considers the view out, the view in is also key. A floor-to-ceiling window in a bathroom may work well looking out to a private, treed backyard, but it may not be the most design-savvy placement if the bathroom looks onto the streetscape. "The windows in residential need to consider the reality that people want either blinds or drapes to cut out visibility to the outside in, primarily at nighttime," affirms Stan Makow. Stan designs his windows with coverings in mind, even recessing valances at times to keep the look clean.
The master ensuite bathroom at 580 Mariposa makes the case for discreetly placed windows. This bathroom is situated at the front of the house and yet has no need for window treatments. Anthony Bruni cleverly installed windows at shoulder level, keeping in mind the height of the neighbouring homes. As such, the bathroom is full of light all day long and enjoys treetop and sky views while retaining complete privacy. While others may have opted for frosted glass windows to emit light and keep prying gazes out, Anthony went one step further, eliminating the need for privacy solutions altogether.
That said, Anthony stresses that "window placement isn't always about the views, it's also about capturing sunlight." The design in 580 Mariposa is ingenious as it does both: creating light-filled interiors without compromising on privacy.
If you ask Anthony he'll tell you the interaction of light and spaces is what yields a home its special quality. The eyes may be the window to the soul, but it sounds like the window is the key to a home's design philosophy.