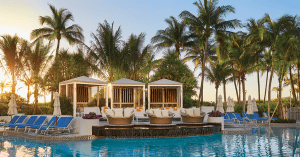 By Barb Duncan
You don't need to leave the continent to experience a deluxe sun holiday with your family. Miami Beach, with its beautiful beaches, balmy weather, turquoise water and lush vegetation, has an opulence and dazzle to thrill even the most worldly of pint-size travellers. We stayed at two amazing, family-friendly resorts that will not disappoint, especially if you all enjoy the finer things in life.
South Beach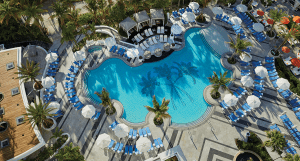 Situated in the celebrated Art Deco District of South Beach, the Loews Miami Beach Hotel is an oceanfront resort that's brimming with amenities. The location is perfect, and the accommodations—790 guestrooms, 67 suites, and a couple of two-storey presidential suites—are designed to please. We stayed in a beachfront one-bedroom suite that connected to the kids' room, which, happily, had two double beds.
Really, though, our youngsters had no intention of lolling in bed, because they loved the SOBE Kids Club. It was, in their words, "Amazing!" Thanks to an enticing array of active adventures, activities, arts and crafts, movies and more, they were keen for us to drop them off and get out of the way of their fun, including lunch at the club. So we did. That's right: Mom and dad were left to while away holiday time basking in the pleasures of an acclaimed resort and checking out its many amenities.
At the beach, kayaking, paddleboarding, jet skiing and parasailing are some of the options. At the pool? Get set to be spoiled. The Poolside Pampering program includes Miami-inspired treats and specialties that are served in the afternoon.
One day we experienced the perks of a deluxe SOAK cabana. It was outstanding. Located right beside the pool and a short walk from the beach, this sumptuous setup was perfect for privacy and for keeping kids happy. Each of these cabanas features a full bathroom with a shower, air conditioning, a flat-screen TV, internet, and plush indoor and outdoor seating.
When you're there, you'll also want to start your day with a breakfast feast at Preston's Market. Preston's dishes up locally sourced farm-to-table cuisine with a Latin twist, and its Market Buffet is really something. Imagine all the classic favourites, plus smoked salmon, juicy Florida-fresh fruits and daily specials. All the delectable fare is prepared with cage-free eggs.
We also enjoyed dinner at Lure Fishbar, the resort's finest restaurant. This dining spot has a distinctive nautical vibe and, as you'd expect, the seafood was excellent.
Overall this lively, well-appointed resort is a perfect destination for families in the heart of south beach. loewshotels.com/miami-beach
Bal Harbour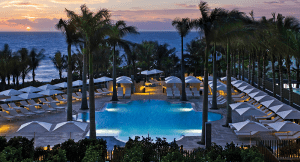 Florida's epicenter of luxury, Bal Harbour is a tropical enclave on the northern tip of Miami Beach, between the Atlantic Ocean and Biscayne Bay. Thanks to its glorious beaches and superb leisure offerings, it's a favourite getaway spot for the ultra-rich. Though this elite village is only one square mile in size, with a population of less than 3,000, it has its own police force, as well as a reputation for some of the best shopping and amenities in the world. We stayed at the celebrated St. Regis Bal Harbour Resort, and it's easy to recognize why this address, at 9703 Collins Avenue, has earned both the coveted Forbes five-star and AAA five-diamond awards. The attention to detail and service here were second to none, and included the impeccable St. Regis Butler Service.
Our accommodations were pretty special too: the Atlantic Suite is a sumptuous, 1475-square-foot space with two balconies, ocean views and its own private elevator. If you stay here, you'll want to use that elevator often, because right across the street from the St. Regis you'll find the fabulous Bal Harbour Shops. Popular with jet-setters, celebrities and socialites, this illustrious open-air shopping mecca is home to the world's most revered brands and luxurious designer boutiques.
It's also a great place to eat. We dined in gourmet style at Carpaccio, an excellent Italian restaurant, and Makoto, an elegant Japanese eatery. At the resort itself, we savoured another epicurean treat: dinner at The Grill at St. Regis, a sophisticated setting with delectable classic cuisine.
Leisure time at St. Regis Bal Harbour is wonderfully extravagant. We got to enjoy a private oceanfront day villa. Located right beside the pool, it included an indoor air-conditioned lounge, a full marble bathroom and shower, as well as double bed, satellite television and full wifi. Of course, the butler was ever attentive.
St. Regis definitely caters to families. Its Family Traditions program includes activities and amenities that are curated to captivate youngsters and also to pique their interest in the culture and nature of the locale: Bal Harbour, Florida. Right through the year, there are plenty of attractions for both kids and adults.
For instance in December, Bal Harbour was the be-there destination for art lovers visiting South Florida for Art Basel Miami Beach. Guests at the upscale hotels in Bal Harbour Village, including St. Regis, were provided with VIP access to art shows, events, exclusive collections and satellite fairs, via a public art program called Unscripted. In fact Unscripted's Art Access program offers year-round free access to Miami's top museums, private collections and cultural destinations. There are private tours too, just for guests.
Certainly, Bal Harbour is a one of a kind destination for a luxurious family vacay, and the St. Regis Bal Harbour is holiday perfection all ages will appreciate. marriott.com/hotels/travel/miaxr-the-st-regis-bal-harbour-resort.