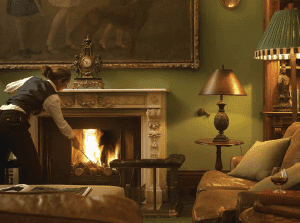 By Brigitte Hasbron
After celebrating Saint Patrick's Day in Dublin with a pint of Guinness, trekking the Giant's Causeway in Northern Ireland, exploring Belfast's Titanic Quarter and drinking in Ireland's unfiltered beauty in the mountains, how could I not fall in love with the Emerald Isle? You will too.
Dublin
Dublin, originally a Viking settlement, is Ireland's capital and a city with a passion for all things lively. On a typical day, all you have to do is visit one of its 750 pubs to experience the singing and dancing that add such spirit and colour to this cosmopolitan metropolis. Imagine what it's like on Saint Patrick's Day?
When I was there, the shenanigans started early as a sea of enthusiasts in green quickly filled the shamrock-laden streets to conquer the best vantage points for the legendary Dublin parade. Revellers young and old celebrated the pageant of Irish mythology and historical moments. It was unlike anything I have ever seen before.
To honour another Saint Patrick's Day tradition, I made my way to the iconic Guinness Storehouse. This ultra-immersive beer voyage permits you to explore for yourself as you make your way through the seven-storey building designed in the shape of a giant pint of Guinness. Each floor has its own dedicated theme, such as the Gravity Bar floor that gives you a 3600 view of Dublin as you enjoy a pint or two, the Tasting Room floor where you can master the art of savouring a Guinness, or the Guinness Academy Connoisseur Experience floor where you learn how to pour your own perfect pint. You can easily spend several hours at the Storehouse, as it is also filled with restaurants and bars.
Visiting Dublin wouldn't be complete without experiencing some live entertainment, and The Irish House Party delivered. This dinner and show venue serves up an exceptional cultural and traditional soirée performed by Irish champion musicians and dancers. It's a must-visit attraction to enjoy an evening of fun and to practice ending your toasts with "Sláinte!" That's the ancient Gaelic word for health.
Ireland's famed archaeological relics include celebrated castles, many of which offer overnight stays. Located 80 minutes from Dublin and nestled on 1,000 acres of rolling countryside, Castle Leslie Estate is the ultimate Irish rural escape, as I discovered.
It's one thing to visit a castle, it's another to actually stay overnight and bask in its grandeur. What sets this establishment apart from others is its variety of accommodations, including a lodge, luxurious mews and village cottages, along with the magnificent castle. I was lucky enough to stay in the castle. Culinary aficionados will swoon over the estate's two AA Rosette award-winning Snaffles Restaurant and gin lovers will be impressed by the extensive gin library, featuring labels from around the world. In fact gin tastings are available at most hotels, as the gin scene is huge in Ireland right now.
This grand estate in County Monaghan offers a wide array of activities. Nature enthusiasts will enjoy the hiking and fishing and more adventurous types might prefer the kayaking, horseback riding, clay pigeon shooting or hot air balloon rides. Movie buffs will appreciate the private cinema and guests wanting to relax and rejuvenate will welcome the fabulous Victorian treatment rooms. I was spoiled with two nature-themed experiences: an enchanting horse-drawn carriage ride through the tree-lined bridleways and an introduction to the noble, ancient art of falconry. I absolutely loved seeing those majestic birds up close, with the splendid historic castle in the background.
Northern Ireland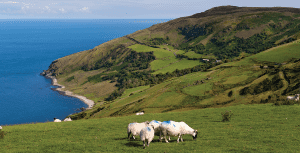 Named to National Geographic's prestigious list of the Top 101 Scenic Drives in the World, the Sperrin Mountains in Northern Ireland are dazzling. I was spellbound by the breathtaking views during my meandering drive through the mountain range. In the heart of the Sperrins and seemingly far from the rest of civilization, I had the opportunity to really connect with this famously lush green land. On Butterlope Farm's food foraging tour I learned about the flora of the area and the historical and medicinal uses of its native plants, all while enjoying the archaeological features of the upland Sperrin landscape.
At Bradkeel Social Farm, I happened upon perhaps the most apropos Irish souvenir. The tour at this picturesque spot is geared to coach guests and it deals with how to use nature in creative ways to improve your mood, health, and well-being. However, on the day I visited there was a flash storm that dampened our tour plans. The owners of the farm noticed my fondness for the lambs, though, and asked if I would be interested in assisting in one of the births. This was truly an unbelievable experience that will last me a lifetime.
Heading towards Belfast along the Causeway Coastal Route, it is easy to see why this region is an ocean lover's dream. The landscape is freckled with fishing villages, striking beaches, and breathtaking cliff-top paths. My reason for travelling this coastal route was to witness, firsthand, the Giant's Causeway. A UNESCO World Heritage site, this geological wonder is a result of intense volcanic activity that caused the creation of over 40,000 interlocking, hexagonal-shaped basalt columns 60 million years ago. It's unlike anything I have ever seen created by nature.
A short drive from the Giant's Causeway, the remarkable Carrick-a-Rede Rope Bridge sways in the breeze. Erected by fishermen in 1755 to cross over to an island to check on their salmon nets, it now provides a unique scenic adventure. Since it's suspended 30 metres (100 feet) above the sea, visitors, like myself, can enjoy the thrill of walking across wooden slats—with ocean waves crashing far below—while witnessing unrivalled coastal views.
Famous for "the greens of dreams," Ireland is a magnet for avid golfers with its world-class courses and seaside setting. I had the pleasure of staying at one of Ireland's famous golf destinations, the acclaimed Lough Erne Resort. Located in the heart of the Fermanagh Lakelands, this international award-winning five-star hotel provides far more than golfing to its guests. There are wonderful experiences off the course too.
I enjoyed a private water taxi tour of Lough Erne and its island. In addition to this marvellous experience, a lavish picnic was organized by the acclaimed chef Noel McMeel. Noel is the executive chef at the resort's three AA Rosette restaurant, Catalina. (Its ranking is a first-ever culinary honour for Northern Ireland.) Dishes savoured at Catalina can be best described as a "tango across your taste buds." They sizzle with passion and creativity. In fact the depth of authentic Irish hospitality truly resonated during my stay at this stunning resort.
Belfast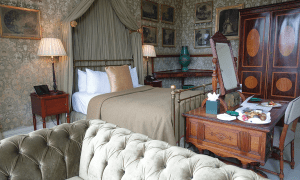 I wanted to make the most of my visit to Northern Ireland's capital, Belfast, so I headed to the Titanic Quarter. In the past decade, this area has been transformed into Northern Ireland's premier leisure destination. I made a beeline for the heart of the quarter and the prominent Titanic Belfast. The iconic nine-gallery building, shaped like the bow of a ship, carries visitors through time, from the construction of the ill-fated RMS Titanic to present-day live-streaming of where the wreck lies on the ocean floor. A testament to Belfast's maritime heritage, the interactive and sensory-filled building is truly remarkable. This must-see destination is the world's largest Titanic exhibition.
Belfast's nightlife has become a melange of vibes, as it cherishes old pub traditions while welcoming new ones as swanky cocktail bars are on the rise. I couldn't leave the city without having one last taste of that authentic Irish bar experience: pints of stout beer, traditional music and the warmest of atmospheres.
Much like the weather in Ireland, my adventure was constantly changing and each new experience added vivid memories. I will forever cherish Ireland in all its splendour, and I raise my glass of Irish tradition to your health, your safety and your well-being. Sláinte!
For details about Ireland, see tourismireland.com.
Brigitte Hasbron is owner of The Food Tease (www.thefoodtease.com), a combined culinary and travel blog that highlights the best that food, wine, and travel have to offer.