Sean McAdam travelled the globe seeking ideas for his sustainable village in Old Chelsea
By Karen Turner
Sean McAdam can't tell a squash from a zucchini and has no clue how to herd cattle, but like any good farmer, he knows how to make the most of prime farmland.
In 2011, the developer bought 107 acres in Old Chelsea, Que., with a clear vision: to create a village of unique homes centred around a working organic farm, with a network of trails leading into Gatineau Park and quaint shops and restaurants within walking distance.
"(Hendrick Farm) is the best of both worlds," says McAdam of the peaceful rural setting located only a 15-minute drive to downtown Ottawa, where homeowners are surrounded by green space, can soak away their stresses at the nearby Nordik Spa-Nature and buy garden-fresh veggies right out their back door.
"Hendrick Farm is radically different than any other development in Canada," says the president of Landlab, who visited small villages across the globe to cull ideas for his new urbanism concept. Known as "adaptive development," the innovative design offers all the amenities of a sustainable village while maintaining strong connections to the land.
A staunch believer that "a vibrant community is one that listens to its cultural, historical and natural environment," McAdam's priority was to make a certified organic farm the centrepiece of the development as a nod to its farming past.
Located next to a restored 1905 barn, seven acres of gardens produce fresh herbs, vegetables and cut flowers, which are sold onsite by the non-profit Hendrick Foundation. All proceeds are rolled back into the operation of the farm and the maintenance of the surrounding green spaces.
As a testament to his commitment to protecting the environment, McAdam has set aside more than half of the development for parks and open recreational spaces, which double as a venue for concerts, auctions and food festivals. Future plans include a commercial sector with restaurants, coffee shops and boutiques at the entrance of the subdivision that will blend with Old Chelsea's existing charm.
"Hendrick Farm turns on its head what new developments are," says McAdam, who has lived in Old Chelsea for the past 20 years and is excited about the village's recent growth spurt, especially the addition of a 60-room hotel at the world-class Nordik spa across the road from Hendrick Farm. "What we're doing here is very unique."
But convincing municipal planners to give the project the green light was not a quick sell. It took McAdam and his team 12 years to get approval. Everything from the design of the houses to the subdivision's infrastructure came under debate. Even the future addition of animals to the farm raised concerns. Would there be chickens — identified by the municipality as "small beasts" — goats (medium beasts) or horses (big beasts)?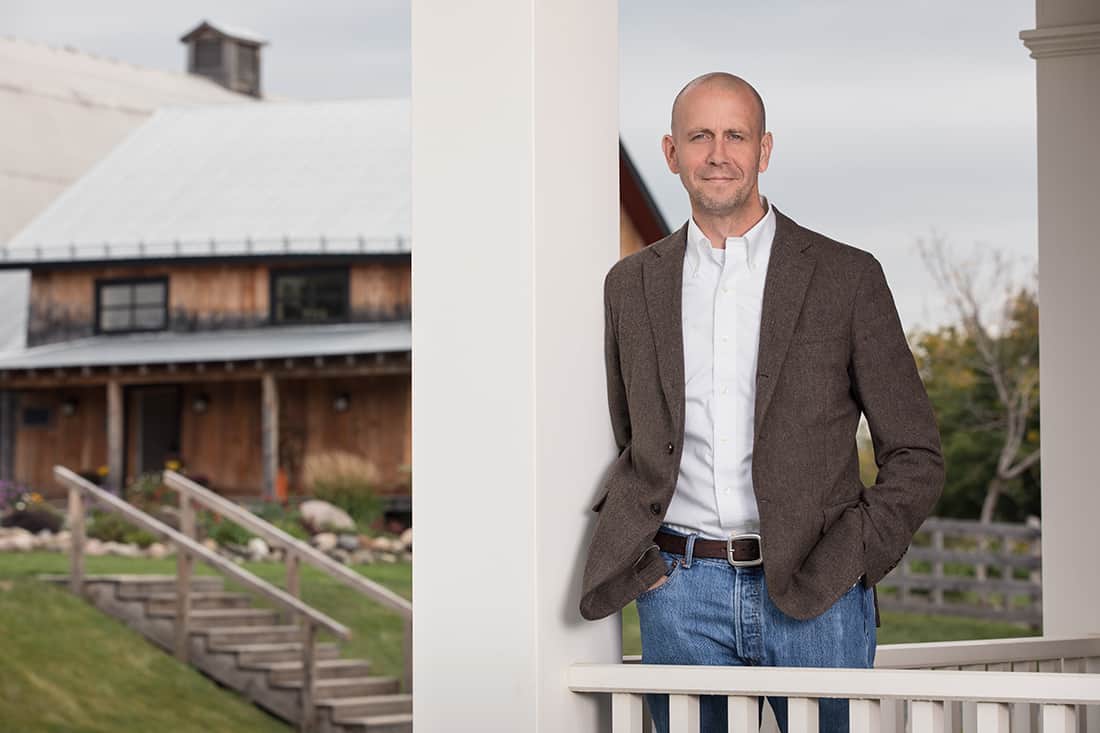 By the end of 2017, 20 energy-efficient homes will be built in the community. Local contractor Ed Brunet is expected to complete another 30 homes next year. Hendrick Farm will eventually be home to 315 singles, townhouses and apartments with one per cent of all sales going to the foundation.
Designed by architect Doug Dawson, the houses were inspired by classic Vermont architecture, complete with sweeping front verandas, board-and-batten siding and detached garages accessed by rear laneways. Modest in size at 1,600 to 2,300 square feet, they're intentionally built closer to the street to encourage interaction between neighbours.
McAdam, who cringes at the cookie-cutter vinyl boxes with jutting front garages common in many suburban neighbourhoods, is a stickler for details and quality finishes. "We only use real brick and wood," he's quick to point out.
The Kingsmere, modelled after McAdam's own home located just three kilometres from Hendrick Farm, gives buyers a clear picture of what they get for their money. The 2,023-square-foot model with a wrap-around porch features a bright kitchen with standard granite countertops and custom cabinets, a master bedroom with deluxe ensuite and handy main-floor mudroom leading out to a covered porch.
The three-bedroom starts at $665,000.
"We're not in the business of selling upgrades," says McAdam of the lengthy list of standard, high-end features in all his homes. They include full wood and brick exteriors, extra-tall windows, nine- to 10-foot ceilings and hardwood floors.
Even the closet doors are solid wood.
What you won't find anywhere is vinyl siding — not even on the rear garages, insists Fred Brisco, director of operations. Chain-link fences are also a no-no and forget about parking that hulky RV in your driveway. "It's all about keeping the esthetic and feel of the community," Brisco says of the strict architectural controls.
If you go
Hendrick Farm
Where: 193 Ladyfield Rd., Old Chelsea
What: Singles start at $615,000; townhouses from $495,000
Contact: 613-907-0130; hendrickfarm.ca