By Reba Wilson
Creating an oasis-like backyard involves the consideration of function, texture and layered design elements that interact to form something unique and beautiful. When it comes to planning the coalescence of these features, there are no better experts than luxury pool and landscape designers Justin and Nate Fox, whose California-based business, Foxterra, is responsible for some of the most swoon-worthy backyard designs imaginable. The award-winning Foxterra has over 500,000 Instagram followers who are captivated by its alfresco masterpieces.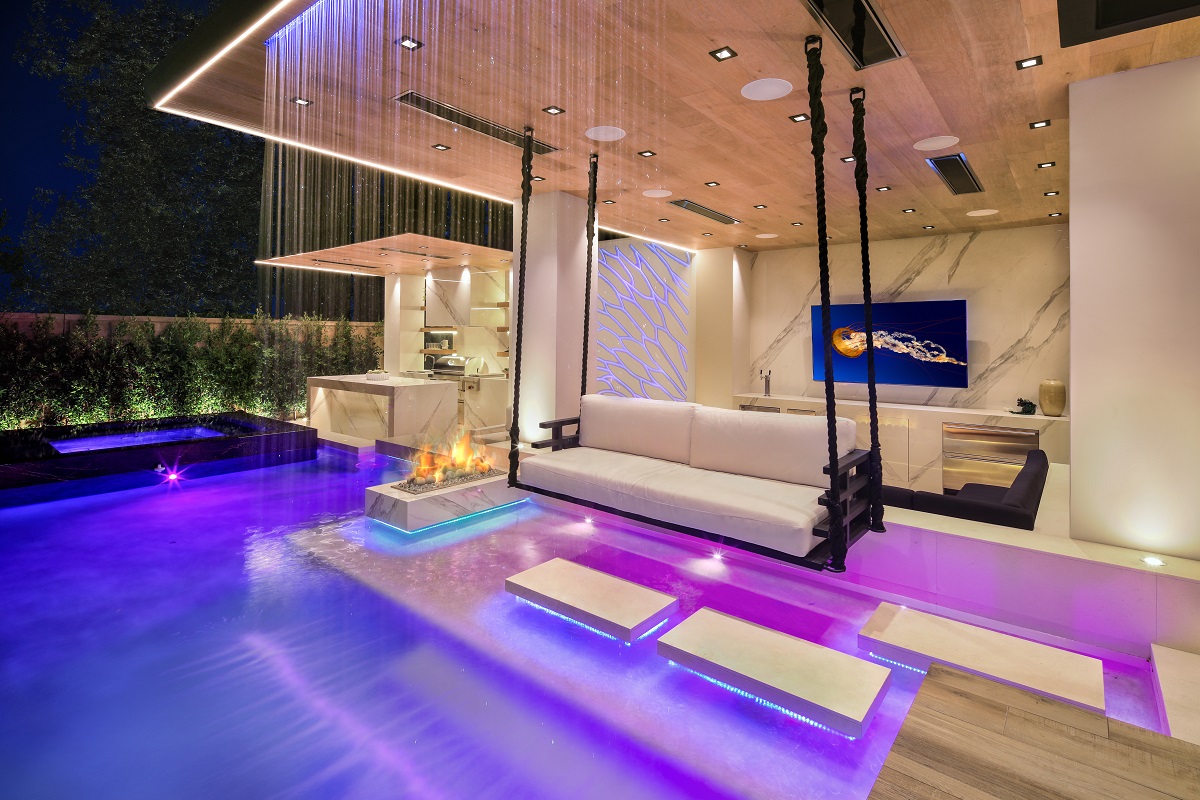 A Foxterra project averages $500,000 and examples can be found all around the world, including in Canada, giving hope to those of us who want to enjoy a beautiful outdoor space that will withstand our winters. The duo's tagline, "residence to resort," embodies the philosophy that an exterior should extend—and resonate with—the home's interior.
The Foxes are most often called upon to design backyards that centre around a pool or spa. Their next most popularly requested features are water and fire elements and outdoor kitchens. They begin each design by asking the client "what does the word resort mean to you?" Many clients reference their travels in their concepts of resort-like luxury.
Justin and Nate, who gain a lot of inspiration from the extensive and beautifully manicured grounds at Disneyland, are indisputably the backyard experts. They've given me great insight into what can be done to incorporate elements of the resort in one's own backyard.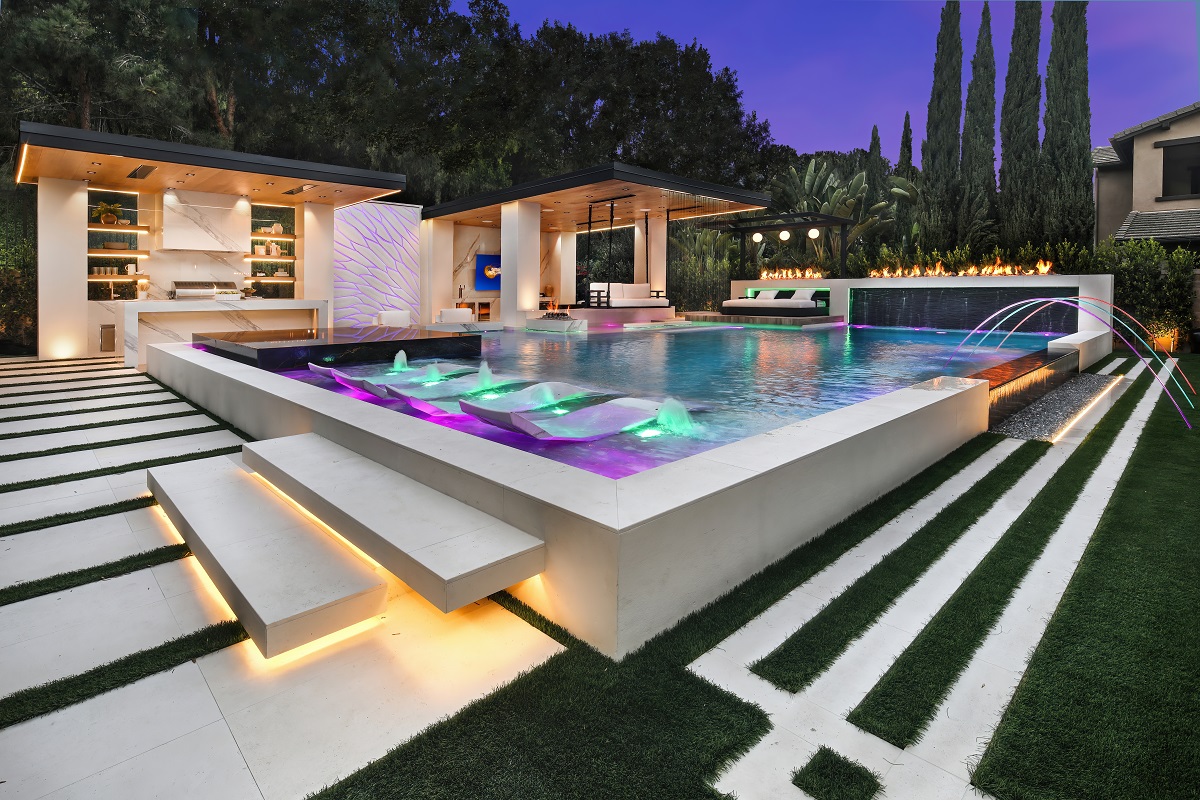 POOLS
Before committing to other design elements, Nate explains that you must decide the size and placement of the pool. "The most important thing that we take into consideration is how visible it is from the interior," says Nate, explaining that the backyard might not be used every day but should still be enjoyed daily. Think of it like a piece of art framed by windows or a set of French doors.
Foxterra's designs include unique pool shapes that "weave the water in unexpected ways into the whole yard," Nate explains. The duo plays with the very definition of a pool. They have incorporated a glass wall along the side of a pool through which you can see a swimmer; infinity edges; sunken seating areas within pools; and tiles that transition from sand-colored to ocean blue. But the key to their design's success, Nate says, is "combining curves and straight lines which creates such a visually-interesting space." Too much of one leads to a flat design, but the duality of the two generates the unexpected.
Justin adds that a pool's shape may need to be more traditional if an automatic cover is required; however, "It's the surrounding that takes it to that luxurious space, not just the shape of the pool" that is key.
Foxterra is not keen on a standard waterline tile. The designers instead try to match the tiles on the pool's edge with those on the interior. A 12 x 24-inch cream tile, for example, might extend from the top of the pool into its sides. This evokes the same sense of material continuity one experiences on the edge of a riverbank. A boulder might dip into the water and similarly a Foxterra pool's tiles enter the tide seamlessly.
One of Foxterra's projects, the ultimate Airbnb in Palm Springs, features a pool with turf extending all the way to its edge as if to mimic a pond on a golf course.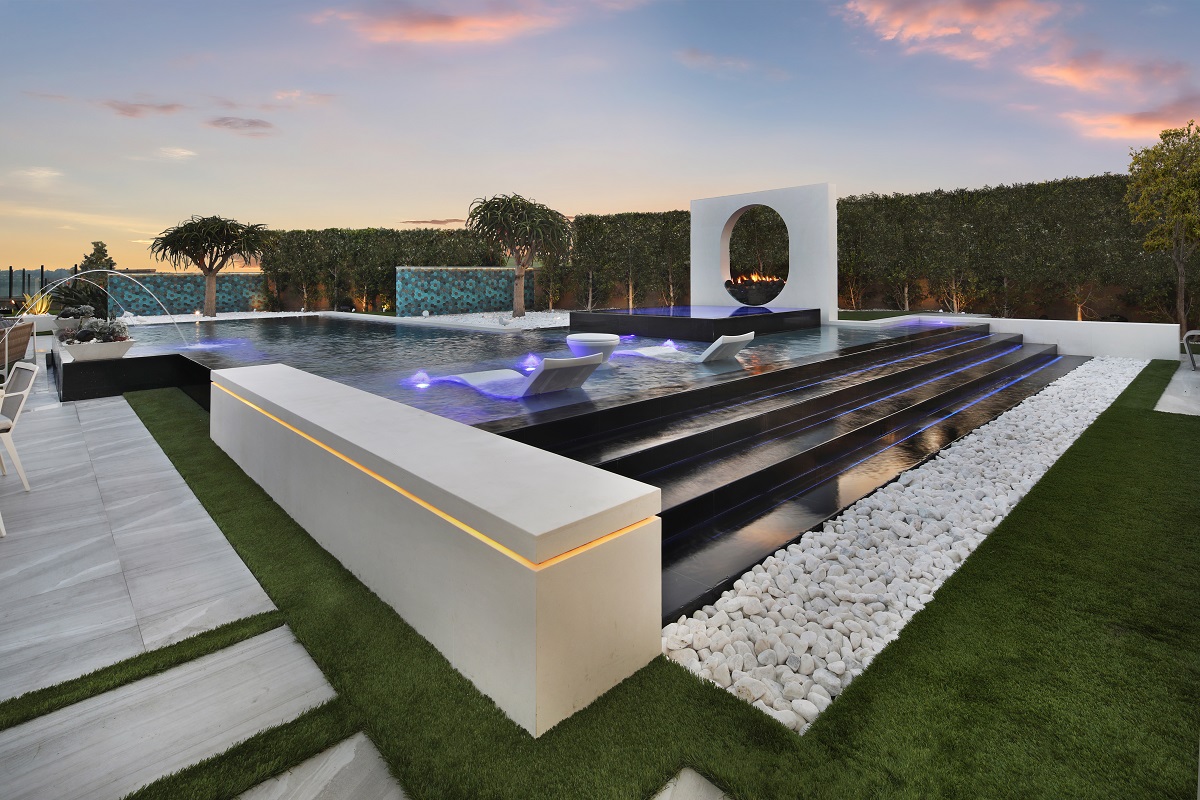 OTHER WATER FEATURES
Though pools are popular, there are also many other kinds of water features varying from waterfalls to fountains to sprays. The practicality of each depends on both its intersection with the yard and the allotted space. For instance, a 10 to 15-foot rain curtain is "awesome but really impractical," says Justin, who explains that this statement piece might be visually impacting in a large yard but deafening in a smaller space.
Similarly, jets over a pool will provide a playful, fun element to the design where a pool is intended to accommodate kids. They may also enhance the symmetry of a more traditional home. The Foxes cite a recent project for a three-storey $30M home in Beverly Hills set into a cliffside. For this dramatic property, a 15-foot rain curtain is appropriate whereas a smaller yard needs calming elements.
One of Nate's favourite high-impact, lower-cost features is an acrylic sphere that circulates water. This can be used in all kinds of spaces.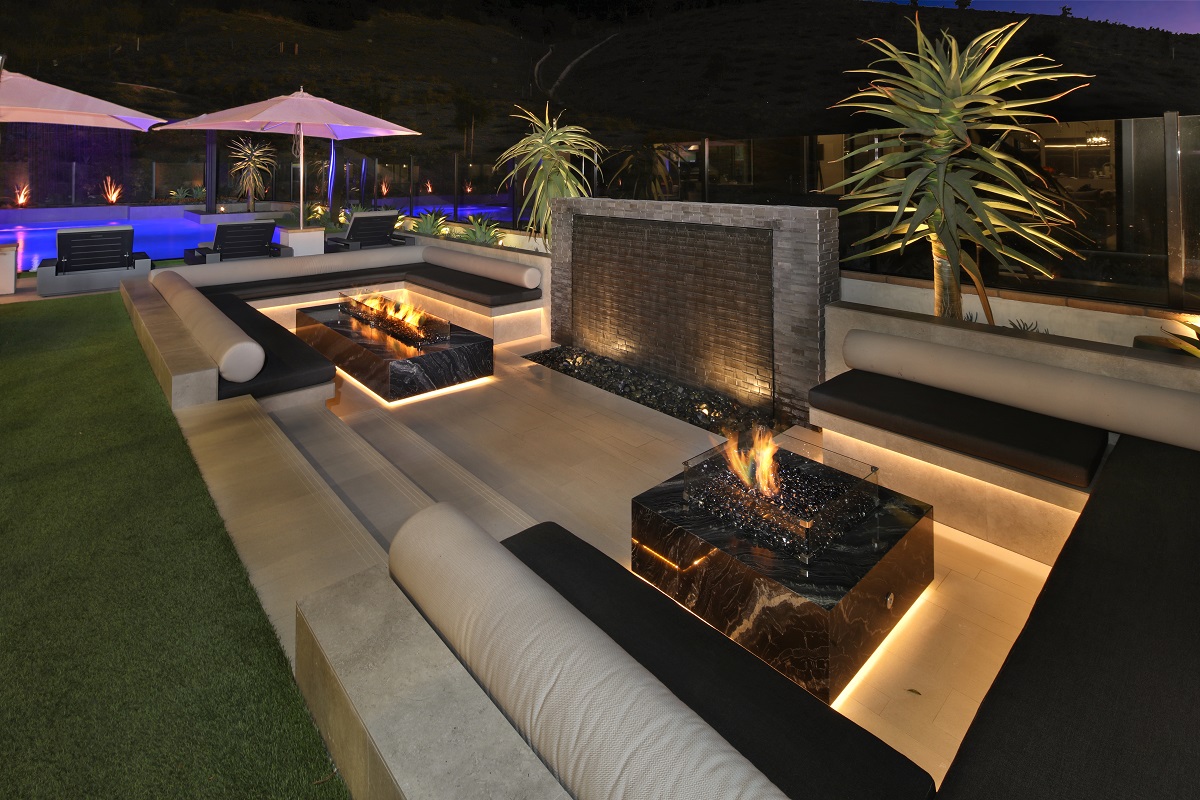 FIRE
"There is something so mesmerizing about having fire and water combined," says Nate. When fire features are used near the water, the water acts like a mirror and creates a double impact, adds Justin. If using a fire feature, be wary of making it too central a focal point, as it won't be visible during the day.
LIGHTING
As with the use of fire features, lighting must be applied strategically. Justin stresses using it to highlight, rather than flood, an exterior space. "No one can change the physical space or add more square footage," says Nate, but lighting can create the illusion of greater space. Lighting can also draw out textures. Using uplights on façades, stone elements or gardening pots is one way of making these pop. Foxterra recommends placing one light behind and one in front of the pot to prevent ghostly shadows and create a soft glow. LED lightstrips work well under stairs to ensure both architectural interest and safety. When opting for outdoor lights, choose warm tones and lighting with brightness controls. Think of it as "moulding the space with light," Nate says.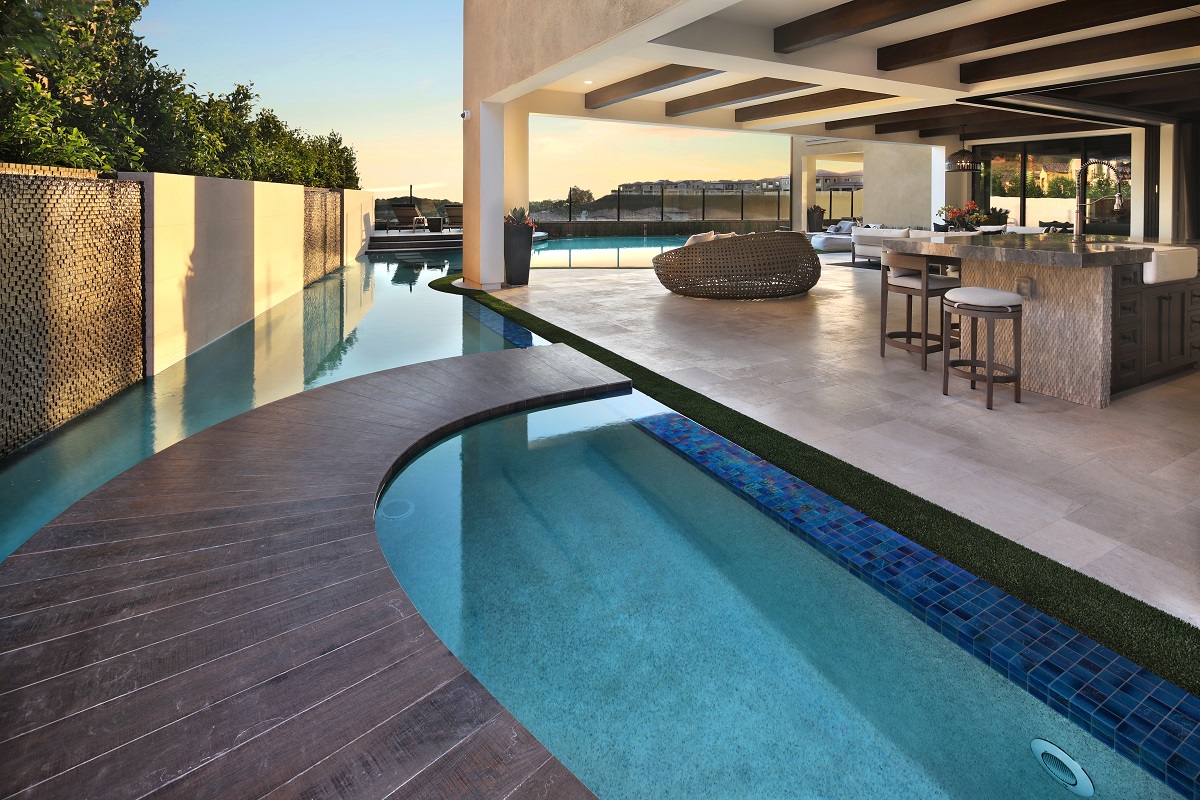 DESIGNING FOR THE ELEMENTS
Having designed three projects in Canada, Foxterra has established that using fire features or oversized spas with retractable covers can be excellent ways of extending your outdoor season. Nate insists upon fire features in Canada as they offer both "warmth and a decorative element." Using an automatic cover on a pool or spa will ensure it is usable at the touch of a button and will also make it more weatherproof.
Foxterra also extols the innovation of more resilient tiles. One of its Colorado projects used frost and UV-resistant porcelain tiles whose thickness allows them to act as pavers. This kind of material provides both form and function.
Another factor to consider is the long-term effect of climate change. For years, Foxterra has used artificial grass in its designs. This is a nod to water conservation efforts and also creates a lower maintenance space. Nate explains that their supplier offers 20 kinds of turf that mimic a variety of styles. There is even one designed for pets that doesn't get hot in the sun.
When it comes to designing for the outdoors, Foxterra is quite simply synonymous with extraordinary places.
BIO BLURB AND PIC