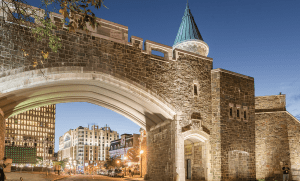 By Marg Russett
A getaway to Québec City is always a pleasure. When your visit is a uniquely deluxe experience, though, this renowned destination absolutely dazzles. Dating back to 1608, the capital city of Quebec is famous for its many charms—cobblestone streets, striking architecture, heritage landmarks and picturesque views of the St Lawrence River. Old Québec, a UNESCO World Heritage site, is at the heart of the city's appeal. Described by UNESCO as "an exceptional example of a fortified colonial town," the historic neighbourhood is bordered by walls dating back to the 17th century. Within those walls are captivating streetscapes along with a wealth of cultural attractions that reflect 400 years of history.
While it's one thing to visit an historic site, it's quite another to stay as a guest. We stayed at the Auberge Saint-Antoine, saint-antoine. com, an elegant boutique hotel that melds luxury and gracious hospitality with a remarkable up-close-and-personal encounter with Québec City's storied past. Not only is this innovative hotel-museum part of the Relais & Châteaux association of exceptional international luxury hotels, it's owned by the Price family, who've been part of Quebec history for nearly two centuries.
Situated at 8 Rue Saint Antoine, an Old Québec location overlooking the water, the Auberge Saint-Antoine includes three buildings on Îlot Hunt. "In its early days, the Îlot Hunt property was used as a wharf, then a cannon battery, and later by British merchants when Québec City was one of North America's biggest and busiest ports," saint-antoine.com notes.
Martha Bate Price—wife of the late Tony Price—and their children Evan, Llewellyn and Lucy Price opened the hotel in 1992. In 1996 the Prices added six historically-themed suites in the Hunt house, an on-site dwelling that dates back to the early 18th century. Then an update in 2000 included an extensive archaeological dig on the property. That's when hundreds of artifacts—from both the French and English regimes—were discovered underground, some dating back hundreds of years. Today these unique historical finds are showcased throughout the hotel.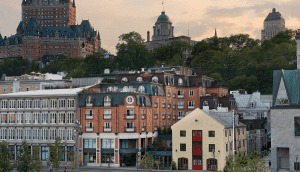 What's more, 20-minute archaeological tours of the premises are offered, during which you'll find out about the history of the setting itself along with the intriguing relics that range from a cannon to personal belongings of people from the 17th and 18th centuries.
Besides the fascinating treasures, we also enjoyed our beautiful room with water views. In total, the hotel has 95 rooms and every room has been designed and decorated differently by the family matriarch, Martha Bate Price, who is now in her 80s and whose nickname is Muffy. We had dinner at Chez Muffy, Auberge Saint-Antoine's celebrated farm-to-fork restaurant, and it was a wonderful meal in a rustic setting with wood beams and stone walls from a bygone era. Very cosy. When you stay at this one-of-a-kind hotel, you'll also want to indulge in a spa treatment at the health club. We did, and it was a pleasure.
The many pleasures on this Québec City adventure also included dinner at Tanière3, taniere3.com, an amazing underground restaurant offering an immersive, French Canadian gastronomic experience in a place steeped in history.
It started off with a private entrance in a back ally; we needed a code to enter. Once inside, we walked down a dark hall until we arrived at a spectacular stone cave. What came next was a 17-course meal, with wine pairings, over three hours. It was incredible. We moved through three different areas during the course of the culinary bonanza. We started at the first spot with some small bites and cocktails, then went to the main setting for a chef's table experience, then moved to a final setting for dessert and tea. In all our travels, we had never experienced anything like this before. It was outstanding and unique in all aspects, a must-try if you're visiting Québec City.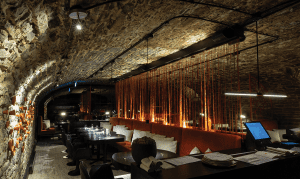 A trip to Montmorency Falls, tours of some museums and plenty of walking in Old Québec were all part of our cultural agenda, but the most impressive of these outings was lunch and a tour at Le Monastère des Augustines, monastere.ca. Located at the Hôtel-Dieu de Québec monastery, site of North America's first hospital north of Mexico, this welcoming place opened as a hotel, museum, restaurant, wellness center and boutique four years ago.
Inspired by the Augustinian Sisters who arrived here in 1639, Le Monastère is a peaceful, rejuvenating setting offering a wide range of wellness services, as well as packages designed to promote rest, renewal and self-discovery. There are eight different packages, with themes ranging from Foodie and Spa to Culture and Heritage. It's really a special, must-visit spot offering amazing hospitality and opportunities to embrace a luxury we all covet: holistic health.
Québec City is about five hours from Ottawa by car. For details about its attractions, festivals and upcoming events, see quebec-cite.com.