By Brigitte Hasbron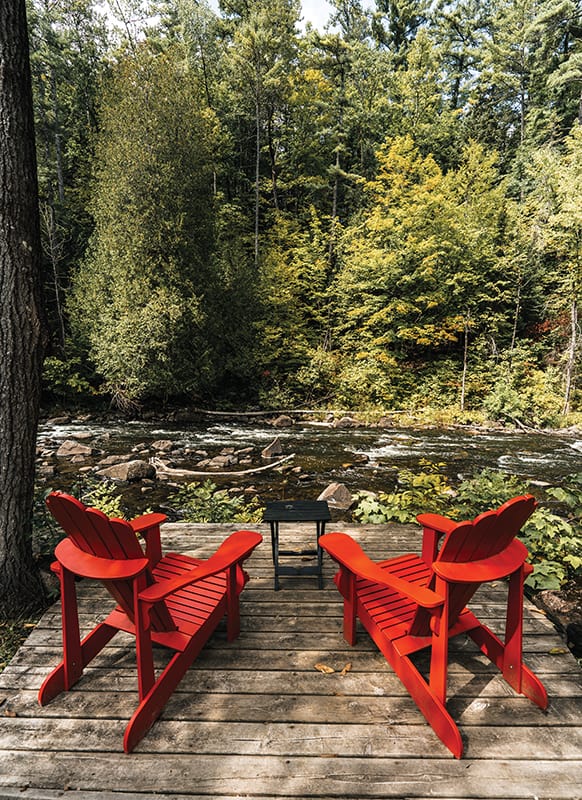 Tucked away in the heart of Gatineau Park, the Wakefield Mill Hotel & Spa has become the destination for people seeking to unwind, be it via an afternoon spa treatment or a relaxing weekend getaway. With amenities ranging from personalized, luxurious spa services to exceptional fine dining, this unique property is dedicated to hospitality and it strives to make any visit a memorable one. For me, it was the perfect spot for some crucial and blissfully deluxe self-care.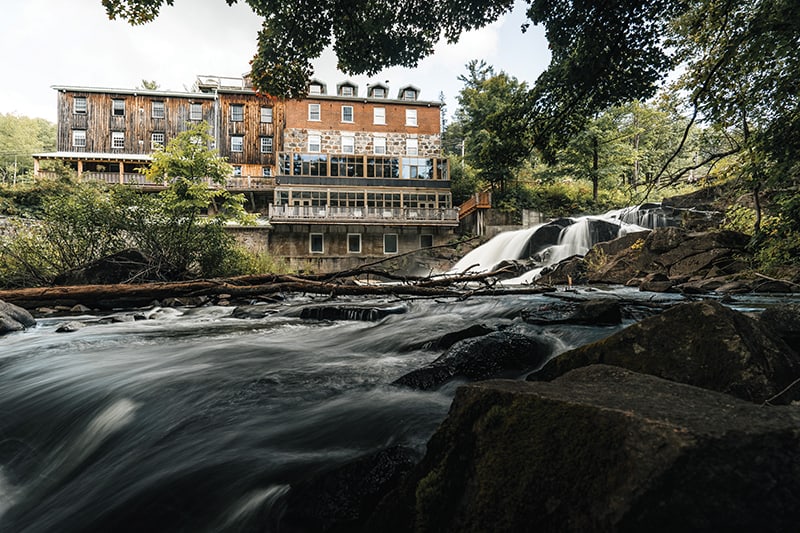 After two years of living with the realities of the pandemic—restrictions, lockdowns, workplace displacements and personal challenges—I didn't have to look too far or think too hard about why I not only wanted a spa treatment, but why I needed it.
As I veered around the corner, slowly driving up the road leading to the Wakefield Mill, I had a ta-da moment. I was taken aback by the serenity and calmness of the beautiful setting and I felt removed, both physically and mentally, from my daily sources of stress. While the surroundings are idyllic, it's also comforting to know there's a wealth of expertise and experience in the spa offerings on site. As Linda Leclerc, the hotel's director of operations, notes, "We are the newest location of Holtz Spa in Nature, and this partnership was formed with Donna Holtom, the founder of Holtz Spa." Established since 1985 and headquartered in downtown Ottawa, Holtz Spa has a world-class reputation.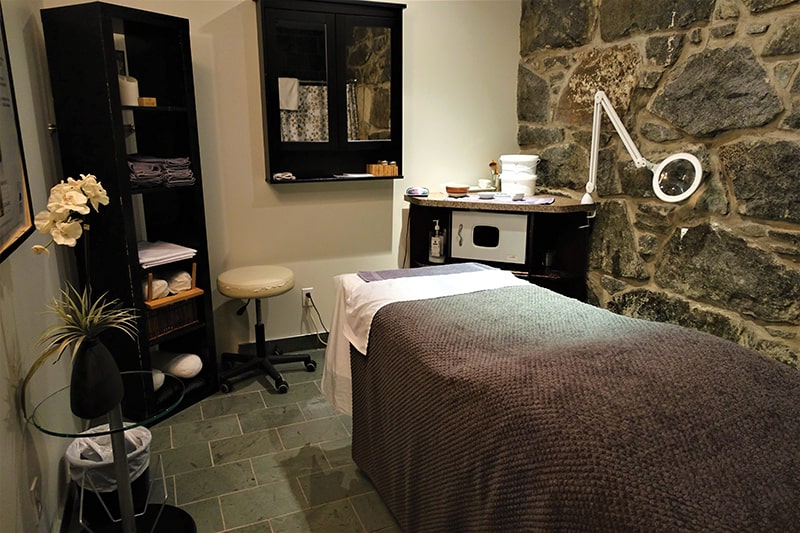 Body and Mind
I could feel it. Created and designed to eliminate toxins from the body, the organic antioxidant body treatment I experienced was long overdue on so many levels. Words cannot properly express how good it feels to have your body scrubbed by the skilful hands of a trained aesthetician. It felt as though the sugar scrub was removing some of my stress and pent-up tension, much of which I did not realize I had until I sensed it dissipate. Once the antioxidant sugar scrub application was complete, blueberry enzymes (yes, blueberries) were massaged onto my skin helping stimulate my body's collagen.
Following the enzyme application, my body was enveloped in what the spa refers to as a warming treatment. While wrapped up in a cocoon of layered sheets and blankets, I was informed that this technique encourages perspiration and the release of toxins from the skin. YES! Rid the toxins! This is truly a facial for the entire body. It was an invigorating and relaxing experience.
After a nice warm shower, I slipped right back into a state of bliss while my body was massaged with a moisturizing body lotion. The lotion brought back that soft supple glow that was hidden under my stress-ridden skin. However, the products alone will not make you feel any less stressed if they are not applied by the golden hands that only a skilled aesthetician possesses. These methodical individuals learn the subtle nuances we reveal with our body language. They are experts on knowing when to talk and when to be silent, in order for guests to relax and drift away with their own thoughts.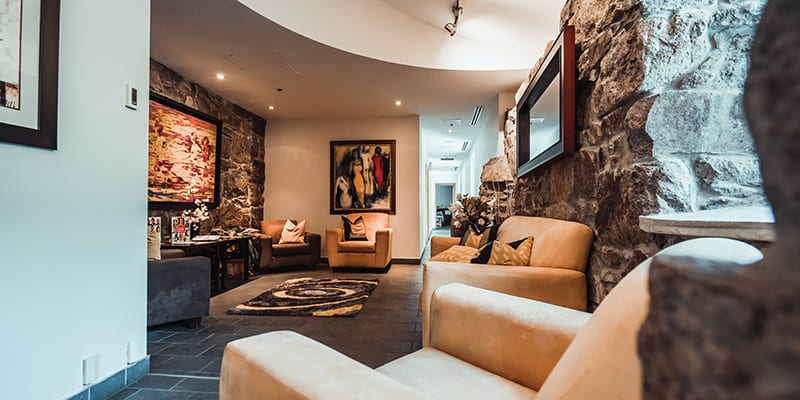 Forest Therapy
The lush natural setting also plays a starring role at this spa. "Where better to receive a Holtz signature forest therapy treatment but the Spa Forest at the Mill?" Linda asks rhetorically. Forest Therapy offerings include body and back treatments, as well as the Forest Retreat, a deluxe package that includes everything from a massage and a facial treatment to a mani-pedi and a chef-prepared lunch overlooking MacLaren Falls.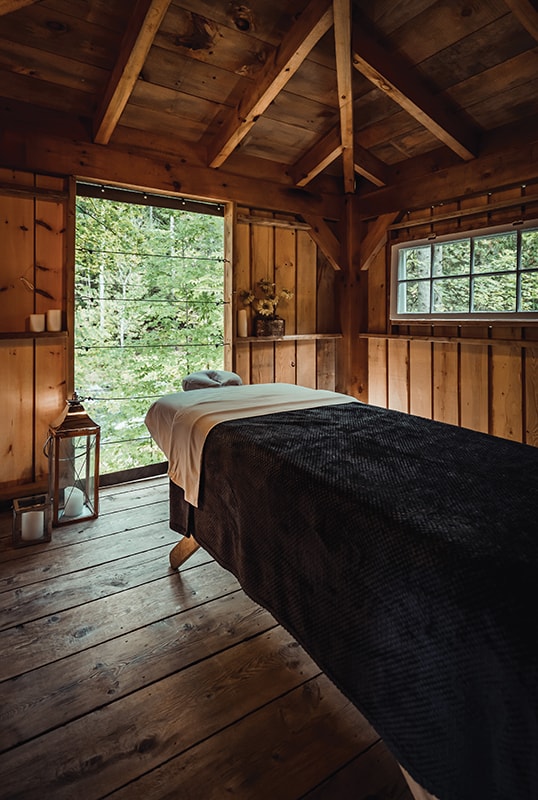 Envision a full body and sensory immersion with both outdoor and aromatherapy massages, plus various a la carte services offered in the hotel's spa pavilion. Packages are offered too. It's worth noting the spa is perfectly situated to maximize your enjoyment on an overnight or weekend getaway; there's easy access to Gatineau Park hiking trails and charming boutiques and bistros are only minutes away in town.
Whether it's for a couple of hours or a weekend, there are plenty of reasons to visit the Wakefield Mill Hotel & Spa. The few hours I spent at the spa were enough for me to feel significantly recharged and refreshed.
The combination of escaping the bustle of city life and experiencing the positive effects of a spa treatment is an indulgence worth discovering for your well-being and state of mind.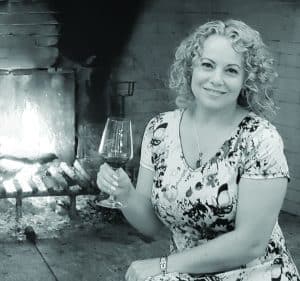 Brigitte Hasbron is owner of The Food Tease (www.thefoodtease.com), a combined culinary and travel blog that highlights the best that food, wine, and travel have to offer.