Jean-Claude Chartrand serves honest French fare with a twist at L'Orée du Bois
By Hattie Klotz
Photography by Brittany Gawley
When chef Jean-Claude Chartrand bought the esteemed Old Chelsea restaurant L'Orée du Bois five years ago, he didn't tell a soul. "When things are going well, don't change it," he thought to himself. "You don't want to put faithful customers off by change, and there still are plenty of those. You only need to broadcast change when things are going badly."
Chartrand and his wife, Josée, who formerly worked in human resources for the federal government, kept their secret for almost three years.
"We were very scared," recalls Chartrand. "I'm the perfect guy for the critics to slam." And maybe he has a point. Chef Chartrand has an outsized personality, but he's charming, vivacious and passionate about food, too.
Of course, the secret eventually got out. And L'Orée du Bois, which is celebrating almost 40 years of business, has kept its faithful customers and gained many more. It is a charming, vibrant place where guests return to celebrate special occasions or to escape from their hectic lives for a few hours. On a recent evening, the cosy large dining room, which seats 175, was three-quarters full, and as my husband and I finished our dinner close to 9 p.m., others were still arriving.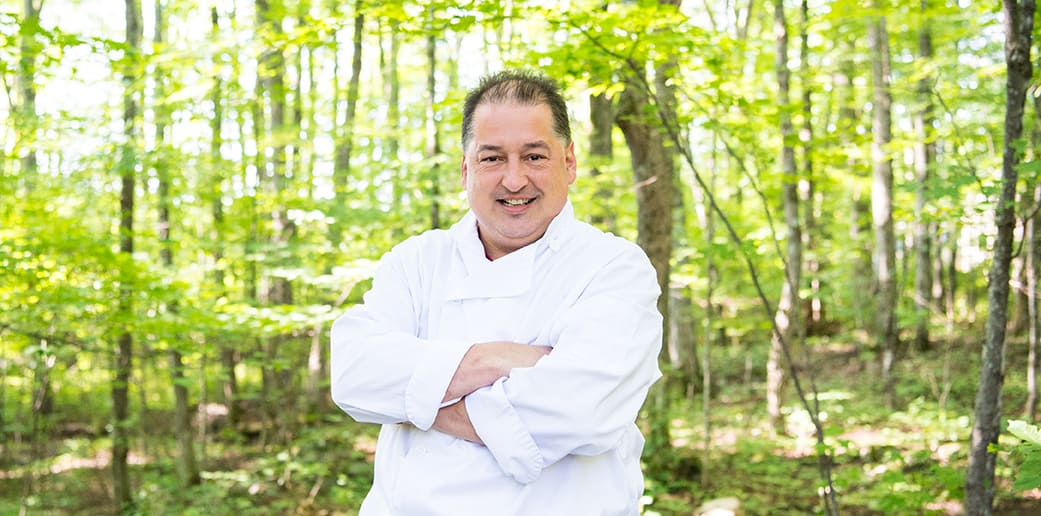 L' Orée du Bois is an anachronism in this day and age of restaurants touched by worldwide culinary influences. The food it serves is classically French with a faint Canadian twist. For example, a caramelized onion soup comes with a hint of maple syrup from Ripon, Que.; a fondant of foie gras is served with maple and cranberry jelly. While he doesn't add a twist to other French classics such as a mushroom feuillete, a robust fish soup with croutons and rouille and a steak au poivre vert, Chartrand's attention to preparing locally sourced, seasonal food fits nicely with the contemporary zeitgeist.
Mushrooms in many varieties are sourced from Le Coprin, a grower in Farrellton just north of Wakefield. Chicken is reared in Val-des-Monts, soft white goat's cheese comes from Ferme Floralpe in Papineauville while duck and rabbit are both Quebec-bred. When in season, he'll buy blueberries from the corner of the road, just a few hundred metres away in Old Chelsea.
"Our philosophy is that we try to source a high-quality product that tastes great," he explains, "and much of that comes from Quebec."
Chartrand was the youngest of eight children, a mama's boy who grew up in Rockland. "We were not rich and my mother supplemented the family income by making wedding cakes. She also baked bread and would stand back and say, 'look at that — it's so beautiful.' " The family had a large garden with plenty of fresh produce and Chartrand helped his mother with the cakes and bread. He also had his own stool to stand on, to reach the stove to make bacon and eggs.
But his path to owning one of the region's oldest and most respected French restaurants was not linear. "I had an adolescent crisis," he recalls. "At that time, it was not cool to become a chef. All my brothers were in construction."
However, he eventually made it to college in Alfred, Ont., but took the wrong course, signing up to become a dietary technician. Thankfully, the chef at Montebello must have recognized the ember of passion because he offered Chartrand a job in the kitchen, even though of the three questions he was asked in his interview, he got them all wrong.
From there Chartrand worked at the Fairmont Château Laurier, the Roseraie Manor in Grignan, France, Ottawa's Cercle Universitaire (now Le Cordon Bleu) and then as a sous chef in the kitchen at L'Orée du Bois, under the auspices of Guy Blain. Considered a visionary, Blain came to Canada from France in 1968 and worked at the Queen Elizabeth Hotel in Montreal and National Arts Centre before opening his restaurant in 1978. When none of Blain's four children showed a deep desire to take on the business, Chartrand and his wife purchased the restaurant in 2012.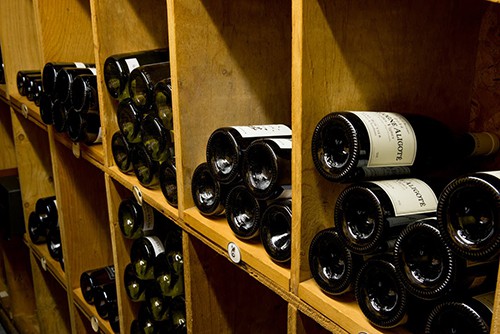 Over the years, he has competed widely in cooking competitions, both in Canada and abroad. A trip to China in 1990 won him plenty of Chinese patrons — both tourists and locals — who discovered his talents through Weibo, a social media site in China. They call two days in advance to order his Beggar's Chicken, marinated in Maple Port from Domaine Acer in the Gaspésie and cooked in clay for five hours at very low temperatures.
He also took part in the Quebec television show, Le Combat de Villes broadcast on Radio-Canada, "where despite being the oldest and without tattoos, I was the bad boy. It was tough psychologically," says the chef. Chartrand and his co-chef, Jonathan Harris, owner of the now defunct Tante Carole in Old Chelsea, reached the finals, which saw Chelsea face off against Montreal. The judges were two of Canada's most revered chefs, Normand Laprise, chef-owner of Toqué! in Montreal and Daniel Vézina, chef-owner of Laurie Raphaël with locations in Quebec City and Montreal. All of these sorties won him new patrons who make L'Orée du Bois a destination when visiting the region.
L'Orée du Bois means the Edge of the Woods.
And it is literally so. The restaurant is nestled at the gateway of the Gatineau Hills inside a building reminiscent of a Normandy country house, incorporating parts of an old farmhouse, built at the turn of the 20th century. It is full of woodsy accents, decorated with maps of Paris, paintings of nature, white table cloths and rustic dishes.
It boasts a very pretty herb and edible flower garden and a smoker cabin that looks like a perfect house for gnomes. Chartrand's team — he has 30 employees — smoke salmon and scallops in the fumoir, using maple and oak chips from local furniture makers.
He declares himself to be a dinosaur and while this might be a slight exaggeration, he is unusual in that he does not own a cellphone, doesn't do social media and continues to keep a chef's table. This means that he employs an additional chef with the sole job to prepare a daily meal for all the other employees. On the day of my visit, everyone from the front of house staff to the dishwashers and chefs are seated at a long table, sharing an early evening meal before service begins.
Chartrand's kitchen is a hot maze — it's due for an overhaul in the next couple of years — but he has invested in a vacuum-packing machine and a Sous Vide cooker, although he still swears by cooking with gas. He goes to France annually to spend time at LeNôtre cooking schools to keep up with new techniques and to buy wine: L'Orée du Bois is a licensed importer, which means the restaurant can sell wine to clients. Chartrand represents between 15 and 18 French producers.
While Chartrand may have grown up in a francophone family in Ontario, he is French through and through. His energetic English is wonderfully accented and he drives that most quintessential of French cars, the Citroën 2 CV. If the car were not eye-catching enough, he is often seen with his close friend Gavroche, the Great Dane, popping his head through the roof.
Vive la cuisine, française!
If you go
L'Orée du Bois
15 Kingsmere Rd.
Kingsmere, Chelsea, Que.
819-827-0332
fr.oreeduboisrestaurant.com