By Hattie Klotz
With four businesses between them—Models International Management, Viens avec Moi boutique, North & Navy restaurant and its soon-to-open little sister Gia—glam duo Sophie Beaudoin and Chris Schlesak have a lock on taste, talent and the city's creative scene.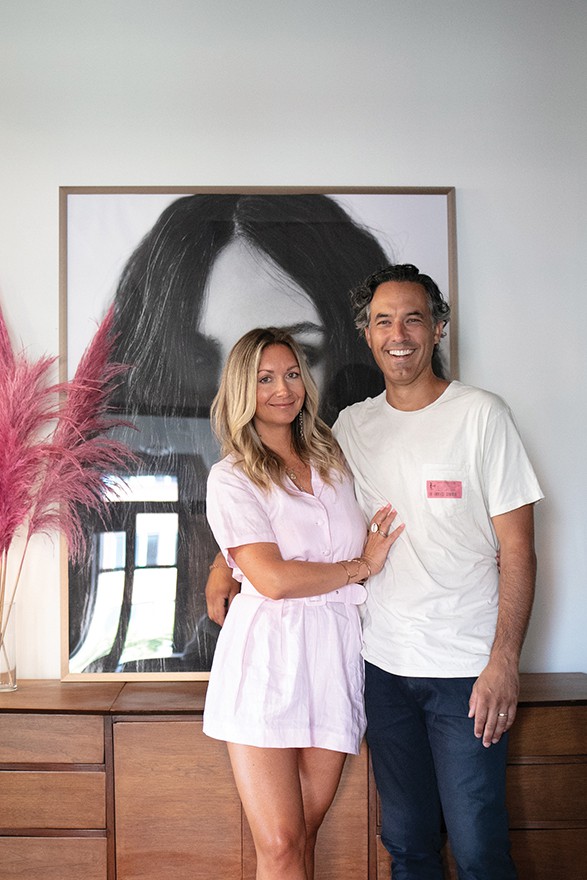 Is there a conflict of interest when the owner of a modelling agency and a would-be model … recruit each other? Or is that just serendipity? That's exactly what happened when Chris Schlesak, co-owner of North & Navy restaurant, went into Models International Management (MIM) for an interview. While owner Sophie Beaudoin thought he had potential, Chris thought longer term.
The couple married in 2013 and now have two children, aged six and five.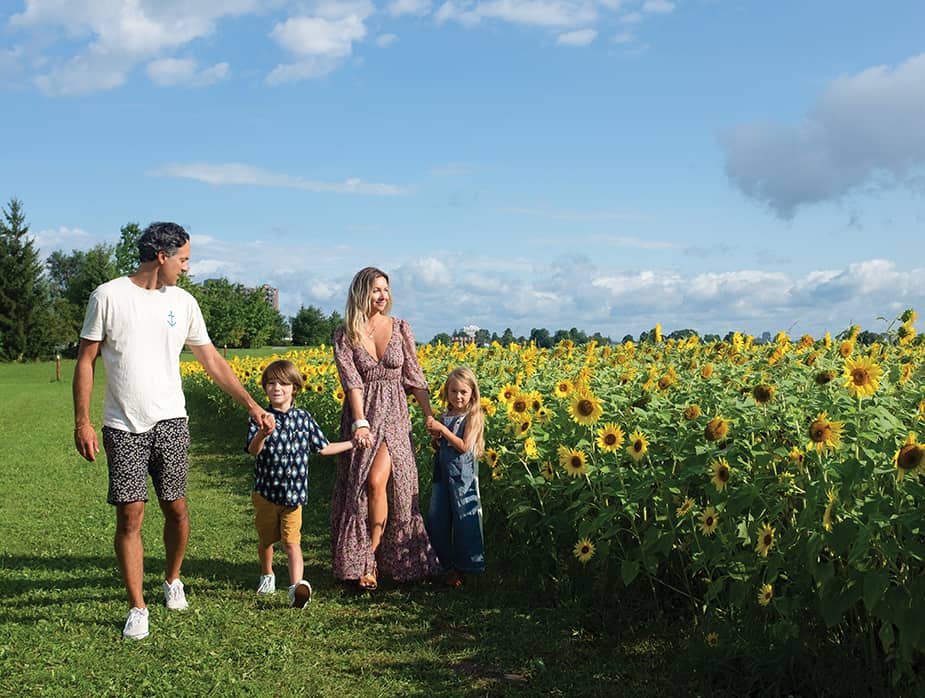 In a city top-heavy with government employees, Chris and Sophie are anomalies: both are creative entrepreneurs. Sophie runs two businesses: the modeling agency and the Bank Street clothing boutique Viens avec Moi (VAM), which she co-owns with childhood friend Renee Morra.
Chris is the co-owner, with chef Adam Vettorel, of the much-loved North & Navy restaurant on Nepean Street. And they're about to grow their empire; for much of the last six months, Adam and Chris have been preparing to open Gia, a little sister to North & Navy, at Bank and First Avenue in the Glebe.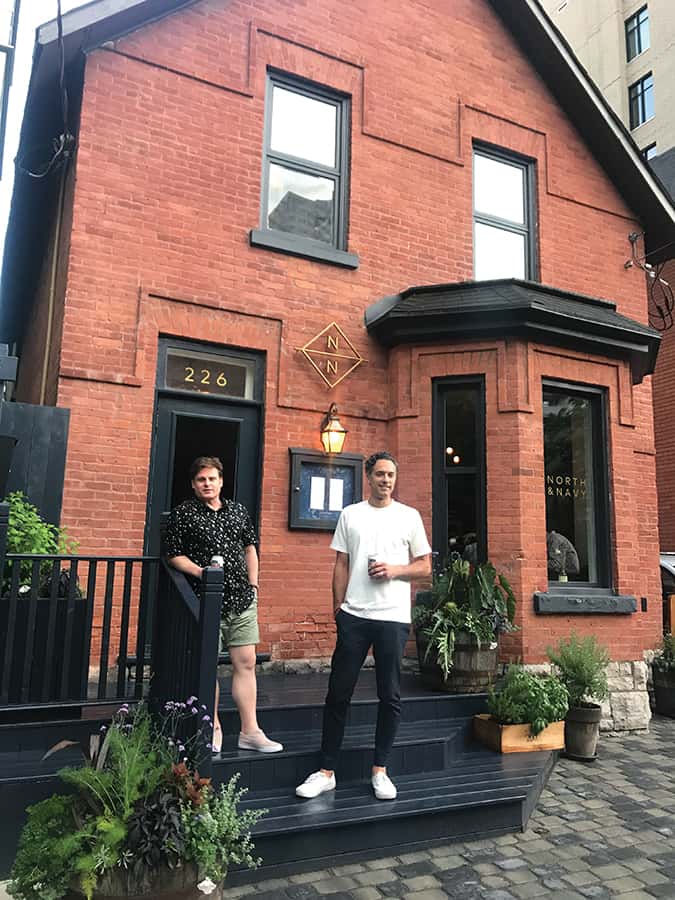 Sophie, who grew up in Ottawa and went to De La Salle High School, took over Models International in 2003 after graduating with a business degree from the University of Ottawa. As a former model with the agency, she stepped away from the front of the camera to run the show behind the scenes, where she was joined by Renee Morra, who is an agent and stylist. The pair then launched Viens Avec Moi in a little townhouse in Wellington West in 2011.
Presciently, in March 2019, the pair decided to close the store to concentrate on building their online business. Then in the fall of 2019, with a solid web platform and clientele, they opened a bricks and mortar store once again, but this time on Bank Street in the Glebe, "where we could never have imagined the amount of foot traffic going by," says Sophie. "I've always had a passion for fashion since a young age and both the agency and boutique allow me to feed that. I love discovering new lines, our buying trips and selecting clothes for our customers."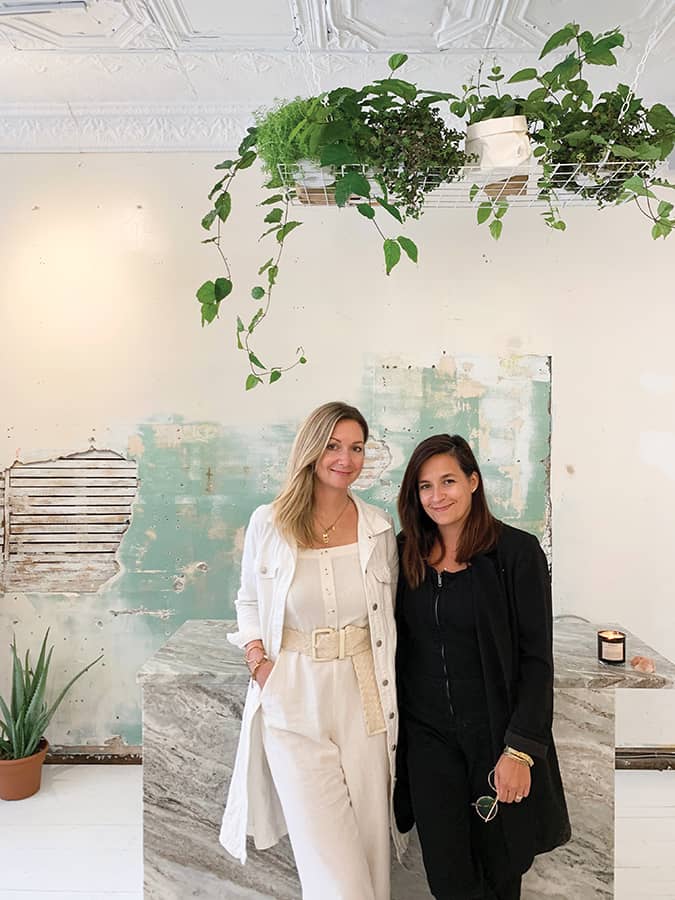 While she was building her brands, Chris, who grew up in Ottawa and went to St. Pius X High School, was pursuing "another love of mine," a photography business called The General Studio, out of a small building in New Edinburgh. Chris, who trained at the School of Photographic Arts off Preston Street, and his partner John Kealey accepted all kinds of work to build their brand. "We had some terrific clients and it was a great networking opportunity. I always found that I'd meet someone interesting at whatever event I was shooting," says Chris. However, a love of good food was always in his heart. "I grew up in a household where food was sacred," he recalls. "Family meals were important, especially on Sunday. My mother was such a great cook."
Chris got his start in the food business around the age of 16. "It was a side job, a way to pay a few bills," he says. But it was also a way to get closer to the industry and it was where he met his future business partner, Adam Vettorel, while working at Fratelli's in the Glebe. Adam was in the kitchen, Chris front of house, and in a strange coincidence, this is the same building that is now home to Gia.
While their paths looped backwards and forwards, with Chris not always involved in the restaurant industry, Adam spent time honing his skills and broadening his knowledge in the kitchen at Ottawa's Domus under the guidance of John Taylor, the pioneering seasonal, farm-to-table chef. "We'd build business plans on the side for fun," recalls Chris, "and we set up a small catering company to do private dinner parties to celebrate our love for good food."
Six years ago the former Beckta location became available. Chris and Adam decided it was their moment and they beat out several other interested parties to secure the lease. North & Navy opened in February of 2015 and was quick to become one of Ottawa's landmark dining spots with its dark and moody interiors, second floor private dining room, extensive wine list and a menu that reflects a respect for local, seasonal ingredients. "I love that it's on a nondescript street in a little house with character," Chris says. "We knew we wanted to serve northern Italian food as that's Adam's heritage. It also fits well with how we eat in this region; there's plenty of preserving and respect for local produce when in season." The restaurant's nickname, NoNa, "is our little nod to our grandmothers and their care for hospitality and good cooking."
Of course, no life, no livelihood has remained unaffected by COVID-19.
Demand for models, stylists and makeup professionals disappeared almost overnight in March, so the 150 people on Sophie's book at Models International have seen work evaporate, "but bookings and enquiries are beginning to come in again," she says. Her roster includes all ages, from fresh-faced junior-kindergarteners to photogenic octogenarians. "We can supply models for all types of work, and while we have models who travel internationally working in the world of fashion full-time, and others in Montreal and Toronto where there's more of this work, we still need models who look like everyday people," she explains.
At Viens avec Moi, business has been steadier, thanks in large part to the strong web presence she and Renee developed through 2019. Now, the store is open again and also offering private appointments after hours. During lockdown, Chris got his break in the fashion industry after all; He stepped in to help the store, doing clothing deliveries all around the city during the day, the same for North & Navy at night. Joking aside, he has done some modelling work, "and I've really enjoyed it, as you meet really great people," he says.
Meanwhile, over at North & Navy, Adam and Chris considered their options. "We let everyone go the Monday after shutdown, then we realized immediately that we had to offer take-out and so re-hired them on Tuesday," he recalls. "We really wanted to ensure jobs for our team."
It took a while to figure out how the restaurant would serve fine food to go, and packaging has been the biggest issue. "It's environmentally terrible and we couldn't find the quality we wanted," Chris explains, "so it took us a couple of weeks. But people have really loved it and we've received overwhelming support and we'll continue to offer take-away for as long as possible because people really are quite happy to have the option, especially if it rains and their patio seating is cancelled."
North & Navy is delighted to have finally been granted permission to build a patio after three years of applying for permits. The space seats between 14 and 16 and "our team is really enjoying seeing people once again," he says. Meanwhile, at Gia, "I love the fact that we're forced to reconsider the traditional model. So as well as casual, high quality Italian food, we'll be offering about 20 products that will always be available to go, including wine from our giant new wine fridge." Gia will also offer house-made salamis cured at North & Navy, and will partner with coffee shop Little Victories to provide the food for its new location opening on Elgin Street opposite the National Arts Centre.
Despite the obvious insecurities of running small businesses, "I love being self employed," says Sophie. "It gives me freedom and a variable in my schedule, making everyday different. I've always struggled with routine, even though we should use more of it, especially with kids!"
Chris disagrees. "Despite saying she doesn't like structure much, Sophie is the one that keeps us all aligned and organized. She's the queen of a balanced life, works harder than most I know, but manages to do so without compromising the family."
Sophie and Chris have worked together on several projects. "In the early days it was photography, shooting at her modelling studio and out on locations for various jobs. Then we designed and renovated the restaurant together. She's got an amazing eye and natural talent for design," says Chris. "Most recently it was the design and build of the new location for VAM in the Glebe. That was a really fun project, designing, sourcing and creating together again. Our designs are a mix of who we are together, where we are today and where we're dreaming of being."
For this creative pair, it's all about conjuring up just the right atmosphere, "an environment for our guests to feel comfortable and for our teams to feel at home," says Chris. "That's the goal at least!"