Five sizzling trends to give your kitchen staying power
By Anita Murray
Today's kitchens are about maximizing the space, showing off our design style and paying extra attention to the room that is the heart of the home. Not only do we spend much of our day preparing and eating in the kitchen, it's where guests often congregate and the place where we feel most at home. "We are starting to love the process and creation of food as much as its consumption," says designer Nathan Kyle of Astro Design Centre. "Creating a space that makes the preparation of food and everything that comes with it more enjoyable is the reason people are obsessed with kitchens."
Fellow designer Natasha Nash of Laurysen Kitchens echoes that sentiment. "If you have a kitchen you're not happy with or that doesn't function for your lifestyle, then you're reminded of its flaws every time you go to make a snack."
While Kyle advocates designing a space for your own enjoyment, he recognizes a renovated kitchen, done right, attracts many home buyers.
So, what's hot in kitchens today? We've polled Kyle, Nash and Deslaurier Custom Cabinets' Bob Gould
for their top trends.
Cue the colour
Sure, white kitchens are still king — how can you argue with their timelessness? — but grey is gaining ground, as are deeper hues of black, navy and olive, says Kyle. Shifting colour palettes answer our need to be different from the rest, he adds. "The entire design industry from furniture to clothing seems to be warming up to the deeper hues and subconsciously changing our mindset that deeper and darker is beautiful." The entire design industry seems to be warming up to the idea of deeper hues, including the Aster Cucine Contempora Collection, available through Astro Design Centre.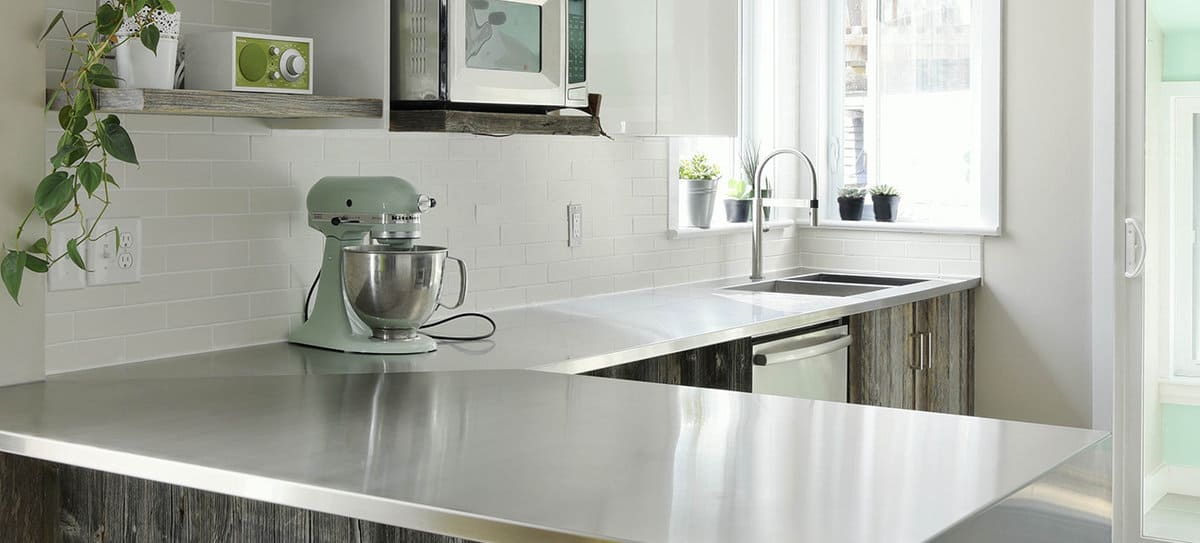 Mix & match
Combining materials, design styles, cabinet colours, metals or countertop finishes are part of a larger trend. "We're seeing a major mix in media lately as more classic and industrial looks are coming into vogue," says Nash. As our lives become more hectic, we bring things back to basics as a reminder of when we weren't so rushed. "We're incorporating more earthy items, barn board, wrought iron, brass, raw wood, and raw stone mixed in with the modern convenience of easy-to-clean cabinetry." But the introduction of raw, earthy materials must be balanced with clean lines, whites, greys and even bold colours. "The right colour with the right metal and wood can make a huge impact in an open space."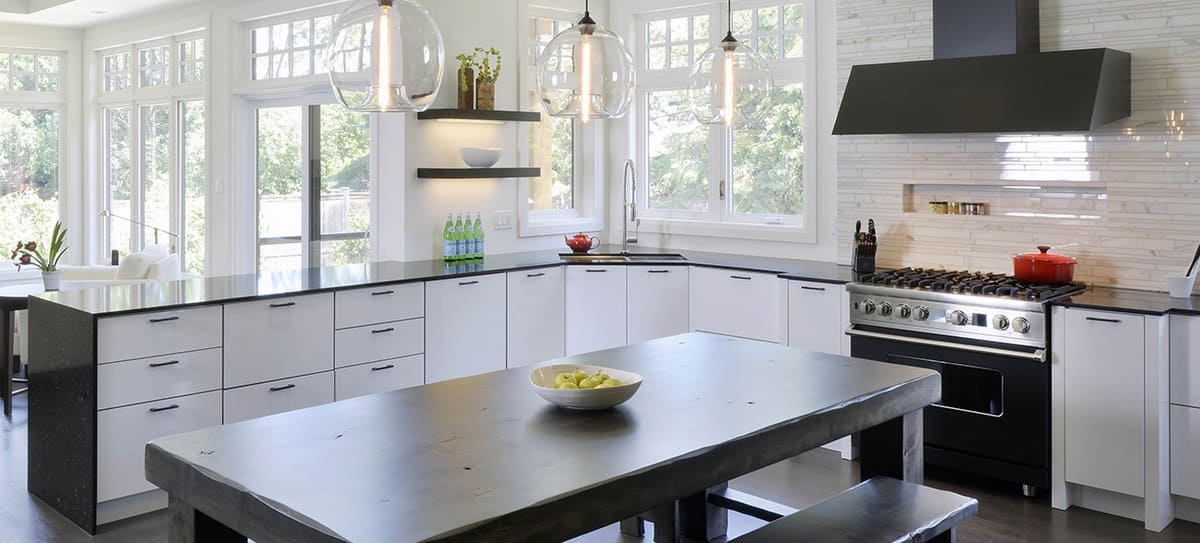 KISS
You've heard of the saying, Keep It Simple, Stupid? Well, there's nothing stupid about it. Today's homeowners crave clean and simple lines combined with low maintenance, says Gould. That explains the popularity of quartz, which is starting to outsell its glitzier cousin, granite. And carrying that solid surface up the wall in place of tile and grout continues the theme. "These days, people seem to be much more practical in the sense of what they want and something that cleans easily." And speaking of backsplashes, Kyle adds: "The backsplash concept is almost being stripped down to the basics and letting cabinetry and the fixtures take the limelight."
Photos by Gordon King Photography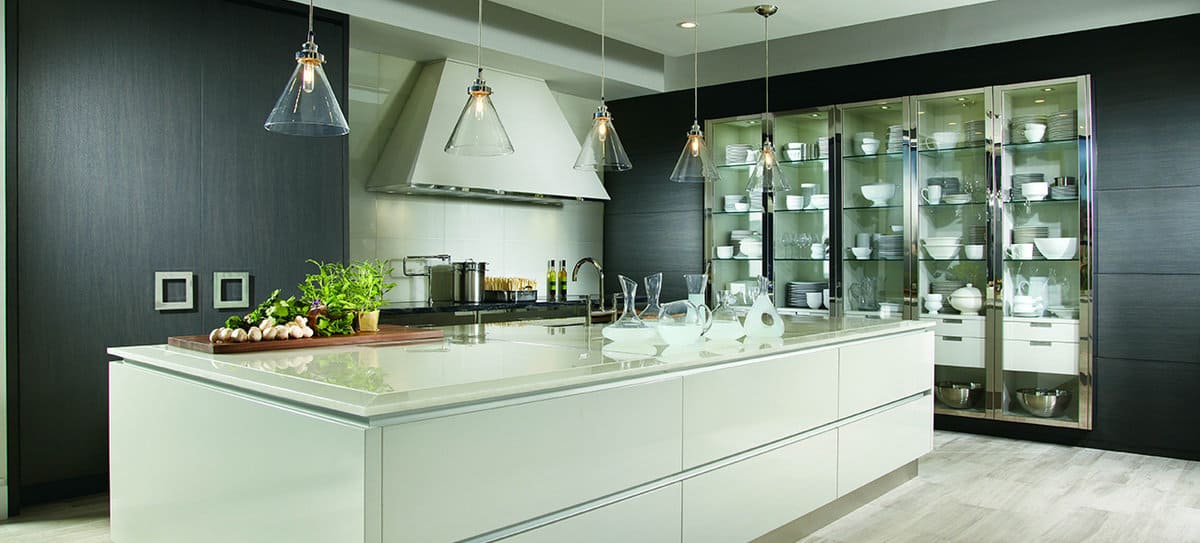 Island living
The island began as a meeting spot, a place for kids to do their homework or to put out snacks at a gathering, says Nash. As with the kitchen as a whole, the island has now become a focus worthy of design as opposed to something utilitarian. "I believe this focus became more important as islands became an item everyone wanted, but sometimes the space didn't allow for it. Furniture moulding and contrasting colours can make a small island seem grandiose."
Photos by Metropolis Studio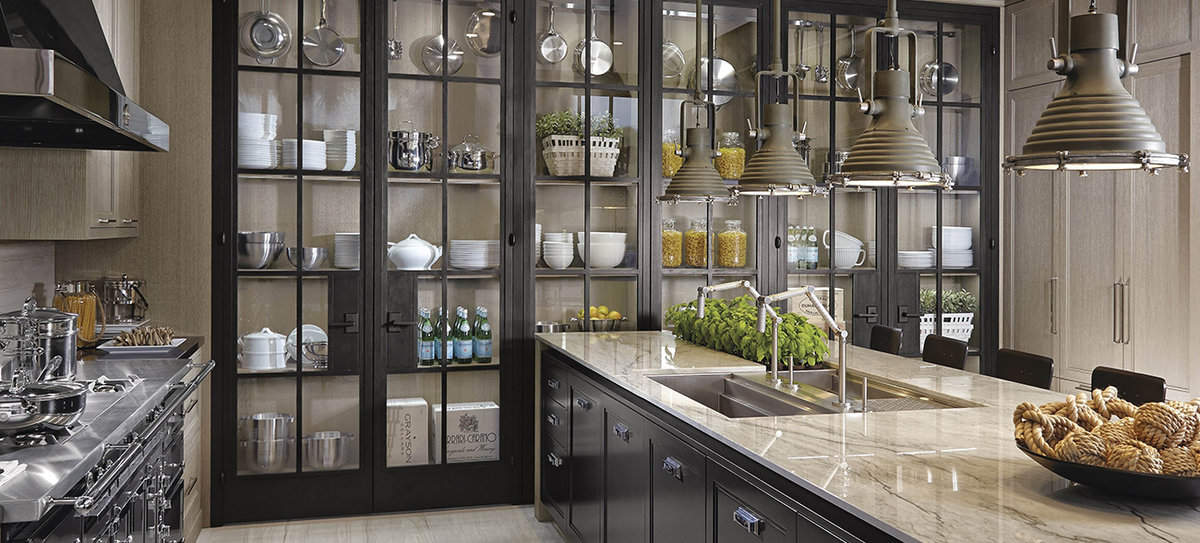 A new focus
It's not just the island that's getting attention. Materials such as barn board — a staple for several years in other rooms that's now migrating to the kitchen — add texture and character. Combined with other finishes, it creates a look that's urban chic, says Gould. And Kyle is finding the idea of a dedicated china cabinet is taking centre stage. "Very often, this piece has all of its items on display and decorated in a door style completely different from the rest of the kitchen, as if to suggest, it's on its own."