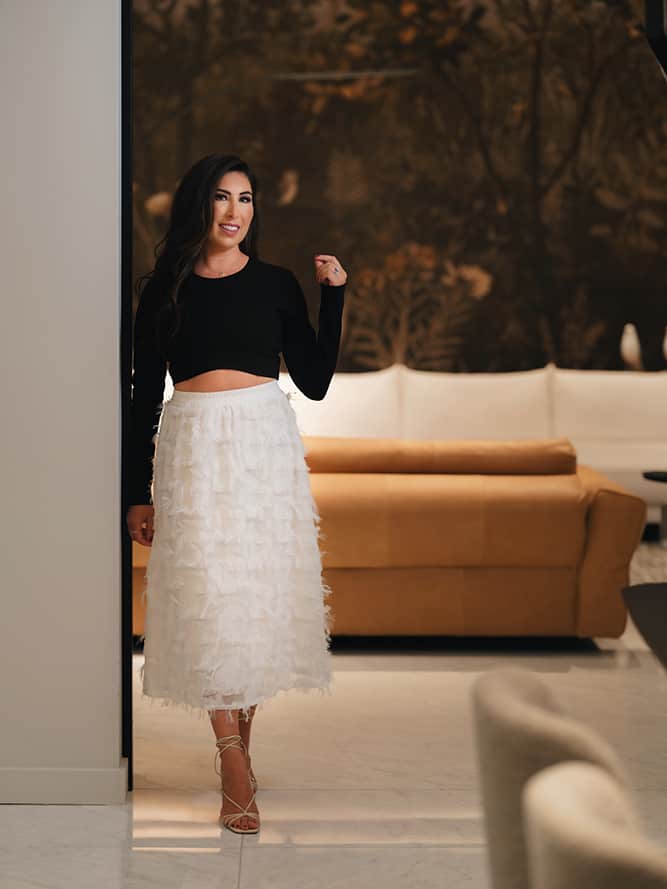 Mary Ciancibello keeps things classy in the contentious world of fashion
By Janet Wilson
Photography by FINNSQUARE.com
To stand out and to stay relevant in the fashion world, you need to be creative, have thick skin, sharp elbows and excel at self-promotion. For Ottawa stylist Mary Ciancibello, it's about striking the right balance between being relatable and aspirational when posting carefully curated images of herself on social media.
"There's a lot of pressure to chase after likes in order to remain relevant. I got into this to be an authentic voice and to help others. I'm blessed with a regular job and steady income and try to focus on just following my passion. I'm probably not a stylist in today's meaning of the word, but more of a wardrobe consultant."
Mary, who has dressed dozens of executives, lawyers and CEOs, says keeping things real and professional is the reason she's maintained a loyal clientele and enjoys a solid following on Instagram (@MaryCiancibellostyle), which she uses to build her brand and tap into her love of fashion.
"Helping dress people of all ages and backgrounds is such a rewarding experience and has left a big impact on me. My goal is to make people feel confident and to have the clothes work for them—it's quite emotional when it all comes together."
A longtime volunteer with various charities and organizations, including Fairy Godmother of Ottawa and Dress for Success, Mary has helped style and empower young mothers and bullied teens, along with postpartum and mature women—many of whom were transitioning back into the workforce. With her "communicate with style" motto, the mother of three—a son and two daughters—says she won't compromise her values to increase the size of her following in the splashy, sometimes superficial, world of social media.
Impeccably dressed at all times and with an open, down-to-earth approach, Mary is a sought-after commentator on local TV where she can be seen offering fashion and lifestyle tips. She was also a Bayshore Shopping Centre stylist for two years.
"I'm not going to lie, a lot of my fun 'side hustle' jobs have dried up during the pandemic. With the lockdowns and restrictions, it's understandable that our focus has changed. I'm looking forward to the day when this is behind us and our local businesses are thriving again."
As a federal public servant, Mary works in the professional development and communications field. She recently spent almost two years on secondment to the House of Commons, working with a transition team assisting parliamentarians who lost their seats in an election.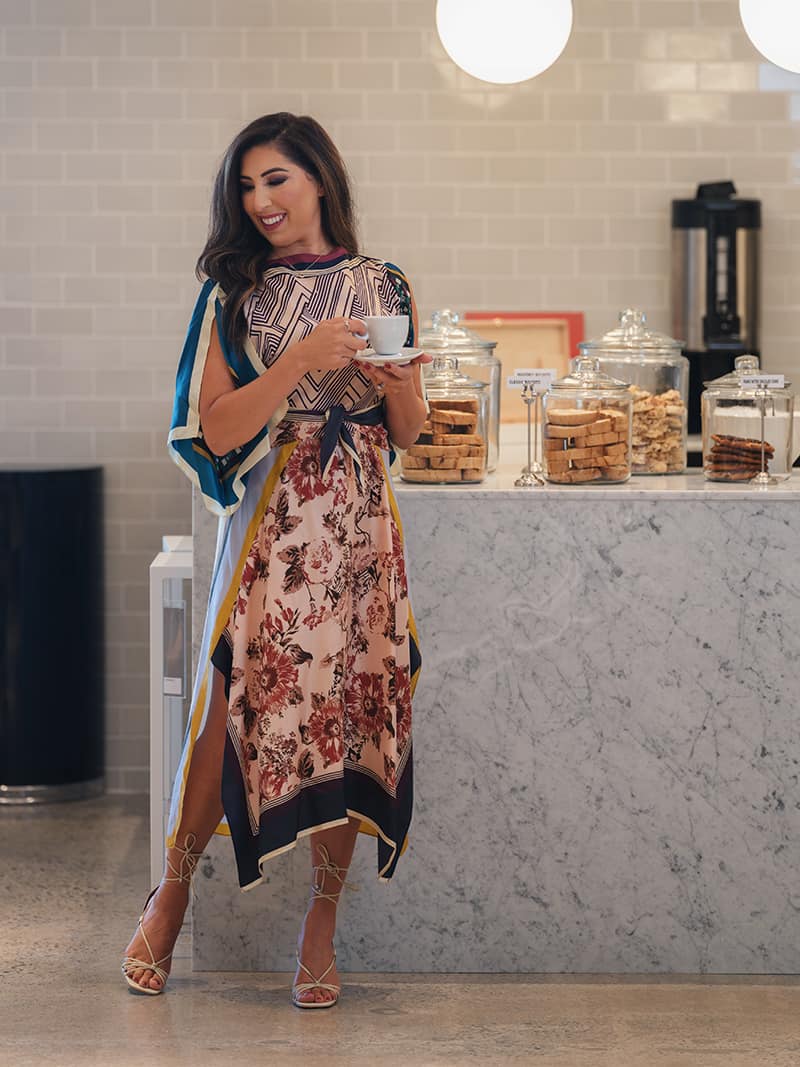 She's fluent in Arabic and French, and she witnessed the devastation of civil war firsthand as her tight-knit family travelled back and forth between Canada and Lebanon several times during her childhood. Today, her newly built home in Nepean is within walking distance to numerous relatives.
"With 52 first cousins, Christmas gatherings usually include about 125 family members. My husband is Italian and has a wonderful family, too. While the pandemic has been tough, the one blessing is the gift of time with our children. We cook and spend a lot of time together."
Mary credits growing up with four siblings and immigrant parents for teaching her the value of hard work. She wore hand-me-down clothing from her brother and learned how to sew her own clothes, which she jazzed up with fashionable embellishments. Following graduation from the University of Ottawa, she landed her first job at a bank, and when a female executive made a snide remark about her work attire, a fire was lit inside her.
"I quickly learned that her perception of my work was based on her impression of me, so I went home that night and crafted a corporate outfit. I started to see clothing as a confidence tool and a way to generate the right first impression," says Mary, chuckling as she mentions that she has twice won top honours as Stylist of the Year and Top Fashion Influencer from Ottawa's Faces magazine.
Mary began taking image-consulting courses and pretty soon she was offering presentations on how to dress. "I became successful at this by listening, getting to know what women wanted and how they wished to portray themselves in the business community."
When styling a client, Mary opts for local designers and Canadian labels when she can, including SIMONS, Judith & Charles, Greta Constantine, Lesley Hampton, Lucien Matis, Smythe Canada and Rebecca Rowe, along with Lebanese designers Elie Saab and Zuhair Murad. She has built brand partnerships with an array of restaurants and retailers, from small local companies to retail giants including Nordstrom.
Some of the trends Mary recommends you watch out for this fall include comfy knits, classic turtlenecks, structured blazers, good denim jeans, faux fur, sequins and feathers. She's also a big fan of scarves, a statement belt over a blazer, and prints—especially floral and houndstooth.
"Find yourself a pair of jeans that suits your body. I love the cosy comfort of autumn and feeling classy and feminine. We're getting there—fashion is coming back in baby steps."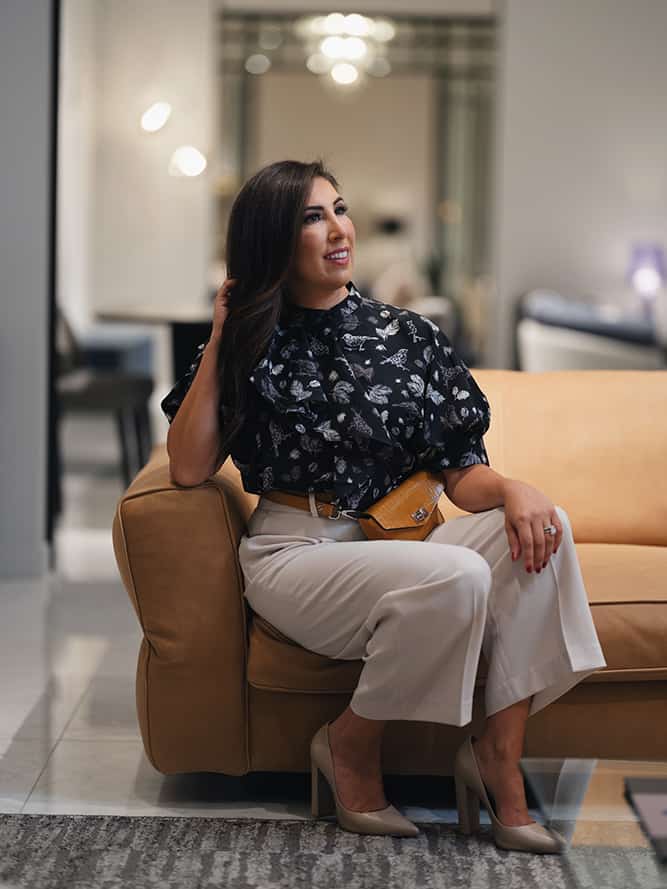 To contact Mary, visit maryciancibellostyle.com.