Luxury living in the heart of Ottawa
By Janet Wilson
Photographs by Marc Fowler, Metropolis Studios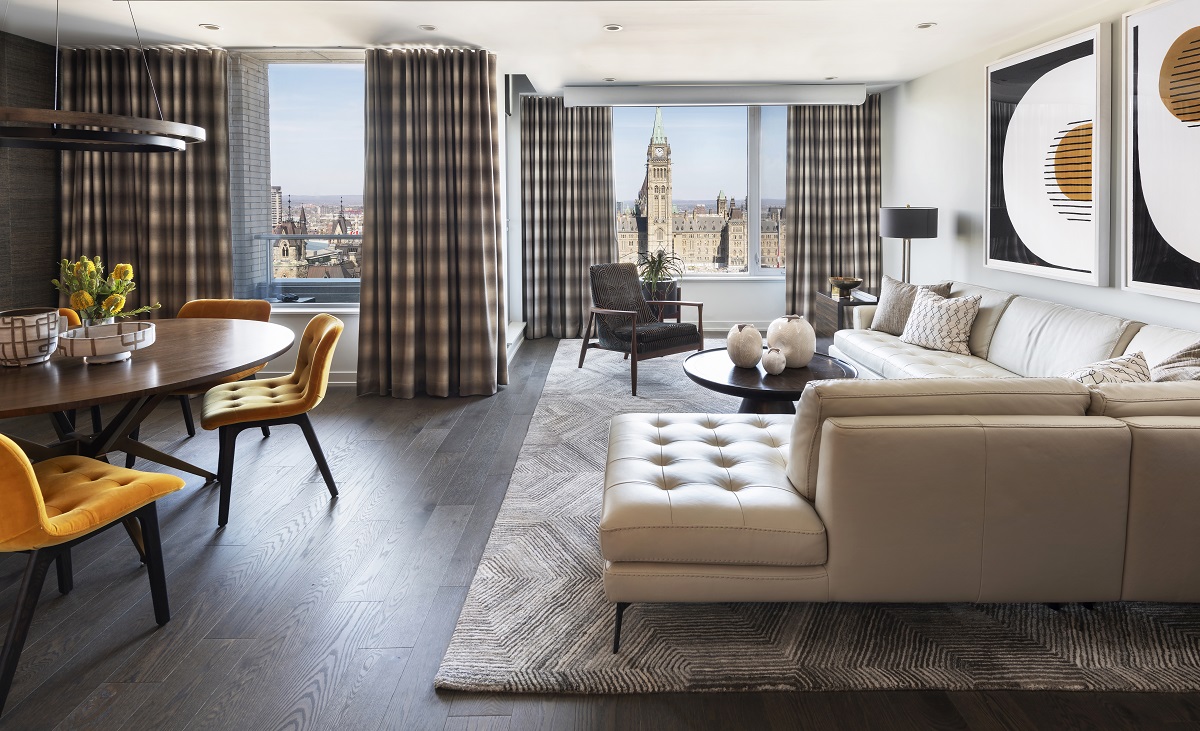 Jonathan Snook has a front-row seat to one of the most iconic views in Canada. With floor-to-ceiling windows overlooking the Parliament Buildings, the popular web designer's condo is the place to be—especially on Canada Day.
An avid whisky connoisseur and collector with a penchant for cooking and entertaining, Jonathan's dreamy oasis is an ideal location for friends to gather and catch up. He admits he never tires of the panoramic views of Centre Block, the National Art Gallery, Ottawa River and Gatineau Hills.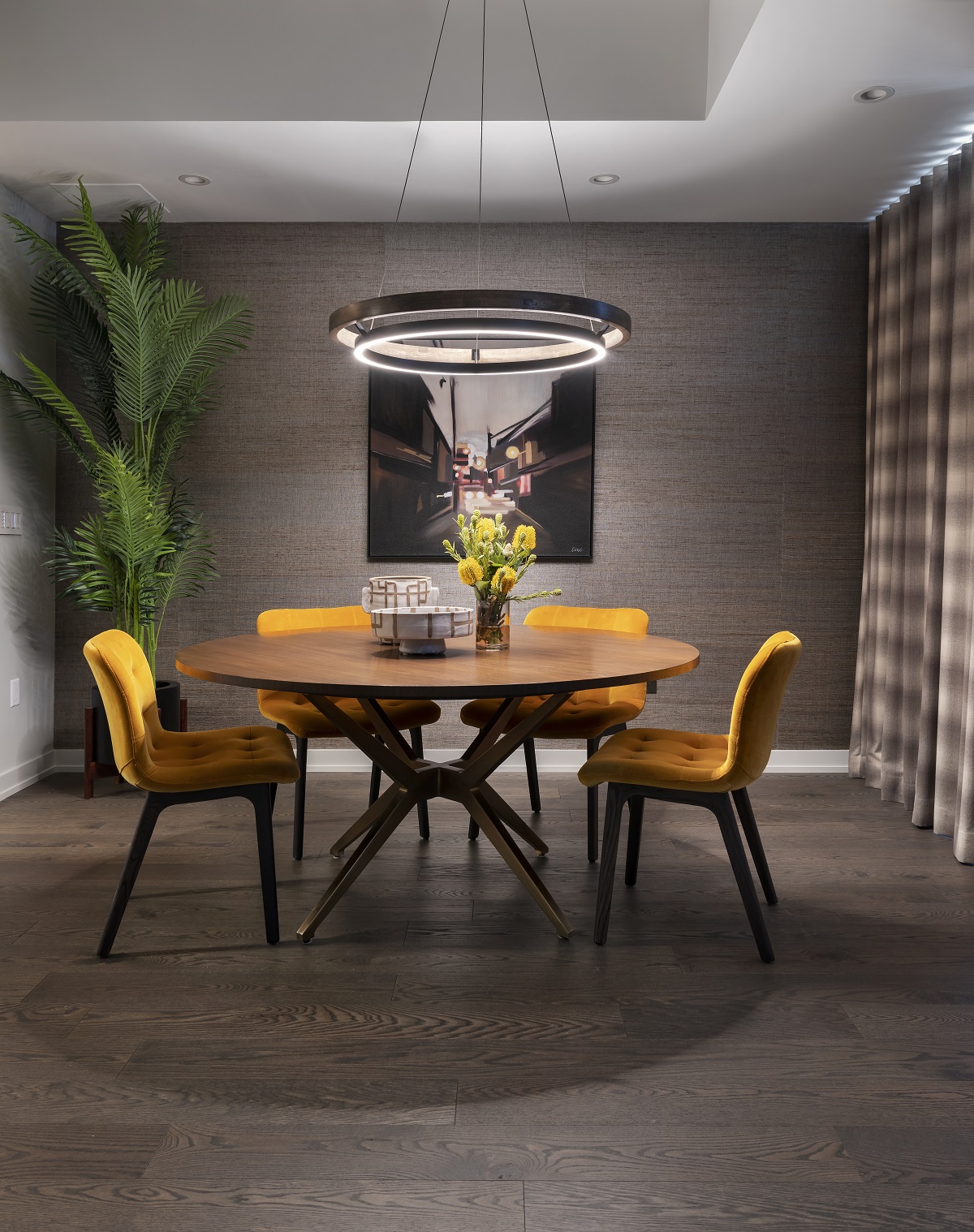 Built by Ashcroft Homes, reResidences is a modern glass-and-steel building flush with amenities, including a fitness centre, sky lounge and games room. It's located steps away from Sparks Street, restaurants, museums, the Rideau Canal and ByWard Market boutiques. The first six floors consist of a boutique condo-hotel called reStays, while floors seven through to 18 are privately owned.
Jonathan purchased the two-bedroom condo on the 16th floor at the start of the pandemic in 2020 and enlisted the design services of longtime business partners Denise Hulaj and Jason Bellaire of Ottawa's award-winning StyleHAUS Interiors.
"I was very particular about the look that I wanted—right down to the faucets. Jason and Denise were very attentive and accommodating. I enjoy a Japanese design esthetic and love natural textures, like moss, wood and stone. We bridged off of that vibe throughout all of the product selections in my home."
Having visited Japan a couple of times, as well as Portland, Oregon, which boasts many Japanese influences and gardens, Jonathan was keen to create an "organic mood" in his space, which is grounded in simplicity and symmetry. He worked with StyleHAUS on an inspiration board to capture that look.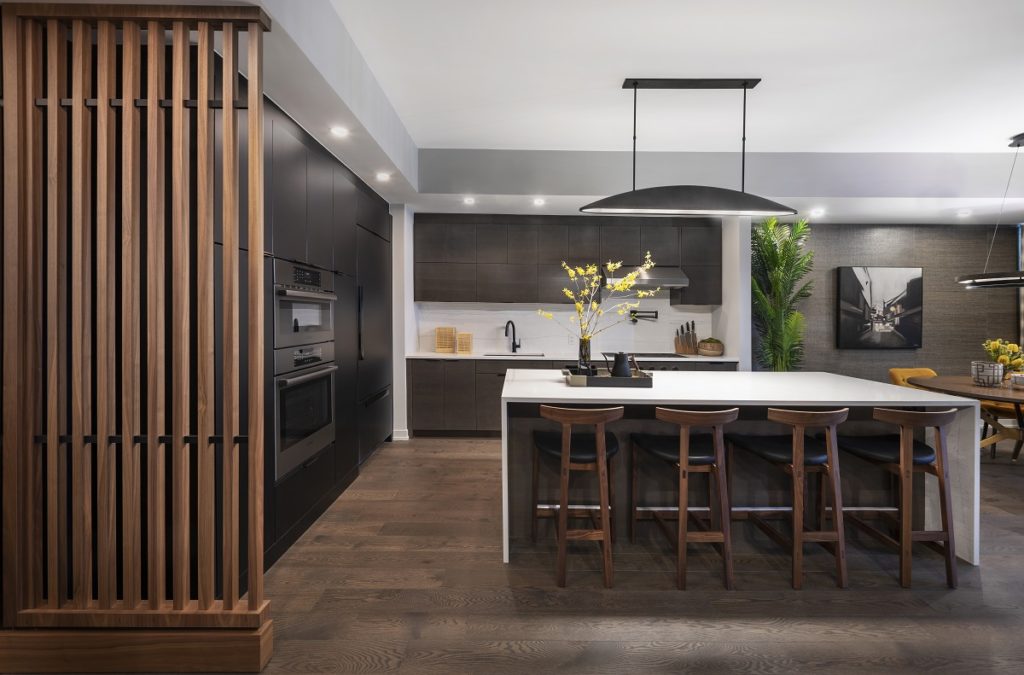 "I like to keep things as sleek and simple as possible. My living space is balanced and is divided into quarters. The wall areas line up with the separation of the kitchen and bar area," says the 49-year-old author and public speaker, who chronicles his adventures to visit the world's Top 50 restaurants before turning 50 in his blog at Fifty.Snook.ca.
Jason and Denise spent more than a year working on the design project with Jonathan, assisting with the masculine finishes, millwork, electrical plan and lighting, and modern furniture selections.
"We're so pleased with the elegance, timelessness and simplicity of the design. It's quite minimal without being boring. The key to this was to incorporate layered textures of wood, stone and fabric throughout the space," says Jason.
Cohesive architectural and design elements link the primary bedroom tucked at the end of a long, central hallway to the bright, open living space. Wood veneer wallpaper is featured in the guest room and front entry, which is also clad in rich walnut panel details—vertical wood slat dividers—to harmonize the overall design.
The primary bedroom also features a soft mural-style wallpaper from Phillip Jeffries, renown for his natural, textured wallcoverings. The bedside pendants are reminiscent of Japanese lanterns. Geometric patterns add visual interest on carpeting and tile work in various rooms.
"Jonathan has a fondness for Japanese design and culture and has an extensive whisky collection. We wanted to incorporate simplicity of forms and some elements of Japanese design, like the rich wood panelling and screens in the hallway to the kitchen," says Jason.
Jonathan, who has worked for Shopify, Yahoo, Apple and Delta Airlines as a freelance web developer and designer, admits his keen interest in whisky, which he developed over the past several years, has led him to explore distilleries around the globe in search of the best whiskies in the industry.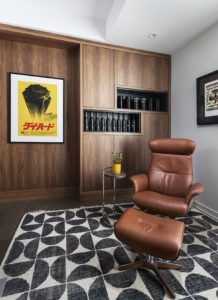 "I have a group of web development friends from all over the world, and about 25 of us used to meet in Atlanta to get together and hang out for a weekend. Everyone would bring a bottle of whisky, making it a great opportunity to discover what we liked and didn't like."
To accommodate his extensive whisky collection, StyleHAUS incorporated a built-in display space for the bottles in the bar area, as well as ample storage in his office, where highlights from his collection are tucked behind removable panels.
The sophisticated kitchen is a standout with its dark cabinetry and large quartz-topped island where guests like to gather. Pops of colour—hints of yellow and brass—add warmth to the space, turning up on artwork, accessories and plush dining chairs. With a 110-inch movie screen and projector, Jonathan also enjoys hosting movie and sports nights with friends. Lucent Controls, an Ottawa-based company specializing in home media and automation, provided the cutting-edge audio visual and home control technology.
Most of the furniture in the 2,000-square-foot condo was carefully selected to integrate with the strong design elements and sourced mainly from Cadieux Interiors. Brands include Bontempi Casa, Arteriors, American Leather, RH Modern, Bensen and Huppé.
"When I put my deposit down in 2020, most people were heading to the countryside and the suburbs. But it seemed like a great opportunity for me to get into the market as things were bound to turn around. With the LRT (light-rail train) around the corner and access to fantastic amenities, I love the flexibility of living here. There's so much building going on downtown, that things will only be getting better," says the happy homeowner.
For more information, Stylehausinteriors.com.