The chutzpah behind Sarah Moffat's vast creations
By Sally Smith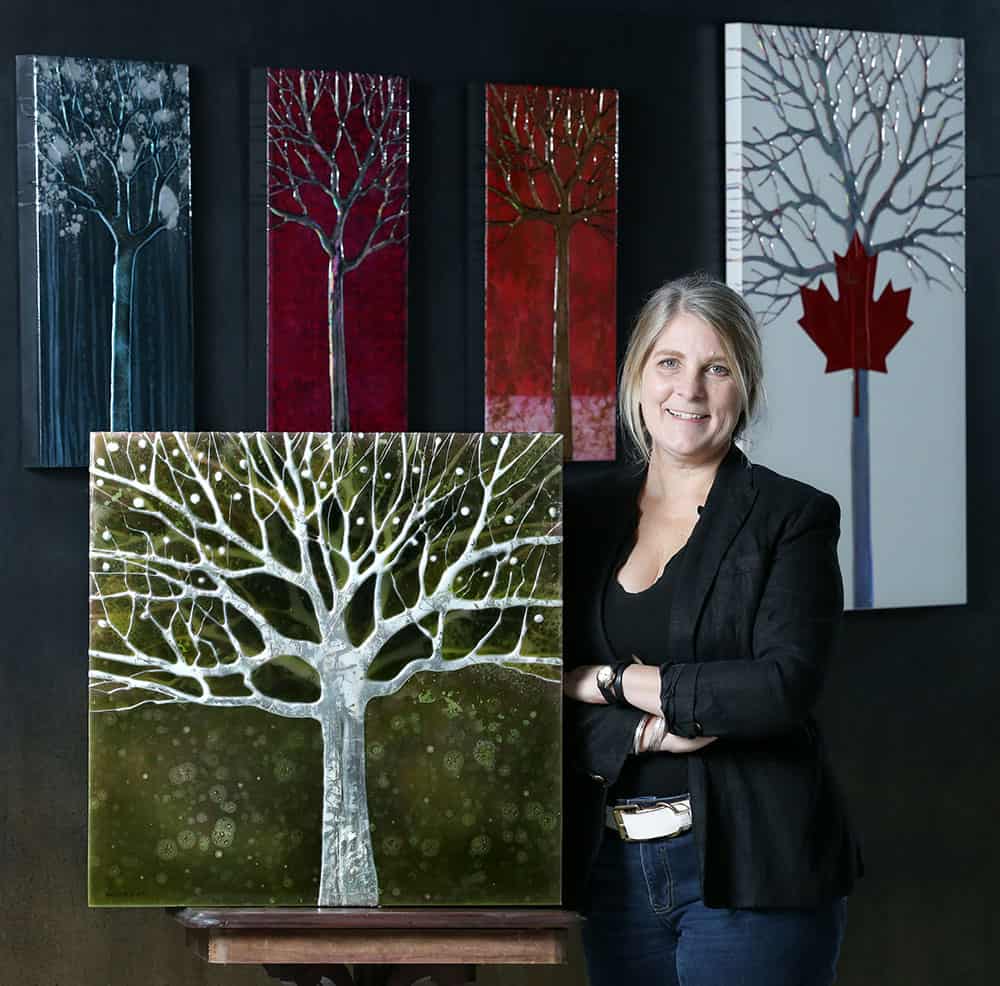 At 50 Bennett Street in Carleton Place, you'll see five flat blocks on the corner of the building. Each has a colourful, foot-high letter: S.M.A.R.T. It stands for Sarah Moffat Art, as this is where multi-media artist Sarah Moffat has her studio, gallery and workshop.
Art is Sarah's world. With the help of friends she gutted this 3,400-square-foot space, the old Lanark Mental Health building, to build an atelier for her large, one-of-a-kind dramatic pieces of art. They bashed down walls, put up fixtures and reconfigured the expanse into a workroom, a sewing room, a woodworking shop, a small kitchen and dining area, plus a huge, bright gallery.
This is where she makes her art and her living. Sarah works with epoxy and holographic metallic foil, a unique medium—one she's perfected over the years. "What I love about it is that it's experimental," she explains. "You never really know what it's going to do. It's immediate. I make decisions as I go."
She talks about the process: "After I pour the colours out, I stand there and watch it change." In a couple of hours, "when it's bubbly and gurgly," she begins to get a picture of what a particular piece will be—water, or an ocean spray, the feathery edge of a flower, or even a jellyfish. The grass and tree shapes evolve as her medium "sets up."
"I believe in randomness," she says. "The randomness of nature—a field, its highs and lows, its textures. Nature made that.
"I want my art to have elements of that. I don't want it to be forced. I don't want to sit there and paint a cloud. Instead, I want to put three colours of blue together and have the medium make a cloud that's [made from] poured epoxy. Those four different kinds of blue that I've poured together—they do the magic."
Sarah is a small woman, maybe five feet tall, but her art is big. Her largest piece so far is five feet high by 10 feet wide. She's created more than 500 pieces to date and has loved 485 of them. "For me, it has to be perfect. I hang it up, I look at it; the colours have to be right, the balance has to be right. It can't have a flaw in it, it can't have a cat hair in it," she says, looking at her black cat, Bobby.
Sarah, 51, has been at this a long time. She started 44 years ago painting ladybugs on rocks and selling them in the parking lot at the ski resort where her family lived. She also recounts, with some glee, ruining her parents' pots and pans and setting the house on fire with "batik experiments."
Selling, as a youngster, wasn't the hard part. Today, though, she puts considerable effort into it.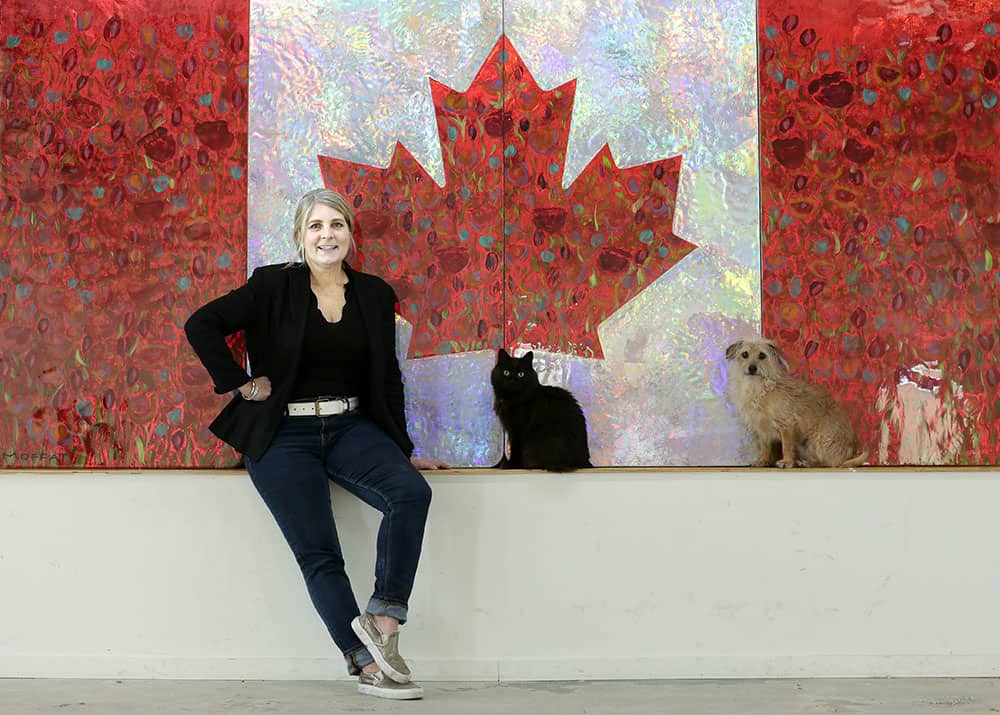 To get pieces in front of people, "I have to stay ahead of the game. I have to work it, constantly market it. I'm always aware of what I need to do." That To Do list includes: "answer emails, be social, update my website, research and contact galleries, research art shows, research what charities I might want to donate to (as a way to get people in front of my art), do classes, keep track of clients, catalogue."
In her words, "I have to be committed, and I have to have a product that people want." This is where Sarah's creative and entrepreneurial sides meld, somewhat like her epoxy mixtures; she's passionate about her art, but she's also a pragmatic businesswoman. "I get to know my community; I host open houses to bring people in." She also reaches out, by way of fundraisers. She donates to several art auctions a year and was excited this year to donate to a CNIB fundraiser in Huntsville. They asked, she says, that some aspect of the work be in Braille. "The whole thing is Braille," she notes. "What other art could a blind person feel?"
In 2017, her huge red and white Canadian flag was auctioned by Lawrence Greenspon at the For the Kids auction and it brought in $8,000 for The Ottawa Children's Treatment Centre. The flag was bought by the Ottawa Sports and Entertainment Group and now hangs at Lansdowne Park. Last June, another piece was on the auction block at the Lake Joe's CNIB Clam Bake in Muskoka. Tim Hogarth, president and CEO of Pioneer Group Inc., bought it, overbidding the asking price by $1,000 and immediately donating the money and painting back to the camp.
In earlier years, Sarah owned a small company called Faux Unlimited, and she also brought up three kids with a partner. Now she is in her own space, and on her own. If she had her 'druthers,' she says she'd probably be a hermit, but she knows the importance of staying connected. Besides monthly open houses at her gallery, still-life drawing classes happen every Wednesday. Other artists give workshops in the space, and she usually opens it for parties, fundraisers, and even weddings.
Sarah's fulfilling her vision of big art. She's built, uses and runs a gallery, she works every day at a chosen and loved profession, and, if she wants, she can sit back quietly and take a deep, contented breath. "I've designed a life where I have a lot of freedom to be where I want to be, and whatever I want to be."
To view more of Sarah's art go to sarahmoffat.com.