Diptyque Paris – 34 Boulevard Saint Germain solid perfume
This perfume is an enchanting fusion of notes that captures the scent of the first Diptyque boutique in Paris. Soft woodsy notes and rich spices are both comforting and addictive, while the fruity aromas add a contrasting combination that makes for an opulent scent for anyone. Adoring the portable solid balm perfume, it means you can carry it with you for decadent touch-ups anywhere.
$75.00 Nordstrom stores Canada (EDP spray available)
James Read H2O Tan Drops for Face
These tanning drops can make you feel like summer is not far off and being a water-based formula means that it can be included into your existing skincare regime effortlessly. Love the addition of the soothing aloe and hydrating hyaluronic acid, especially in colder months. Simply mix a few drops into your daily moisturizer or serum to customize your healthy-looking tan; it's like sunshine by the drop.
$44.00 30ml eskincarestore.com
SAINT Cosmetics Eyeshadow Palettes
When luxury beauty encounters organic and makeup-artist-approved formulas. Each palette is an assortment of velvety, pigmented hues and multiple textures of matte, sheen and shimmer, making it easy to refresh your makeup imagination, play, mix and blend to your heart's content. Canadian made, this brand uses plant-based ingredients, is vegan-plus-cruelty and gluten-free.
$49.99 6 styles Terra 20 stores and terra20.com
Make Up For Ever – Ultra HD Underpainting Colour Correcting Palette
Designed by and for pro makeup artists because we often blend shades to customize client complexions. This incredible, creamy, but not greasy, correcting palette is available to everyone. Containing four shades—two correctors for neutralizing redness, dark spots and under-eye circles and two colours to be blended—create a tailored, flawless complexion. Comes in 6 combinations from fair to deep.
$53.00 backstagecosmetics.ca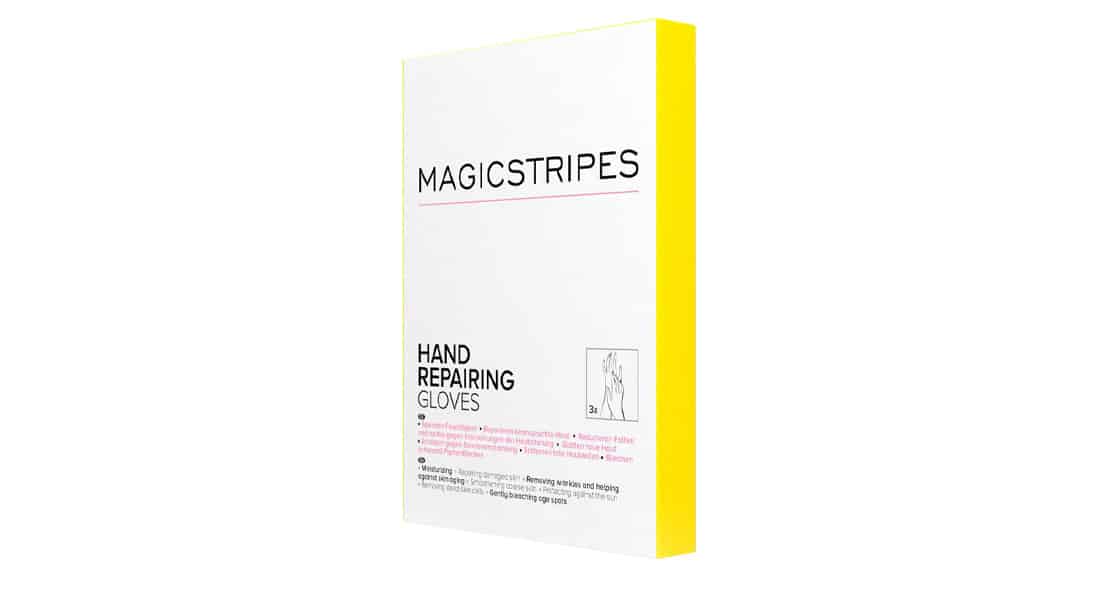 Magicstripes Hand Repairing Gloves
These treatment gloves go beyond your regular hand cream. Rich with healing ingredients, such as shea butter, olive oil, they also deliver the repairing care of natural extracts and Vitamins C and E. Deep moisturizing relief is felt immediately, while the antiaging, line-softening and skin-renewing benefits are also occurring for long-term repair.
$19.99/single pair $48.00/3-pack www.kitsu.ca
Unwrapped Life – Wildcrafted Shampoo and Conditioner Bars
Toxic-free, eco-friendly hair-care formulas with the superior results clients want. The Wildcrafted assortment is a shampoo-and-conditioner-in-a-bar concept. That's right, no plastic bottles. The five collections address different hair types and concerns and are made from naturally derived ingredients. The divine aroma of the bars is from precisely selected essential oils that perform together with the active ingredients.
$17.50 – $35.00 unwrappedlife.com
Poetic Blend – Cosmic Serum
Winter temperatures deplete the skin of its natural moisture, leaving it dull and showing signs of aging more than we'd like. Get effective nutrients into the deeper layers of the skin by including a serum in to your daily care. The Cosmic Serum saturates the skin with hyaluronic acid for intense hydration alongside plant peptides and stem cells to boost collagen and restore elasticity. The perfect serum to address hydration and antiaging concerns for all skin types.
$89.00 30ml poeticblend.com
Sephora Collection – Cream Lip Stain Liquid Lipstick, Metallic Finish
New season, new look for lips. So, say goodbye to matte and hello to metallic. You'll enjoy the same great lightweight application and long-wear of a liquid lipstick with the added radiance of a metallic finish. No stickiness of a gloss, just pure luminosity that creates a fuller appearance and diminishes the look of those dry lips during winter.
$18.00 12 metallic shades Sephora stores
Biologique Recherche – Lotion P50 PIGM 400 and Lotion P50 Corps
Globally coveted, these classic French balancing exfoliators are powerhouses as they moisturize, balance skin's acid pH, gently exfoliate and accelerate the skin's own renewal process for that sought-after French Girl luminous skin. In addition, the P50 PIGM 400 version targets hyperpigmentation spots. Working on the same concepts as the facial formulas, Lotion P50 Corps is a spray, modified for body care and abundant in poly-alpha-beta-hydroxy-acids, nettle and lemon extracts. An incredible must-have duo for head-to-toe skin-smoothing your skin will love.
P50 Lotion Corps $110.00/8.5oz P50 PIGM 400 $82.00/5.1oz one2oneonline.com