The art of Karen Dover
By Julie Beun
Watching Dr. Karen Dover move around her solo art exhibit in the vast stone-walled gallery at Almonte's Mississippi Valley Textile Museum is like trying to track a sparrow in a field of wildflowers.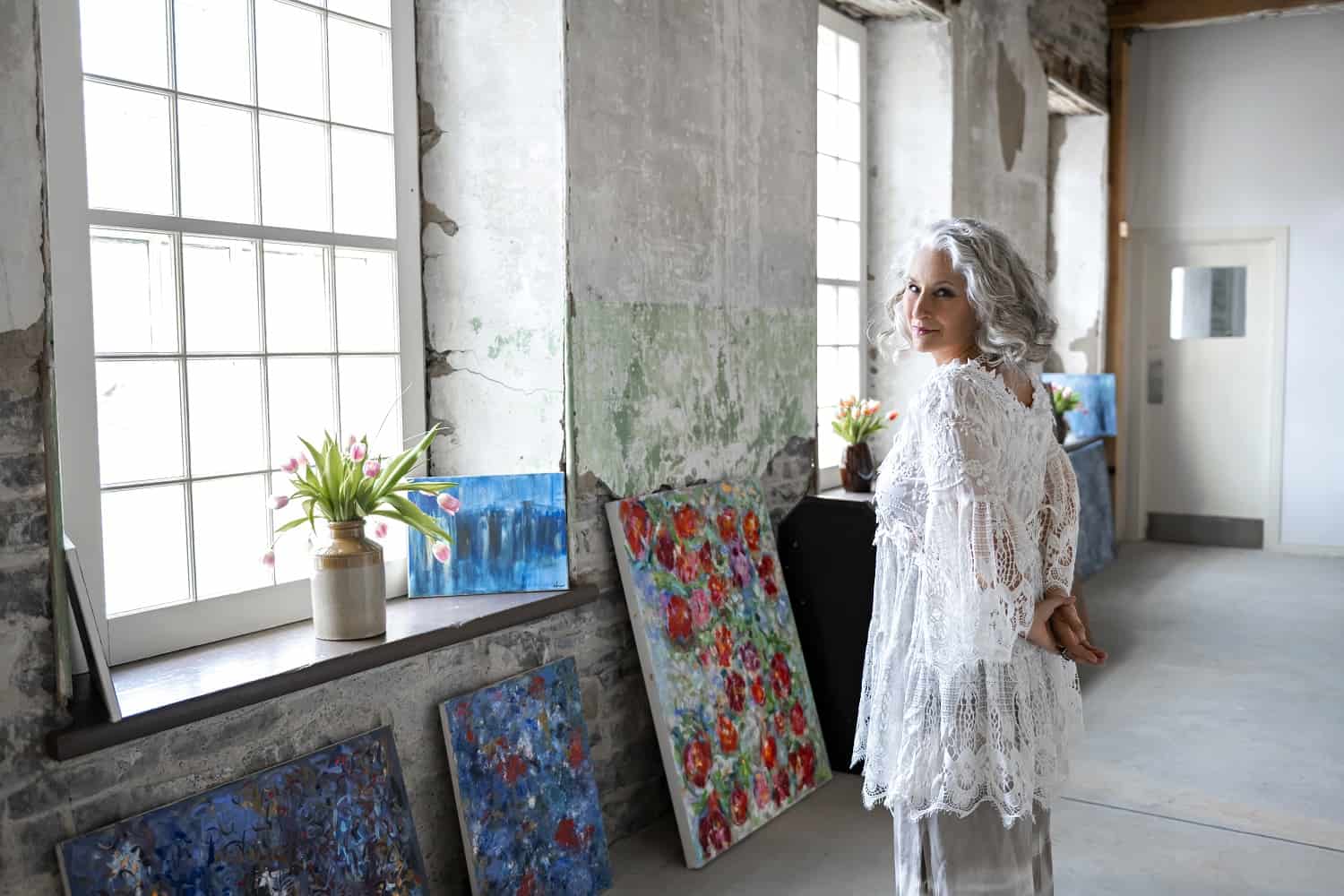 She moves quickly, with precise intentional gestures, first chatting with one guest, chirping merrily at a bon mot from another. Her eyes are bright, inquisitive, and observant; her energy vibrant but self-contained. Today, her feathers are a chic ensemble and designer shoes.
If her bird-like energy seems to be at a peak, it's with good reason.
After four kids, two careers in medicine, a thriving practice in cosmetic medicine (temporarily shuttered by the pandemic), a Cordon Bleu diploma, world travel and a lifetime of defying norms as a female surgeon in male-dominated cardiac surgery, she has found her voice—her latest voice at any rate—as an artist.
And, judging by the oversized canvases brimming with chaotic clashes of Impressionistic colour stacked several deep around the gallery, it's a voice bursting with things to say.
In fact, Karen talks like she moves: she starts a spirited anecdote in one breath, rushes past it to muse about the nature of creativity, dips quickly into her storied family (her late father, Mark, was chief of the general surgery department and assistant dean at the University of Ottawa, and one brother, Jeffrey, is a laser medicine pioneer and an associate professor at both Brown and Yale universities), before asking earnestly if breathlessly, "How are you?"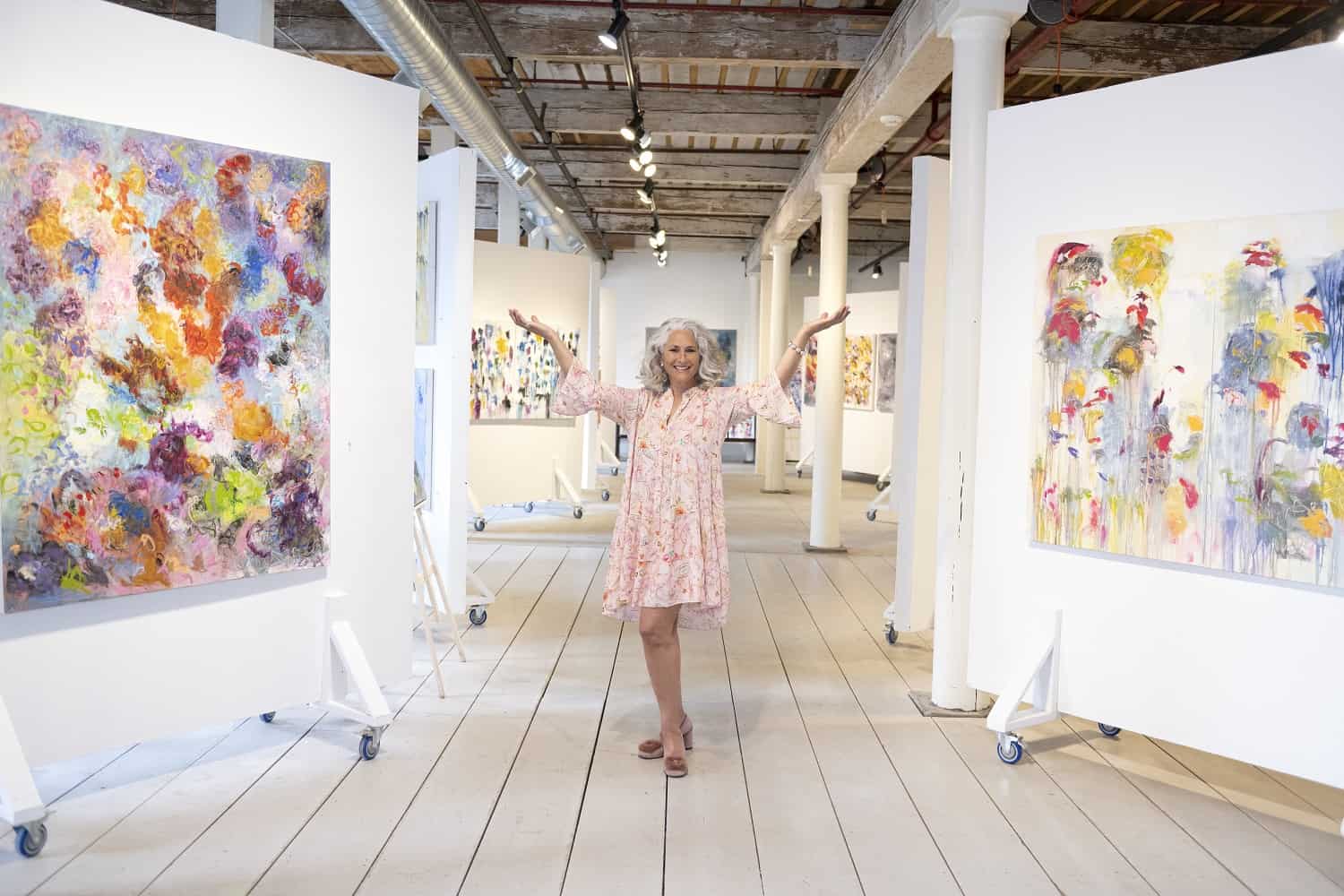 Art, it seems, has had the power to both focus and free Karen.
"Oh yes," she laughs. "It's really a lifeline for me. It's not relaxing, per se, but it is invigorating and though I take flight, it is grounding. And it brings beauty and light to my life. I can't really tell you why I do it," she adds, "just that I must or I feel I might perish."
It's a strong statement for a woman who has already succeeded at several careers and has the innate energy to probably tackle more. Raised in Westboro in a family of super-achieving scholars, she attended Nepean High School and the University of Ottawa, then earned a degree in medicine at the University of Toronto. After interning and residency, she joined the University of Ottawa Heart Institute's department of cardiothoracic surgery. In 2006, she took a hard right turn into the unexpected and opened her own laser and cosmetic medicine practice, which she still operates today.
But it was her other life, the one filled with workshops in photography, ceramics, and painting, that kept pulling her back to a love that began in childhood.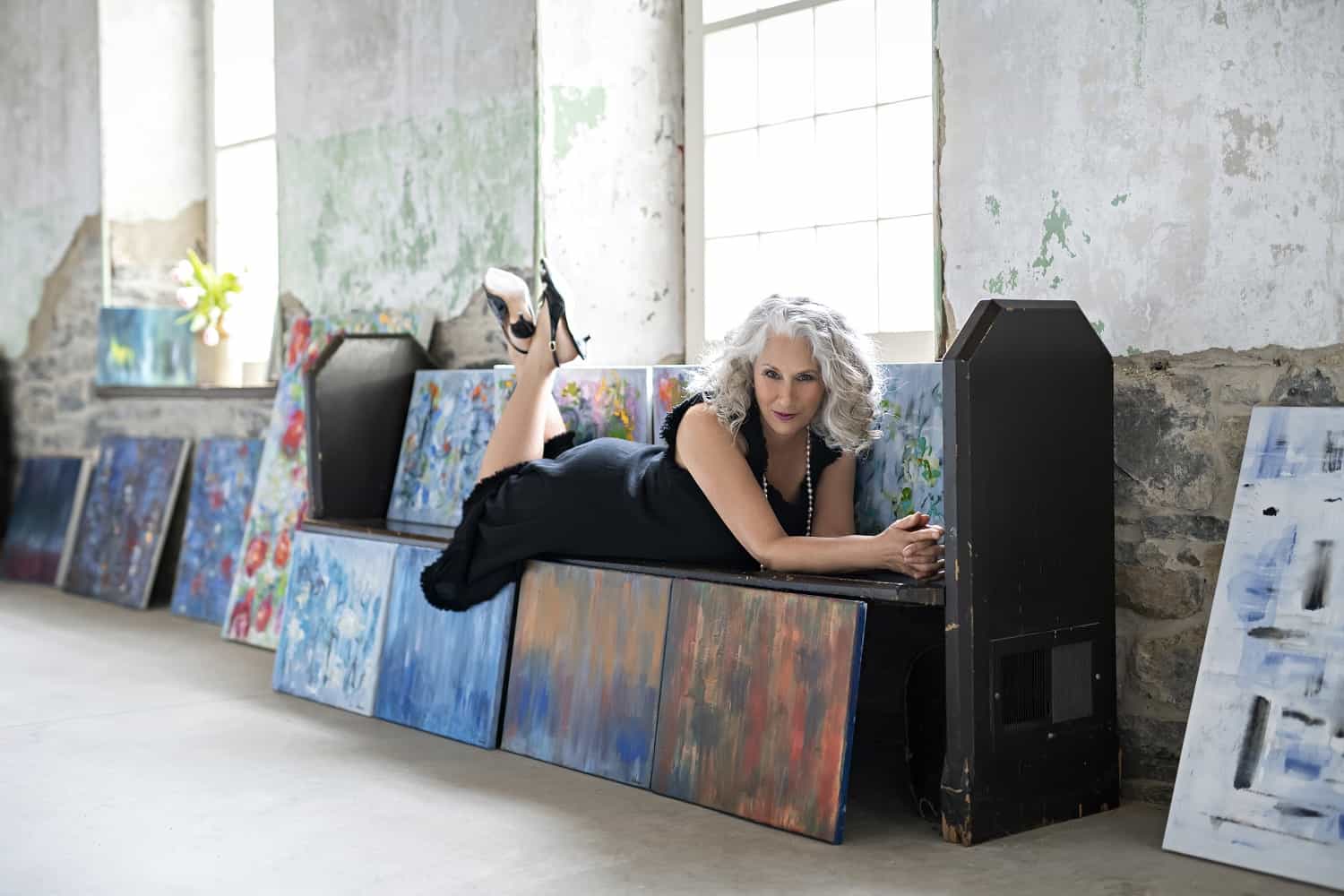 "I was very creative as a child. Abstract and unscripted works with unusual materials was my favourite playground; though I was fortunate to receive years of formal, didactic teaching in music and others, and competed in many of these arenas, it was the freestyle approach to each that intrigued me the most."
Yet it wasn't until her father's illness and death in 2019, followed by pandemic-imposed isolation in her beautifully appointed 170-year-old Victorian stone house on a rural Ottawa property, that her latest career iteration took shape. There, in a small studio flooded with light from high ceilings and windows overlooking fields, she finally had the time, space and focus to paint.
Her studio itself is exactly what one expects from an artist and could seem studied—there are charming crocks of brushes, woven baskets of paint tubes, a bright red chair perfect for pondering and a just-so tea tray at the ready—but it also has all the markers of an artist at work. Karen paints vigorously, often tackling six pieces in rotation, each hanging by a nail on the wall. Her art is driven by catharsis; the thickly painted landscapes are undefined but touched by music, emotion and release. Inspiration comes from outside her studio windows and long walks around her rural property with her dogs.
"This keeps things fresh, working intensively on one, then rotating, moving from one to the next with no time to dawdle, which prevents me from becoming too compulsive over not-so-precious details," she says of her multi-project approach to painting.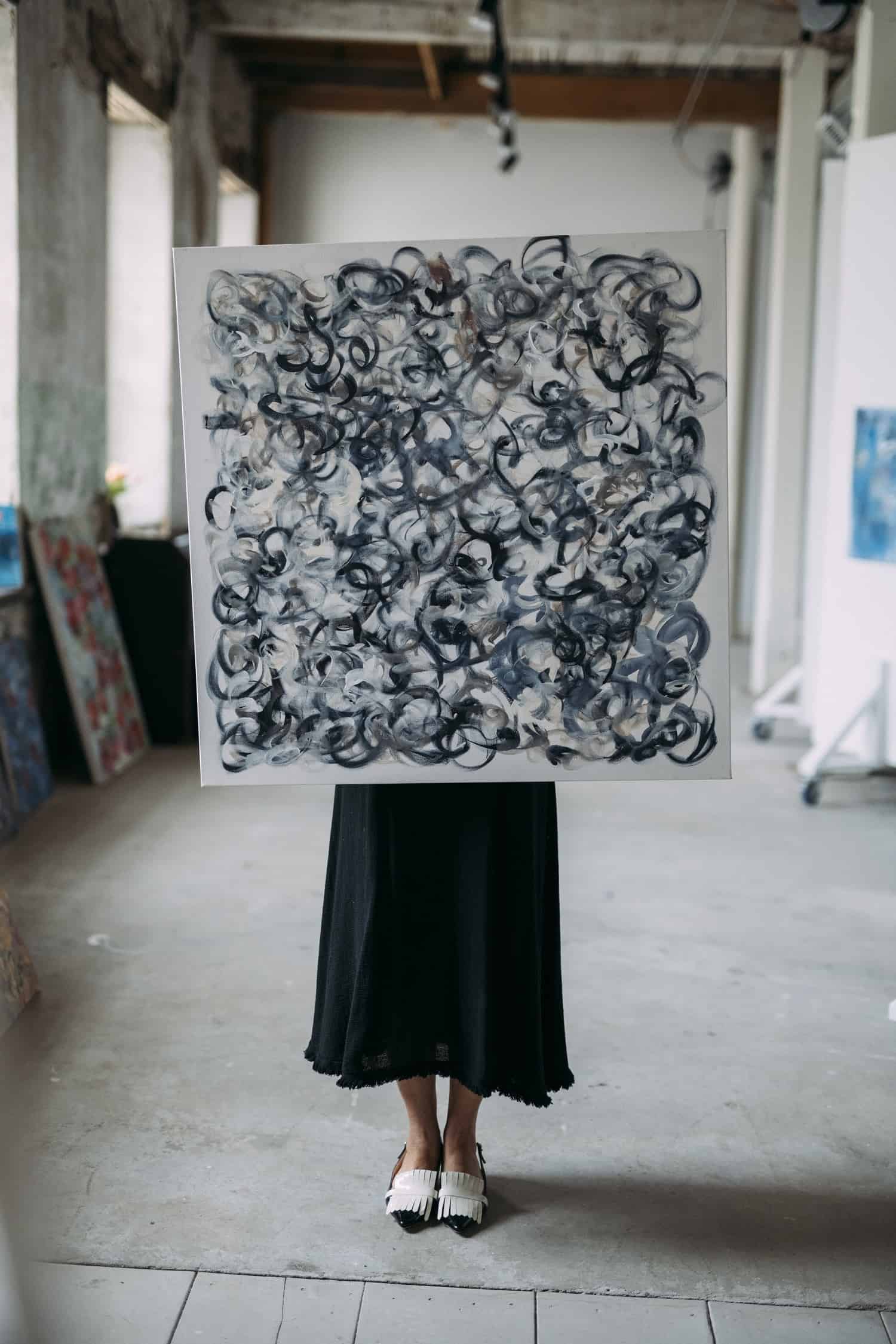 "The hours disappear in this space, yet time seems to stand still. I am immersed in nature in my studio, surrounded by exquisite beauty, and in the comfort and privacy of my home, with my many puppies strolling in and out for kisses, my lifelong extensive collections of art bathing my senses, and inspiring me, and with all the conveniences of modern life."
It sounds blissful put like that, but Karen admits that, like a lot of women who are multipotentiates, finding a way to define who you are when you excel in many directions is a lifelong challenge. Society, she notes, "tends to create unnatural boundaries, divisions and expectations, ones that can give comfort, but are also restrictive. With age, wisdom and experience, I can now see that these rules are nothing more than suggestions, so they don't limit me."
Realising she didn't have to stick to just one role or the other to suit society, like wife and mother, surgeon or artist, has been "the longest slow burn in history," she says with a chuckle.
"Forty years of questioning, wondering what I was going to do with these gifts that just didn't want to fit into the presets, if and when I grew up! Add to that juggling an active and growing family and home life, a challenging and full surgical life, then a busy and demanding practice, while battling self-doubt and constantly asking 'To what end?' every time I created yet another work of art.
"But my instinct insisted on me taking one step after another, with neither knowledge of the endpoint nor a view of the horizon, but with a determination to listen to my heart, and the courage to follow it. Originally, my 'excuse' for artistic expression was to establish health and maintain my wellness, but eventually a metamorphosis occurred in which my artistic endeavours and creativity became an essential part of my being."
Having launched her art career with a successful solo show and a well-stocked art website, does she have insights for other women following their passions?
"Tenacity and perseverance are key! There is only one kick at the can and wasting an opportunity to live fully will be one's greatest regret. If there's something you need to do, do it quickly!" she says passionately.
"Do what you love, love what you do—and may your gifts never be a burden."
Karen Dover's art can be viewed at karendovermodernart.com/