By Janet Wilson
Photos by Marc Fowler
A grand Rothwell Heights home perched on a hilltop features elegant outdoor spaces built to entertain family and friends.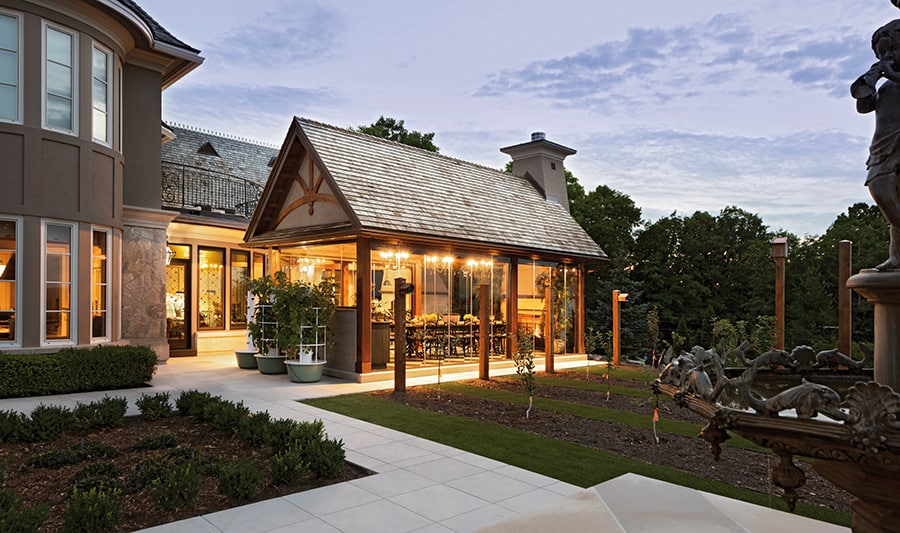 It all started with a straightforward consult on an outdoor kitchen and pizza oven. But, as is often the case in renovation, that tiny project mushroomed into a major backyard makeover for Jason Bellaire and Denise Hulaj of StyleHaus Interiors.
"That request led to a project that spanned a year and a half," chuckles designer Jason who, along with his congenial business partner, has won numerous Ottawa housing design awards.
With a love of entertaining, the affluent homeowners can now slice and serve homemade pizza for guests in their spectacular space, which overlooks the Ottawa River, Gatineau Hills and meticulously manicured gardens.
"Family is everything for our clients," Denise says. "Their children and grandchildren live nearby, and they love to get together. This is the perfect venue for that."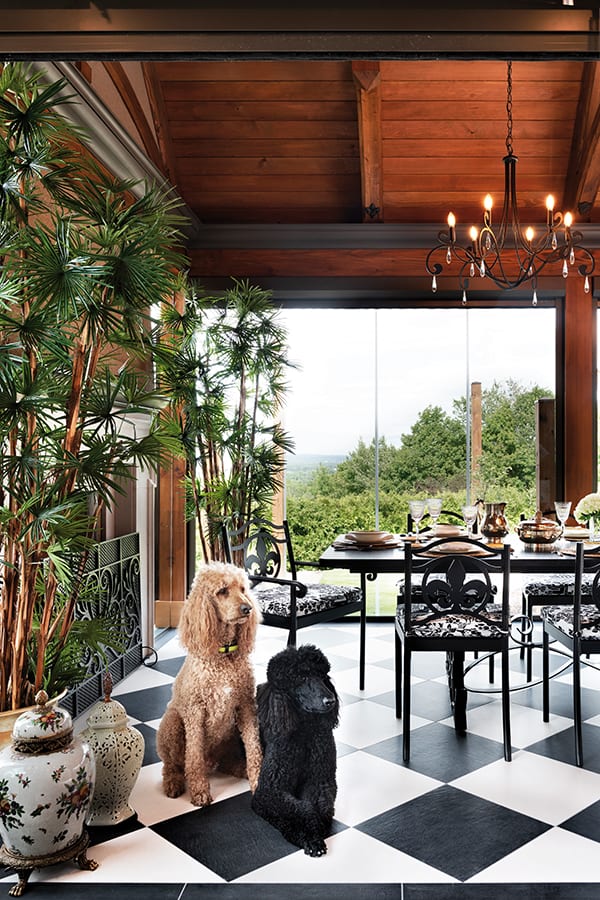 Located on the highest point in Ottawa in the tony neighbourhood of Rothwell Heights, a dramatic black wrought iron gate opens, and visitors are ushered down a circular driveway that leads to a stately home reminiscent of a European manor. A neatly planted formal garden in the front courtyard adds to the elegance and features aromatic Russian sage, English boxwood shrubs and ginkgo trees—evoking a glimpse of the past and the classic gardens of Versailles where design and form play a central role.
Bubbling water fountains, wooden benches and decorative statues are scattered throughout the majestic grounds, including four large bronze statues depicting the four seasons in neoclassical style placed at each corner of the property.
"The homeowner loves history and conducted a lot of personal research. He looked at a lot of photographs of French châteaus and drew inspiration from the gardens at Versailles in France," Denise says.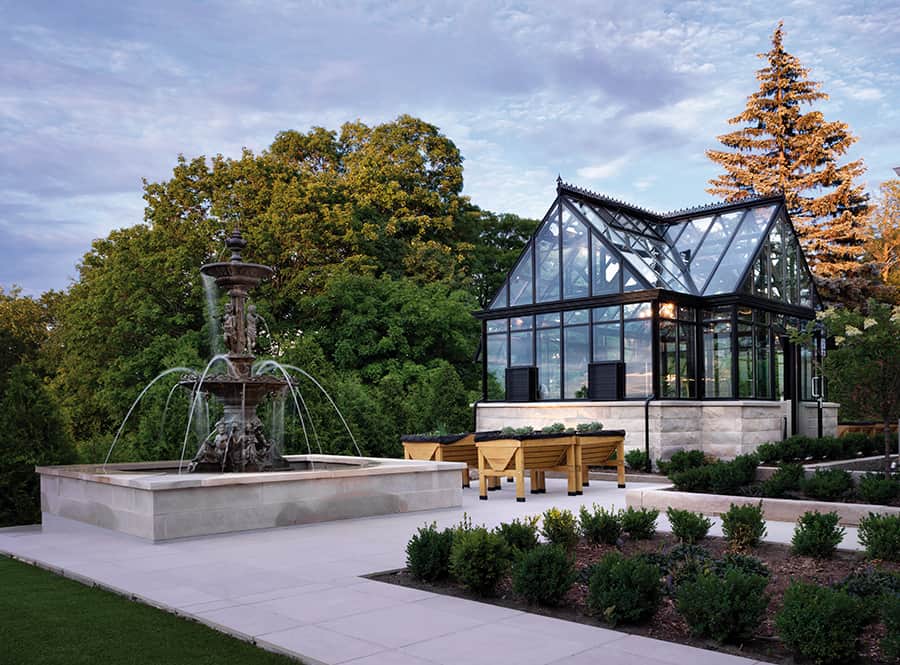 Stepping down into the plush grounds, the gardens become more informal with loosely planted wildflowers and succulents clinging to rocks of all shapes and sizes. A bench tucked under a leafy maple tree offers a cosy nook to read a book and relax. Small shrubs border either side of the pristine landscaped walkway made of synthetic grass that winds through the garden. Several large, black urns filled with red geraniums and globe cedars add a whimsical touch.
"The real inspiration for my design comes from wildflowers," says the homeowner. "I wanted some formality in the landscape, but my goal was to have a pollinator-friendly yard to attract bees, birds and butterflies."
A second ornate iron gate, designed by StyleHaus and fabricated by Ottawa's FLUXWORX Design, is attached to a low limestone wall that signals a transition from the gardens to the homeowners' inner sanctuary.
A grand stone staircase with detailed railings rises from the private patio and lounging area and is one of Denise's favourite design features. "I could see couples getting married and having their wedding photos taken on these stairs."
Designed by StyleHaus, the sweeping staircase connects the gardens to the newly constructed outdoor room. Blending seamlessly with the home's exterior, the visually arresting space is all about balancing form and function with the landscape.
The charming kitchen includes a wood-fired pizza oven, custom-built workstation featuring a premium Evo flat-top grill and a wraparound bar rimmed with chairs for guests to sit and chat as the homeowners prepare a meal.
An expansive, post-and-beam roof covers both the kitchen and a stand-alone, all-glass dining room located a few steps away. Thanks to a retractable, bifolding glass door system, the intimate room boasts unfettered views of the property and beyond. The minimalistic space features a long, sleek, custom dining table that seats 12 and large contemporary black-and-white floor tiles. Three chandeliers hang from a vaulted ceiling made from milled Douglas fir and cedar, while a gas fireplace clad in limestone and stucco adds warmth and ambience and is ideal for cooler evenings when dining al fresco. A custom-built grey buffet and serving area keep clutter at bay.
Overlooking the dining room are four rows of espaliers—fruit trees trained to grow flat along a freestanding, decorative, wire-and-wood support system, each topped with bee houses to encourage the pollination of the trees. Blending art and science, the espaliers resemble a kind of living sculpture that adds to a feeling of being whisked away to somewhere else, like the Napa Valley in California.
"Our clients planted the apple and pear trees for their grandchildren to enjoy," says Denise.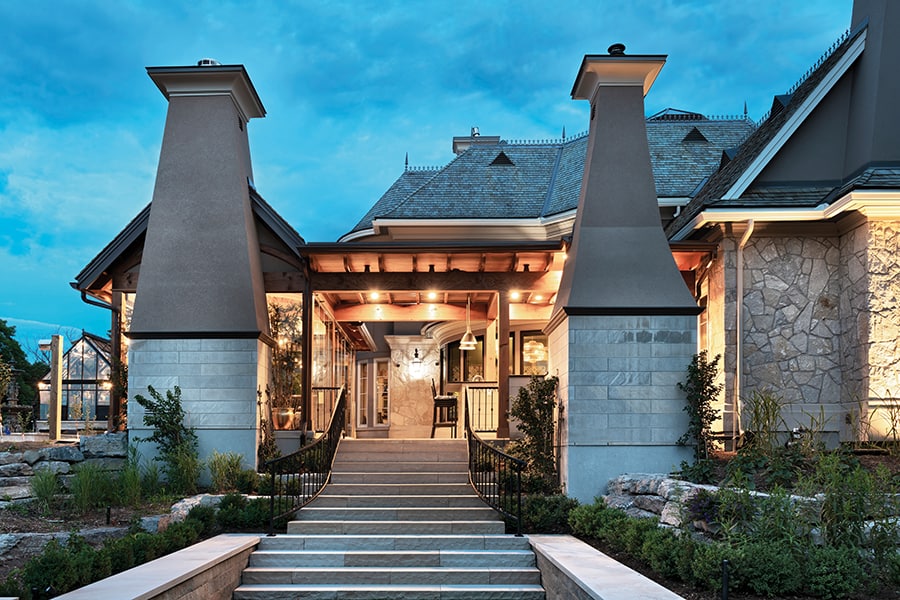 The focal point of an inner courtyard, which is made of thick, weather-resistant tile, is a large water fountain that was constructed 15 years ago when the home was built. Rows of vegetables growing in planter boxes sit next to a charming, cathedral-style greenhouse that features a dramatic chandelier and traditional fleurs-de-lis spear decorative finials along the roof to mimic those along the exterior of the home.
"I worked hard at exposing our view and wanted people to come around to the back of the house and be blown away by the view," says the homeowner. "It's all the little details that make this house so unique, like how the inside beams line up with the ones outside. Our views from the inside of the home extend outward. I really did a number on the lighting, too, and it's so lovely at night."
Veteran custom builder John Henry of Terra Nova Building Corporation, who has been constructing luxe residences in the Ottawa area for 40 years, built the home for the clients in 2005.
"It's an extraordinary home with Old World charm and architecture," says John. "The project was a real labour of love. They're great clients. The post-and-beam structure that ties in the outdoor kitchen and dining room warms the space and fits in well with the house. The greenhouse is all about metal and glass and stands on its own while the fountain separates the two spaces."
Jason and Denise echo the sentiment and draw satisfaction in completing a job that brings so much joy to their clients.
"The surrounding architecture is linear, so we wanted to soften it here and there while maintaining the integrity of the original architecture," says Jason. "Working with our clients was such a wonderful experience as they have great taste and strong visions. They really enjoy their home, which makes us feel good."