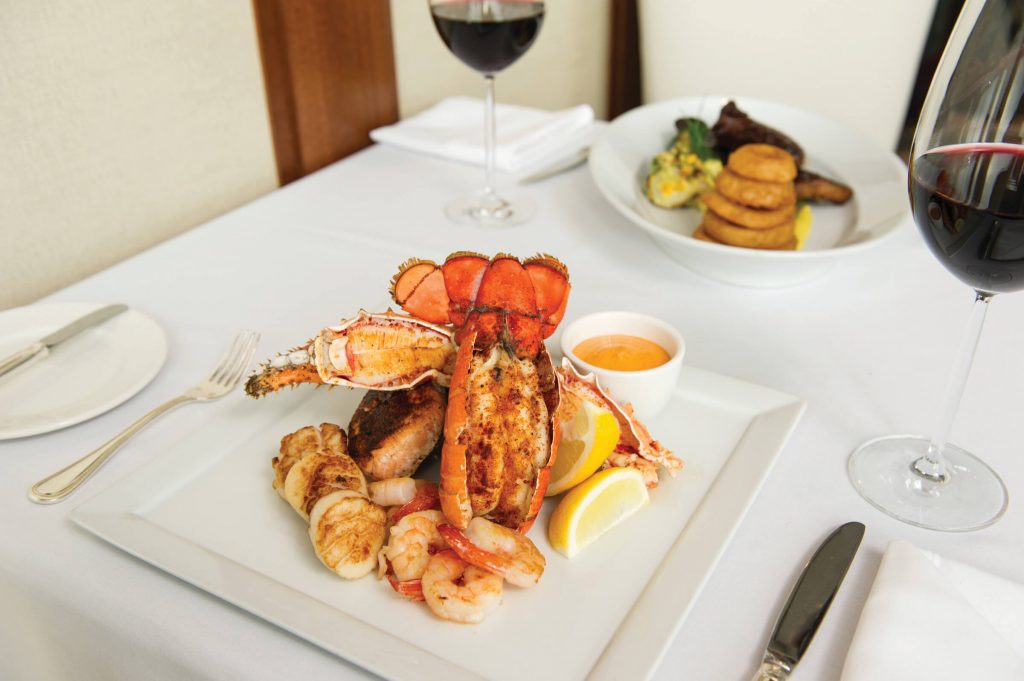 A memorable taste experience
Steak and seafood lovers are in for a memorable treat at Arôme Seafood and Grill. From the spectacular in-house dry-aged beef and celebrated seafood platter to the slow-cooked AAA prime rib and the giant T-bone for two, sliced for you at your table, options are delectable at this Hilton Lac-Leamy restaurant.
There are visual delights too. Besides taking in the arresting view of Lac Carrière, the artworks by Jean-Paul Riopelle and the classic, luxurious décor, you'll want to feast your eyes on the statement-making dry-aging chamber that's situated near the entrance. Through the glass, you can see the cuts of beef that are specially aged for 70 days to achieve incredible tenderness and flavour. The resulting "refined product" is the ultimate treat for steak lovers, says chef Raphael Secours. "Arôme's dry-aged beef selection is something you can't find anywhere else in the area. It's very unique and special."
Slow-cooked overnight to succulent perfection, the prime rib is another signature dish. "It's not a process you can replicate at home," the chef notes. "You can only enjoy it here. It's very tasty." Guests also relish the seafood platters, featuring roasted salmon, tempura crab legs, lobster, mussels, scallops and shrimp. "People come back for these dishes."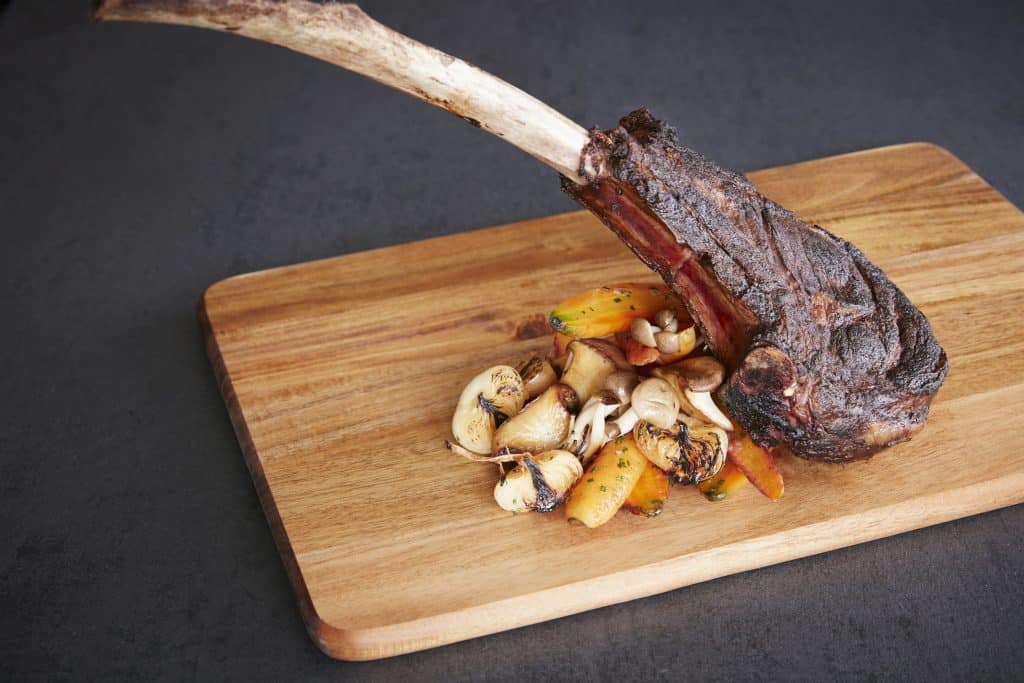 The giant T-bone steak is another dazzler. Cooked sous vide and finished on the grill, it's served and presented by the chef. And while guests can count on favourite menu items being available, the script never gets stale, since there are changes to the menu weekly, as well as seasonal updates. The chef describes Arôme as a classic steakhouse, but with unique, eclectic, modern twists. "Our cooks are passionate about their work," he explains, and they're intent on keeping the menu interesting and creative. The wine selection is noteworthy too. Not only is there an extensive selection of wines by the glass, there are over 1,200 bottles in the illuminated glass wine cellar.
Just as appealing choices, imaginative presentations and fresh, seasonal garnishes are part of the pleasure here, you'll also appreciate the timeless white tablecloths and unhurried, inviting ambience. If you're planning an intimate dinner or celebratory meal, there are cosy booths at each end of the dining room, as well as a private lounge that can be booked. It's worth noting that Arôme was voted one of Canada's Top 100 Romantic Restaurants for both 2018 and 2019 by OpenTable diners.
In summer the heated patio is a sought-after spot, thanks to the glorious view of Lac de la Carrière, and the Sunday brunch is very popular, thanks to the bounty of scrumptious fare. Anytime, though, the cuisine is to savour and the service is top-notch. You are warmly welcomed, fulfilled when you leave, and, Raphael says, the experience is one you'll want to repeat.
Arôme is located on Level A of Hilton Lac-Leamy, at 3 Boulevard du Casino in Gatineau. The restaurant is open daily from 6:30 to 10:30 a.m. for breakfast, 11 a.m. to 5 p.m. for lunch and 5 to 10 p.m. for dinner. Reservations are recommended. Sunday brunch is served from 11:30 a.m. to 2:30 p.m. Call 819 790-6410 or 1 866-488-7888 for reservations.