The trip started harmoniously in Budapest. Before embarking on a Danube River cruise last spring with Emerald Cruises, George Coyle and his wife Chelsea were guests at the Aria Hotel. Located at the centre of the cosmopolitan city, the five-star enclave has a remarkable design inspired by music. They stayed in the Opera Suite, dined at celebrated Café Liszt and drank in the ambience and spectacular views at the High Note SkyBar, named one of the world's 10 Best Rooftop Bars a few years ago by Condé Nast Traveller. Cocktail hour on this rooftop terrace was worthy of a toast.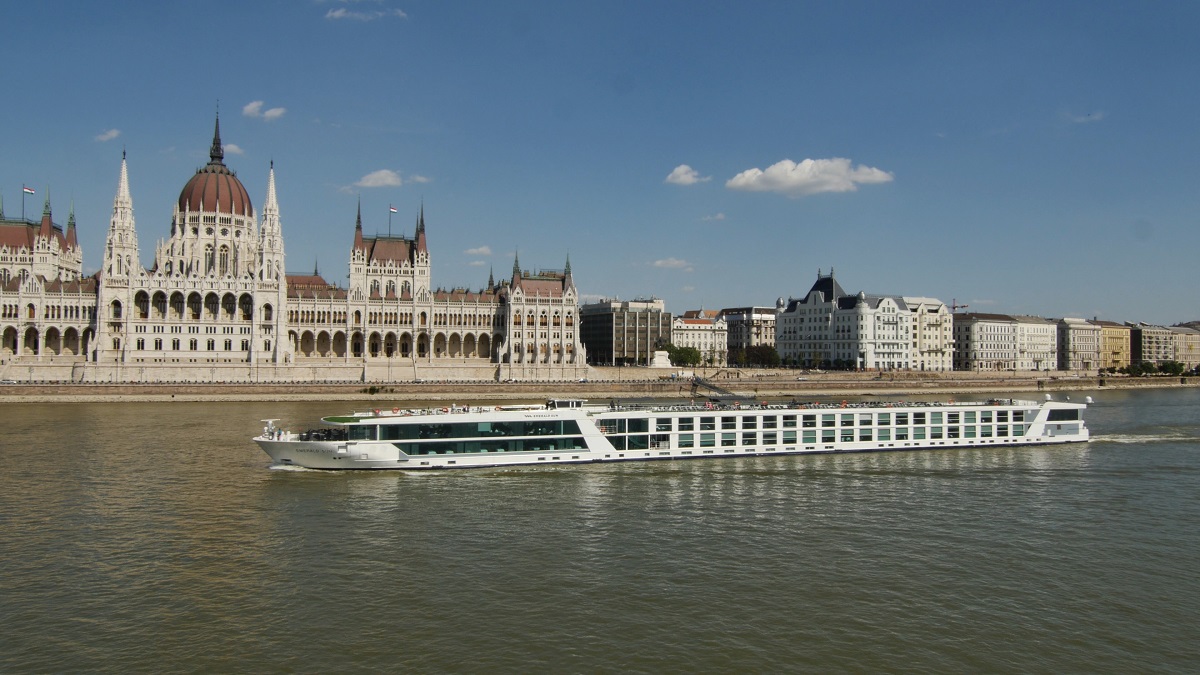 The couple, frequent travellers who've explored many parts of the world, were impressed both by the European capital and by the unique Library Hotel Collection property. George calls Budapest "a must-see city" and of the Aria he adds, "This spot was a gem."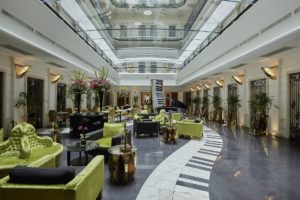 It was magical time—even before they boarded the Emerald Cruises Star-Ship for the Danube Explorer cruise from Budapest to Munich. And it only got better from there. The eight-day excursion is a unique European tour that gives you the opportunity to experience different countries: Hungary, Slovakia, Austria and Germany, with stops in Bratislava, Slovakia, then Vienna, Dürnstein, Melk, Linz and Ceský Krumlov, Austria, ending in Passau, Germany. Whether on board or on the move discovering new sights, both George and Chelsea relished the exceptional hospitality provided by Emerald and the intimate, scenic adventure that unfolded.
Established for over a decade, award-winning Emerald Cruises specializes in deluxe river cruises and luxury yacht cruising. Its river cruise destinations include Europe, France, Portugal and Southeast Asia, while its yacht cruise destinations cover the Caribbean and Central America and the Mediterranean and Adriatic Sea.
Each of the company's Star-Ships is akin to floating boutique hotel, with stylish interiors, excellent amenities, chic décor, fine Egyptian cotton linens and luxurious toiletries. What struck George, though, was the cleanliness. He likes his surroundings shipshape, so he was impressed by how pristine and efficient the shipboard surroundings were. While it was a thrill to see the historic castles, visit UNESCO World Heritage sites and explore medieval landmarks, it was also a pleasure to return to spacious, inviting private quarters and an abundance of impeccable, contemporary amenity space.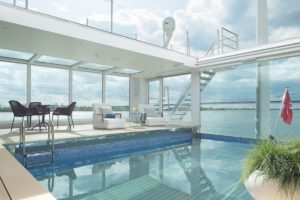 He also appreciated the friendliness of the crew members and the ratio of staff to guests. "The staff was fantastic," he comments, adding, "The service was personal and excellent." As for onboard amenities, they include a sun deck, a bar and lounge, fitness and wellness offerings, fine dining and a heated pool that transforms into a cinema in the evening. Chef-prepared meals and accompanying beverages are inspired by the regions each Star-Ship passes through.
For George and Chelsea, favourite destinations were Budapest, Vienna and Passau. At the end of their first cruise day in Budapest, there was a traditional Hungarian folklore show on board. Day two Budapest excursions included a culinary tour of the city with a Grand Market visit. As part of the cruise line's EmeraldACTIVE program, a hike to Buda Hill was also offered, with majestic Buda Castle at the summit. EmeraldACTIVE is geared to travellers who want more energetic experiences. And as this dynamic husband and wife discovered, it was ideal.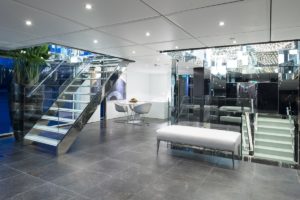 "EmeraldActive was terrific. We did a bunch of active hikes, some on our own and some guided. The main highlight, for us, was our bike ride (31 kilometres) following the boat along the Danube."
Another memorable treat was a cultural outing to an intimate, classical concert in Vienna, performed privately for Emerald guests. The musical program, including the Blue Danube Waltz and the Radetzky March, was enjoyed with a glass of champagne. Fittingly, Vienna was once home to such classical greats as Wolfgang Amadeus Mozart, Ludwig van Beethoven, Joseph Haydn and Franz Schubert. It is known as a City of Music and certainly George and Chelsea got to experience that first-hand.
Finally, they were captivated by Passau, Germany. At the confluence of the Danube, Inn and Ilz rivers, this city in the foothills of the Bavarian Forest is famous for its scenic setting, gothic architecture and beer. And the Ottawa couple got to enjoy all of it. www.emeraldcruises.ca