Ottawa Art Gallery to host major retrospective on prolific designer
By Paul Gessell
The Garbo is a trash can. It is perhaps the best-known of the thousands of functional, esthetically-pleasing objects, many with sensuous curves, created by Karim Rashid.he vase-shaped, plastic object is called The Garbo. It is stylish enough for any room and comes in a variety of bold colours. Literally, millions of homes around the world have one.
The superstar industrial design grad from Carleton University got his start crafting phones for Mitel in Ottawa in the 1980s. After stints in Milan and Toronto, he decamped penniless to New York in 1993, eventually to become, in the words of Time magazine, the "most famous industrial designer in all the Americas," with his name appearing on luxury goods for the likes of Christofle, Alessi and Veuve Clicquot. But the jet-setting Rashid is also a champion of such "democratic" products as The Garbo for the more affordable home decor firm Umbra.
Periodically, The Garbo can be found on a pedestal in an art gallery. Rashid does not consider the objects he designs as art. (Design is for "others;" art is for "you."). Yet, art galleries around the world exhibit his wares, like Rembrandts. He has had large retrospectives in Milan, Sao Paulo, Munich and, just this past summer, in Seoul. It's all a "blur," Rashid confesses. Next year, it will be the turn of the new Ottawa Art Gallery. A Rashid retrospective, the largest ever to be held in Canada, is scheduled to run from Oct. 12, 2018 to Feb. 10, 2019. The lineup of objects for the exhibition has still to be finalized. But Rashid said in an interview he would like to show at least one object designed in each of the 30 years he has been in business. He specifically mentioned the curvaceous, plastic Oh Chair from 1999, the slender, two-metre-high Cadmo floor lamp from 2010, The Garbo from 1996 and the leaf-shaped dining chairs that are part of the Ottawa Collection designed for the Danish company, BoConcept.
Michelle Gewurtz is the Ottawa Art Gallery (OAG) curator for the Rashid show. A Rashid teardrop-shaped soap dish can be found in Gewurtz's home. One exhibit under discussion, she says, is a display of 300 bottles of water to illustrate the power of a Rashid water bottle that is shaped like an elongated
hour-glass and contains a filter durable enough to cleanse 300 bottles of water. Other ideas being considered include wallpaper created just for the OAG show and product sketches Rashid makes — sometimes while awaiting connections in airports. Time is not to be wasted. He confesses to operating perpetually at full speed.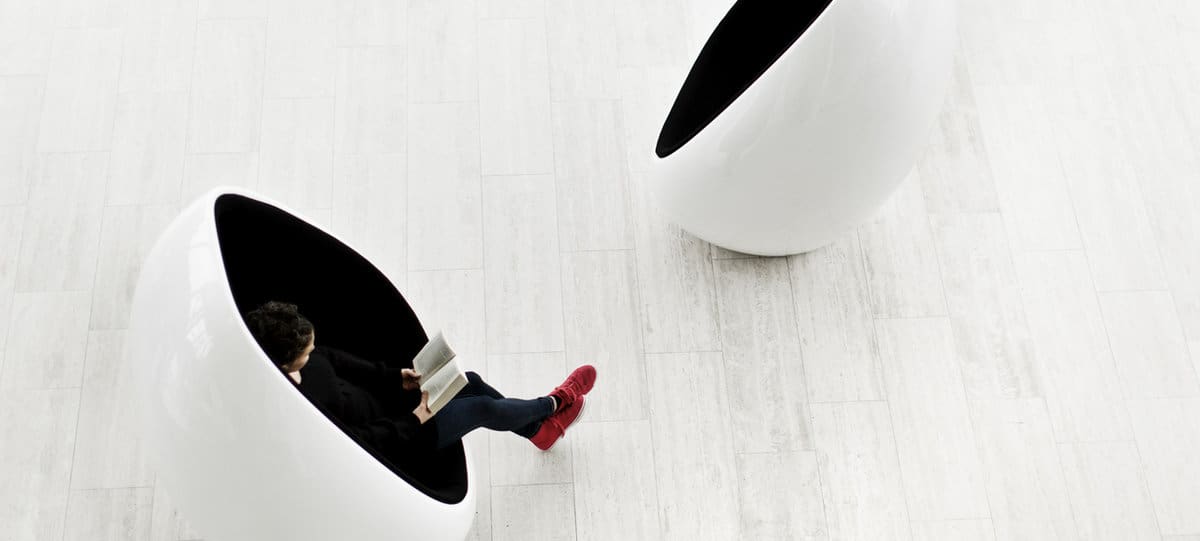 Rashid was born in Cairo, Egypt, 57 years ago. His late father Mahmoud was a painter and set designer, who moved the family to London and later to the Toronto area. Even as a child, Rashid was interested in design, drawing images of such household objects as luggage and eye glasses. Today, Rashid favours black, thick-framed spectacles and all-white outfits, except for the occasional splash of pink. Slender and six-foot-four, Rashid strikes theatrical poses like a high-fashion model. He is a relentless self-promoter, having pushed his way into the embrace of many a large firm, yet he can sound down-to-earth and self-deprecating in conversation, joking that he often brings prototypes home to discover what really works and what are "mistakes." Rashid's four-year-old daughter Kiva "loves" the constant parade of new furniture. "She says, 'Did you buy me something new, Daddy?' Then she looks around and says, 'Oh, new chairs.' "
Is there anything Rashid has not yet designed? "Many, many things," he replies. He specifically mentions "banal" objects he would like to tackle: A water cooler, kitchen appliances, an electric car and "a very democratic bicycle" that would sell for no more than $100. He also wants to design more products for the digital world: "I have said a mobile phone is more complicated to do than a building."
When interviewed, Rashid was designing a smart watch. "I need to understand all the technology and how they work. In a short period of time, I absorb as much as I can in order to do something within that world. Next thing you know, I'm working on a floor lamp or I'm working on an interior or I'm working on a hotel or working on a line of jewelry." In designing such products, Rashid avoids viewing existing designs. Instead, he focuses on how he can apply new technologies and materials to spawn a superior product with a unique look.
For Rashid, a clever design is one that touches a lot of people's lives. "The Garbo," he says, "did that." Consumers bonded with the product.
"Even if it's a banal thing, like a trash can, it still has some sort of relationship with somebody; it provides an experience." But, as Rashid indicated in a 2004 interview, he does not want The Garbo cited on his epitaph. "I hope I don't go down in history as the guy who designed a garbage can."