Eurostyle bistros worth checking out
By Julie Beun
Photography by Brittany Gawley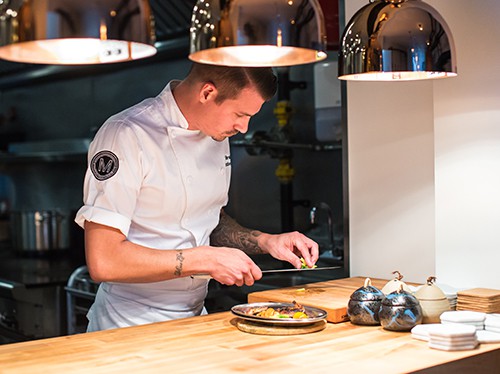 MeNa
French bistro in the heart of Little Italy
276 Preston St.
Menarestaurant.com
James Bratsberg has never been a casual dining kind of chef. He's done it — who hasn't — but when the decision came this past January to close his restaurant, MeNa, for an unthinkable seven months of renovations to bring it in line with his personal vision of haute cuisine, he didn't think twice.
"We had reached the capacity of what MeNa could do. When we first opened, we were a casual restaurant, but we're not casual restaurateurs. We needed more space."
The result? A massive open kitchen more than double the size of its former self and a spacious 30-seat dining area (with eight bar seats) in a deeply chic French bistro in the heart of Little Italy.
Newcomers to the revised MeNa (designed by One80 Design) may be surprised by the very traditional French service by owners Bryan Livingston and Bratsberg, formerly of restaurant E18hteen.
Diners have just three choices: a five-, seven- or nine-course blind-tasting experience. Menu items, which change regularly, can include prawns on charred avocado, green peas and cured ham, foie gras terrine with rhubarb purée, smoked lamb rib and crab tian on gazpacho and caviar. (None of which seems particularly à la française, but as Bratsberg points out, modern French cuisine reflects France's multicultural society. "Paris is still ahead of the game and they're using Asian ingredients. I'm obsessed with incorporating Japanese flavours into French technique.")
"With our tasting menu, you're putting your trust in us for the evening. We hope people will be adventurous, but we can accommodate tastes, too."
Other flourishes include complementary amuse-bouche, a box of mini-desserts, like bite-sized blueberry tarts and a copy of the menu as "a little thank you for joining us and a way to up the dining experience," he says.
Yet the height of the experience is the dramatic and very traditional synchronized service, in which each course for every diner at a table is served simultaneously by a flock of marching waiters.
"It's kind of like watching a ballet, where everyone is moving as one," Bratsberg notes. "It's a lot of work to orchestrate that for every course, every night. But it has a memorable effect."
---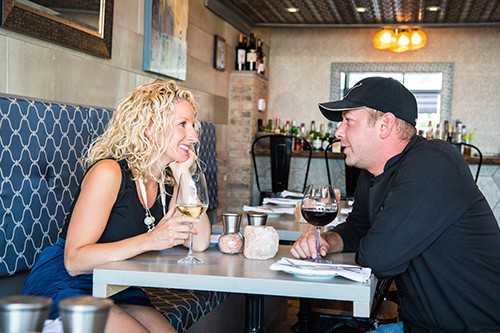 Amuse Kitchen & Wine
Raising the bar in Kanata
500 Eagleson Rd., Kanata
Amusekitchen.ca
Josh Gillard is the kind of fellow who likes to make a statement.
So, when Gillard, formerly the chef at Must Kitchen & Wine in the ByWard Market, decided to create a restaurant that would knock the stockings off his hard-to-impress and gastronomically-minded wife, Laurie, he started with bricks and mortar. Literally.
"I mean, without exaggerating, I put every brick in the wall. It's family-built. It's a smaller, old-fashioned operation, made new. Stuff done properly."
The menu at Amuse Kitchen & Wine, in a nondescript Kanata strip mall, reflects that ethos.
Craft cocktails created by manager Eric Murrell offer a twist on the classics, from a Canadian maple-infused Old-Fashioned to a Spanish-influenced Caesar, rimmed with powdered prosciutto and steak spice, then garnished with a bitey house-pickled horseradish.
Big, continental flavours feature widely on an impressively compact menu.
The sharing plates menu features Sobrasada Iberica, the famous imported raw sausage made from pigs from the Balearic Islands fed exclusively on acorns; in this iteration, it's seared and served with a salt-tempering creamy butternut purée and aged Spanish Manchego, which Gillard aptly refers to as "the salted butter of cheese."
Equally delightful is the near-perfect treatment of octopus, grilled and served in a creamy broth with roasted garlic and bean purée, topped with crumbled chorizo — more Spanish than Spain — and black Tobiko (flying fish) caviar.
Mains include Brome Lake duck in an orange demi and cream reduction, a Sambuca shrimp with brown butter and fennel and blackened catfish rolled in shallot and chorizo.
It's an adventurous menu for that part of Kanata and since opening last year, the small, 26-seat resto has proven so popular with those in the know, Gillard says he often has a long waiting list on winter weekends. (He happily shares the overflow with his fellow Kanata-Stittsville chef friends, Michael Blackie at NeXt and Steve MacDonald at Aperitivo.)
"There's a lot of wine knowledge in Kanata, people know their food," he says. "We're an unexpected gem."
---
The Vanitea Room
An exquisite spot of tea
551 Somerset St. W.
Thevanitearoomteasalon.com
The well-appointed drawing room decor is British, the tea is from India, Japan, China and the south of France, and the idea came from Dubai.
Yet there's no mistaking the Canadian appeal in The Vanitea Room on Somerset Street West.
Created two years ago by Hind Mubarak and her business partner, Chanel Nadeau, The Vanitea Room is an exercise in saturating tradition with modern creativity.
"What we do is captured through British renaissance, adjusted with flairs of creativity and matching different flavours to different tea traditions, be they British, Japanese or French," says Mubarak, who was inspired to open her own tea spot after a visit to Dubai, when she was a food critic for Air Canada's enRoute magazine.
"My cousin took me to a bistro. The feeling of indulgence and the regality of the surroundings and the fantastic food was incredible."
Offering teas from 150 gardens worldwide in pots and cups purchased across the country, Vanitea Room does brisk business in high tea, complete with clotted cream, scones, savouries and sweets made in-house by the head baker. In addition to a well-developed and curated tea service, they also offer brunch and lunch.
Located in a heritage building, the interior was designed by Shannon Smithers-Gay, known for her transformations of Carben Food + Drink,
La Maison Conroy, MeNa
and Supply and Demand, among others.
"We wanted to be Old-World elegance, with a touch of modernity," notes Mubarak. "Afternoon tea is very much an occasion,
a special service as opposed to other meals, like lunch. We wanted to create something that was inclusive and luxe at the same time."