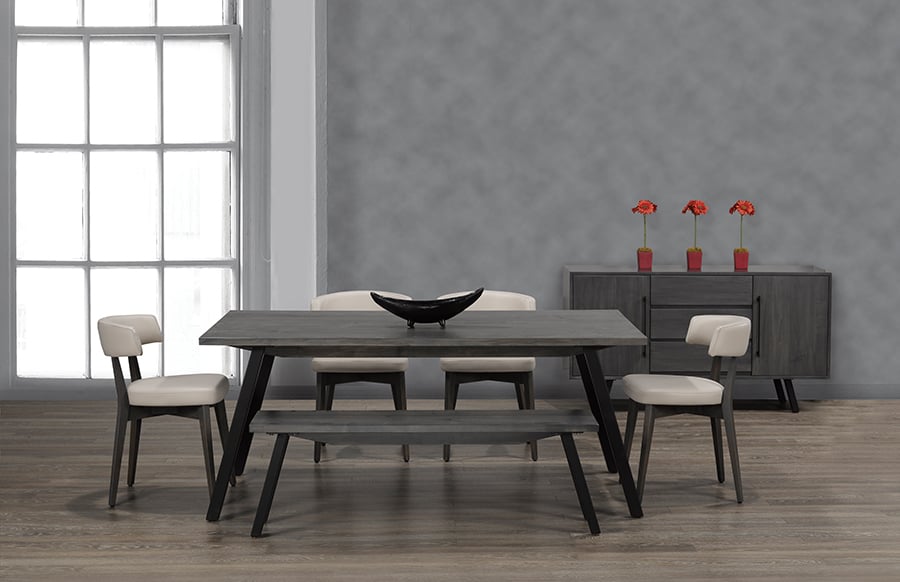 Up-to-the-minute style, heirloom quality and gorgeous, handcrafted solid wood furnishings at The New Oak Tree.
For anyone who appreciates the finer things in life, a visit to the lofty, 10,000-square-foot showroom is a revelation. It's a must, really, and well worth the drive to 470 Townline Road West in Carleton Place.
Polished concrete floors and soaring, beamed ceilings serve as a fitting backdrop for exquisitely handcrafted wood furniture and décor items you won't see at other retailers in the region.
From the iconic elegance of mid-century modern bedroom sets to the covetable chic of rustic dining room suites hewn from genuine, reclaimed barn wood—"the real McCoy, old growth wood"—there are beautiful pieces for every taste and living space. Gifts too: beautiful wood bowls, live-edge pieces, rocking horses, even a divine mirrored jewellery chevelle that would work beautifully in a bedroom suite or walk-in closet.
Terry Cole laughs when he hears surprise in the voice of someone who's just discovered The New Oak Tree and calls both the space and its offerings "dazzling."
"It's quite an upgrade," admits the co-owner who has partnered with Val Townsend to establish this furniture business that now has locations in Pembroke, Navan and Brockville as well as Carleton Place. Terry and Val know furniture, having worked together at Colonial Furniture, an Ottawa institution for 76 years.
The New Oak Tree is also "local, local, local. "I live 15 minutes from the store," Terry says. "My partner lives in Kanata. We both grew up in Ottawa, raised our families in Ottawa, and we hire local people." That distinction is evident in the furniture too. None of it is made in a factory.
There's not a scrap of particleboard or veneer used. "Mennonite and Amish builders do all the building for us. Virtually everything is handcrafted in Ontario." And don't let the name fool you. "We're not just oak," he notes. Pieces are created from a variety of different wood species. In fact choice is one of the most exciting aspects of what's available at the New Oak Tree. "Because it's all handcrafted, the possibilities are limitless."
If you want a table that is 32 inches wide, he says, that's exactly what you can have. You're able to choose the size, the texture, the wood, the colour, the stain, the hardware and the style you want. "We get it made to your specifications."
When you tour the showroom in Carleton Place, you can't help but notice the impeccable quality of each item, from the heft of the solid wood to its beautiful grain. "We're really proud of it," Terry says.
Genuine personal service is notable too. For instance if you decide to add another piece or expand your existing set in years to come, there's no concern about the product line being discontinued. All furniture comes with a lifetime labour and parts warranty, and it's also delivered and set up, with care, by the people who work for the company.
No wonder The New Oak Tree is growing. "We're grateful for the support that's been shown to us. It blows us away," Terry says. "We're lucky to have a great, loyal following. Business is booming."