It's all in the details for Stittsville's style-savvy designer Jennifer McGahan
By Julie Beun
Photography by Tiffany Sanford
Perched in a patch of sun at the Stittsville Barley Mow on a Friday afternoon, designer Jennifer McGahan doesn't sound very Canadian.
She is, of course — from her wide, honest smile to her cornflower blue eyes — but to hear her tell it, Canadian modesty just isn't in her DNA.
"Nope, I don't like to fit the mould. I like to push boundaries, and I have. I have a high-risk tolerance and I don't do things like others do," she says, with a mega-watt grin.
"Being modest is such a running theme in Canadian culture. That's not me. I want to celebrate. If you have a success, let's celebrate it."
These days, McGahan, 43, owner of Jennifer McGahan Interiors has plenty of bragging rights. After starting her own full-service design and decorating company as a single mother in 2012 ("I was negative $100 in my bank account," she recalls), she's doubled business every year since and now has four full-time employees. This past summer, she also set up shop in a lush new office space, in a renovated heritage home on Stittsville's Main Street.
Like everything else about McGahan, the office is tailored and timelessly elegant, with a splash of femininity.
Neither too trendy nor too modern, her esthetic sensibilities are pared down and contemporary, whether it's her trademark use of barn board for interiors or custom furniture, which she designs.
And, like the placement of every pillow or plate, she also gets her hands dirty — literally — with torn-down walls and the grittier aspects of renovations.
"My ex, Dave McGahan, is a commercial real estate agent, so we'd buy properties and renovate them together," she explains.
"For me, the greatest thrill isn't necessarily the end-product, it's the process of gutting a place and starting from scratch."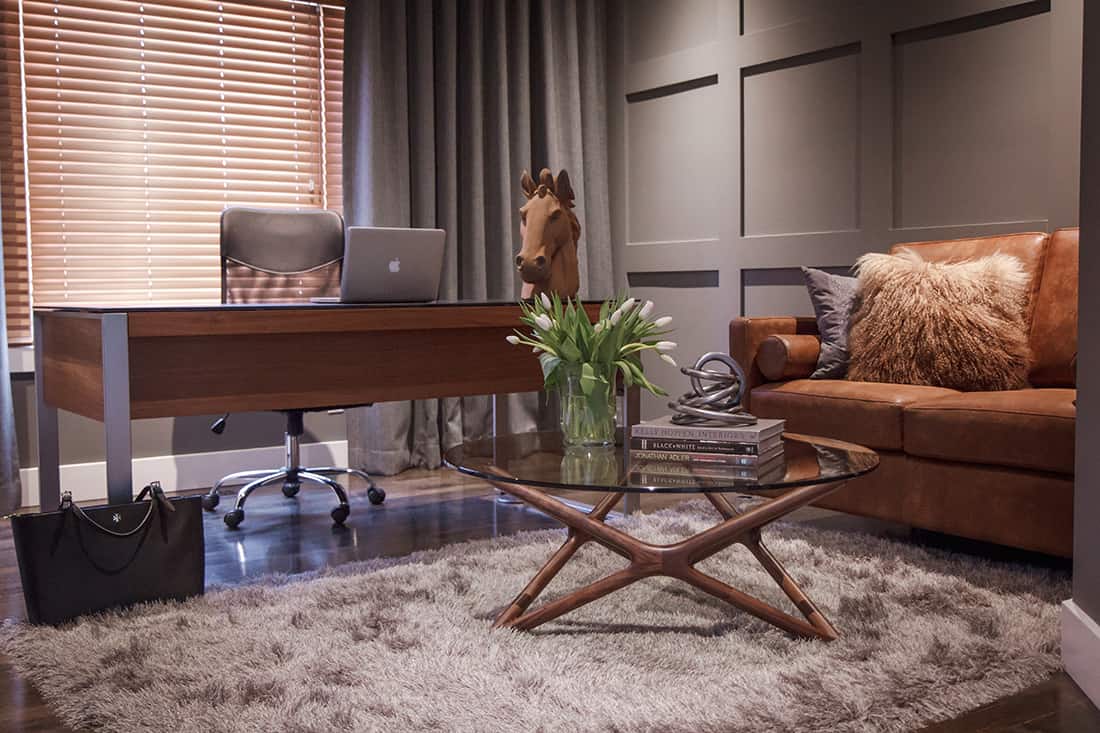 That's not to say that little things, like a new front door, doesn't get her blood pumping. During her office renos, she became so passionate about seeing her dream come to fruition, she lost a week's sleep in anticipation of its arrival.
"When I ordered the new door for my property, I'd wake up every night, thinking, 'Oh! My door is coming this week!' I mean, no one gets that excited about a door, so you know you're in the right career when you get that pumped."
Even so, McGahan's life took a circuitous path to that front door. Born in Brampton, Ont., into an entrepreneurial family, she grew up listening to her Scottish father, John Begg, talk about his security company over family meals. (Begg was a born entrepreneur, too: When he couldn't convince the late pro-abortion doctor Henry Morgentaler to install security at his Toronto clinic, Begg broke in to prove his point. He made the sale.)
"Business talk was the dinner talk. There wasn't much interest in us kids. Mom and dad would talk payroll, employee issues, suppliers. It was the family culture."
After leaving home at 17 and earning a psychology degree from the University of Western Ontario, McGahan married and had her children, Ben, now 14, and Cameron, 16. For 10 years, she was a stay-at-home mother, worked with her then-husband on projects and took AutoCAD courses at Algonquin College to hone her design skills.
Since divorcing and starting her company (jennifermcgahaninteriors.com), business has exploded, with residential and commercial customers delighted with her approach of blending style and functionality. Not content with what she already knows, she also hosts lunch-and-learns, inviting tradespeople and suppliers once a month to educate her team.
"I think people who have never worked with a designer think it's just frivolous, but I want my clients to feel that I've improved the way they live in their space. That's how you add value," she says, before the conversation meanders back to her thoughts on risk and the Canadian psyche. She admits that, when she first re-entered the workforce and opened her own firm, self-doubt kept her up.
"It's intimidating for women coming back to the workforce, feeling they don't have relevant skills or value. I had days where I doubted myself. I remember thinking, 'who the hell would hire me?'
"But you push through and you do it anyway. If you have the chutzpah to strike out on your own, it's worth it. Maybe that's what I want to say — you can reinvent yourself. You're never washed up. You've always got something to offer if you believe in yourself."