By Paul Gessell
Photos by Carl Lessard
Nicole Mathieu, known as Niko, is an artist whose original works are exhibited around the world.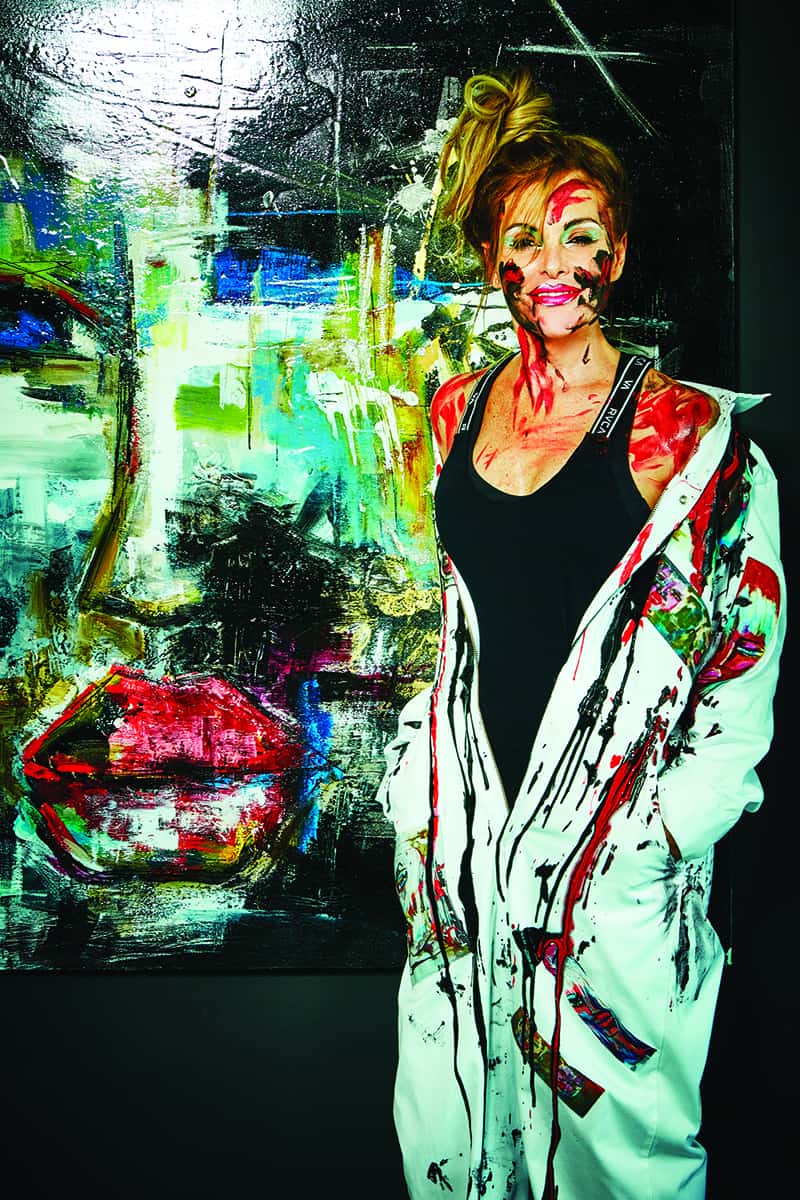 They are the faces of glamour, with luscious red lips, sparkling eyes and perfect bone structure. The paintings by the artist known as Niko portray women who are sensual, mysterious, haughty, maybe even dangerous.
Are they fashion models? Or movie stars? Maybe exotic spies? These women are undoubtedly beautiful but they can also appear maddeningly ambiguous and perplexing. Such femmes fatales are unavailable to most mortal men except in their dreams.
Sometimes only half or less of a face is revealed in the paintings, the rest obscured by abstract brushstrokes of both black and bright colours, further heightening the mystery and ambiguity of the woman on the canvas. The viewer must fill in the blanks. Stare at one of these paintings for just a few minutes and you find yourself mentally writing the backstory to the Dream Girl on the wall.
These intriguing faces are created by Quebec artist Nicole Mathieu, who prefers to be called Niko. They are faces that spring from the artist's inspiration. She previously used models while painting but found that too constraining. Now those faces come from "deep in my heart."
They are not self-portraits, but Niko admits her personal experiences and emotions find their way onto the canvas. Characteristics of her five older sisters also sometimes insinuate themselves into these acrylic, mixed-media works.
For those who can't afford thousands of dollars for a large painting, a less expensive option is available. Niko transfers some images of her paintings to Plexiglass. These works are Niko's shimmering version of prints.
The artist divides her time between homes in Montreal's Little Italy district and the Laurentian resort community of St. Sauveur where she also operates Niko Gallery. Niko was born in Montreal into a family entrenched in the garment trade. Young Nicole, as she was called then, joined the family business, doing various jobs, including working as a model and, for four years, serving as a sales representative in New York, Florida and California, hobnobbing with the beautiful people in the fashion and entertainment industries.
"I moved back to Canada because I fell in love with a man," says Niko. "It was a good reason, and I rented a place in St. Sauveur."
That was about 25 years ago. Then, one day Niko saw an advertisement for a course in art therapy. She enrolled and her life changed. She found a new career.
Painting, she says, gives her "the freedom to express myself." She did not have that freedom working in a family business.
She experimented, painting portraits of people from photographs and creating portraits of "inspiring" people such as Charlie Chaplin,
Picasso, Mother Teresa and Beethoven. But then she gravitated almost exclusively towards the glamorous, anonymous women's faces. "I love the sensuality."
Early in her career, she decided to take on New York. She walked into an outlet for the international chain of Opera Gallery with some of her paintings rolled up under her arm. The boss took a look at her work and immediately signed her up. Opera employees told Niko they had never seen an artist gain such quick acceptance.
Niko had bought a pair of Lucky brand jeans that day when she walked into Opera Gallery. "It's your lucky day," the gallery manager said.
At that time Quebec's internationally renowned artist known as Corno was part of Opera's stable. Niko was excited to be exhibiting in the same gallery as Corno. "That was a dream come true." There are similarities between the work of the late Corno (Joanne Corneau) and Niko. Corno painted huge canvases of glamorous women's faces; her style flirts with expressionism. Niko's glamorous women partially live in the realm of abstraction.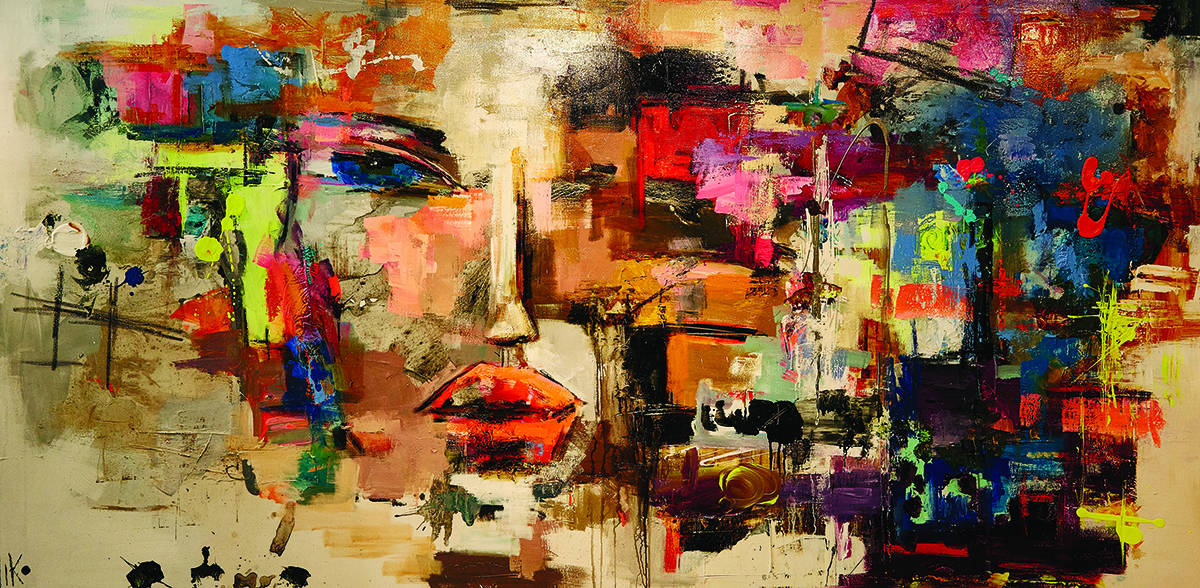 Painting was not Niko's only career ambition, though. She also wanted to be a singer at one point. But there was a problem: "I could not sing." Niko gave up that dream for years but she has recently started singing lessons and is enjoying the experience. "It grounds me." So do yoga and gym visits. Those activities, plus the care of her dog, and visits with her mother, fill up her rare moments of spare time. "I paint almost every day." Niko says she is so busy she has no time to have a boyfriend.
When asked to name the qualities that make her shine as an artist, Niko cites her spontaneity, years of experience and keen powers of observation. But then she says: "Working hard." That's her secret: "I think it's working hard.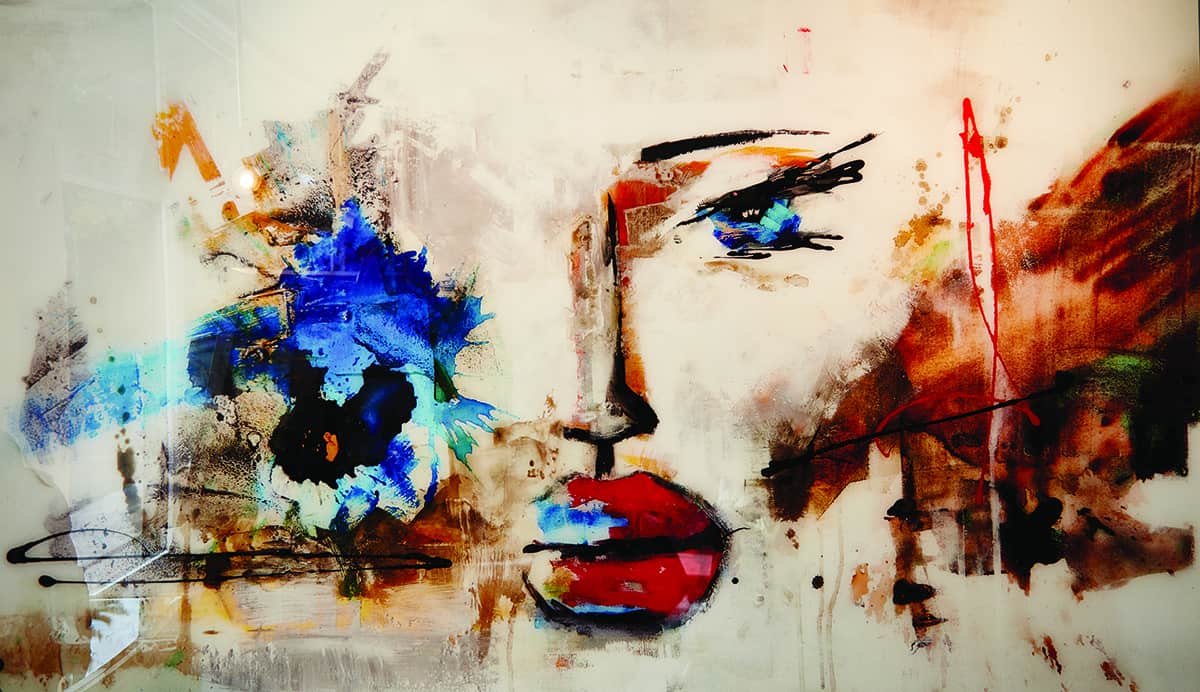 Eddie Badour certainly calls Niko a hard worker. He also, describes her as energetic and bubbly. Badour is the manager of Ottawa's Koyman Galleries, one of the many art galleries in Canada and abroad where Niko exhibits. Her work has been in Ottawa for a few decades, dating back to when Koyman operated a much smaller venue in the Rideau Centre.
"She works very hard," Badour says. "She's always working."
In an interview, Niko says she is starting a new body of figurative work she calls the Zen Moment Collection. "It's a lot of black and white, some almost all white with a touch of grey, silver, gold." These paintings will be very different from the brightly coloured work that has piloted her career for so many years.
Niko is coy when asked her age. "I look like 40 but I am older," she says with a mischievous laugh. Indeed, Niko is a woman who delights in laughing and offering a broad smile. She is also a woman who enjoys being a mysterious femme fatale, just like the faces in her paintings.
Niko Gallery, nikoartist.com/galleries, is located at 101-36 Avenue de la Gare in Saint-Sauveur. You can also see some of Niko's work in Ottawa at Koyman Galleries, 1771 St. Laurent Boulevard. koymangalleries.com