For adventurers, nothing beats Val Gardena in the Italian Dolomites.
By Hattie Klotz
It is a truism among passionate skiers that wherever there's fresh snow on the slopes, it's the perfect place to ski. But there are some places that are more perfect than others.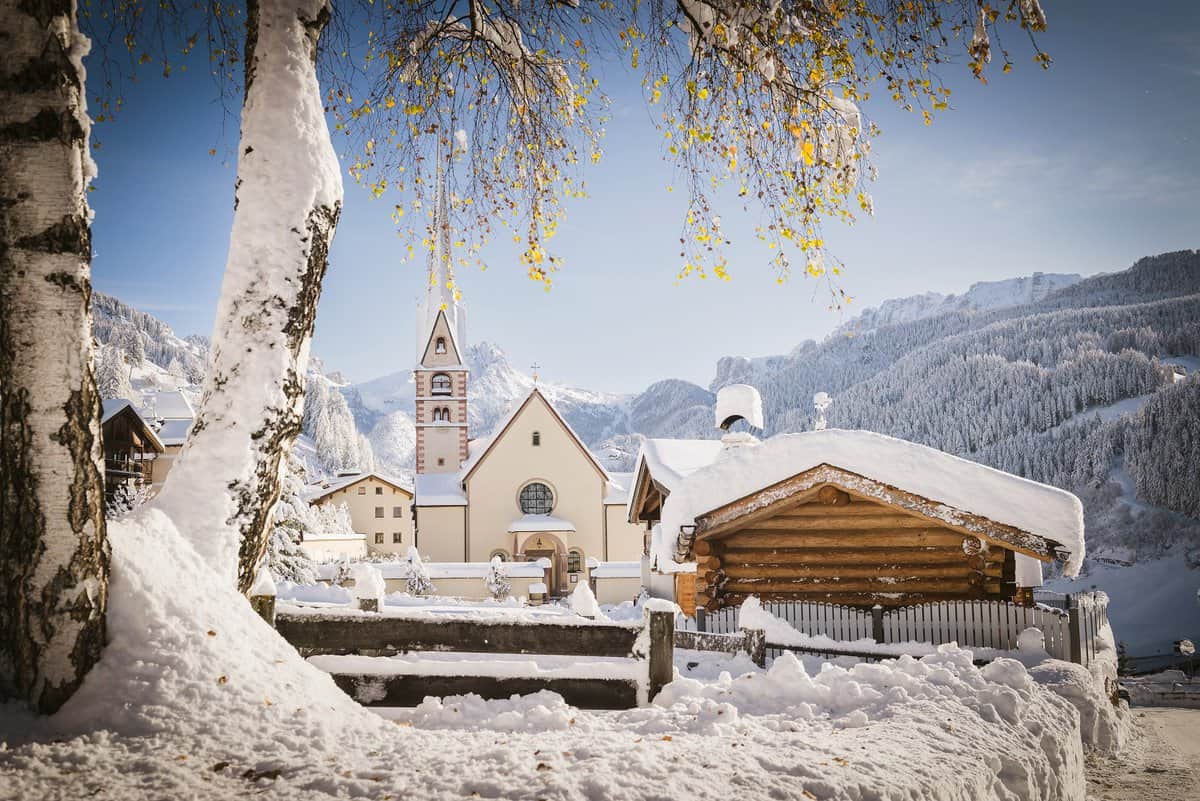 I am lucky enough to have skied in places all over Europe, thanks to easy access from my childhood home in the U.K. I've also hit the snow at many ski destinations in North America, including backcountry skiing and heli-skiing in Western Canada, as well as world-class cross-country skiing in our own backyard here in Gatineau Park. Still, after a lifetime spent in snowy climes, I have never experienced anything quite like Val Gardena in the Italian Dolomites.
Known for its December early-season men's world cup downhill race on the famous Saslong slope, Val Gardena is in fact three towns separated by just six kilometres: Ortisei, Santa Cristina and Selva. They are linked by mountain hiking trails in the summer, through flower-studded alpine meadows, and the extensive Ski Dolomiti pass in winter, offering 1,250 kilometres of skiing across 12 resorts and numerous valleys once the mountains turn white.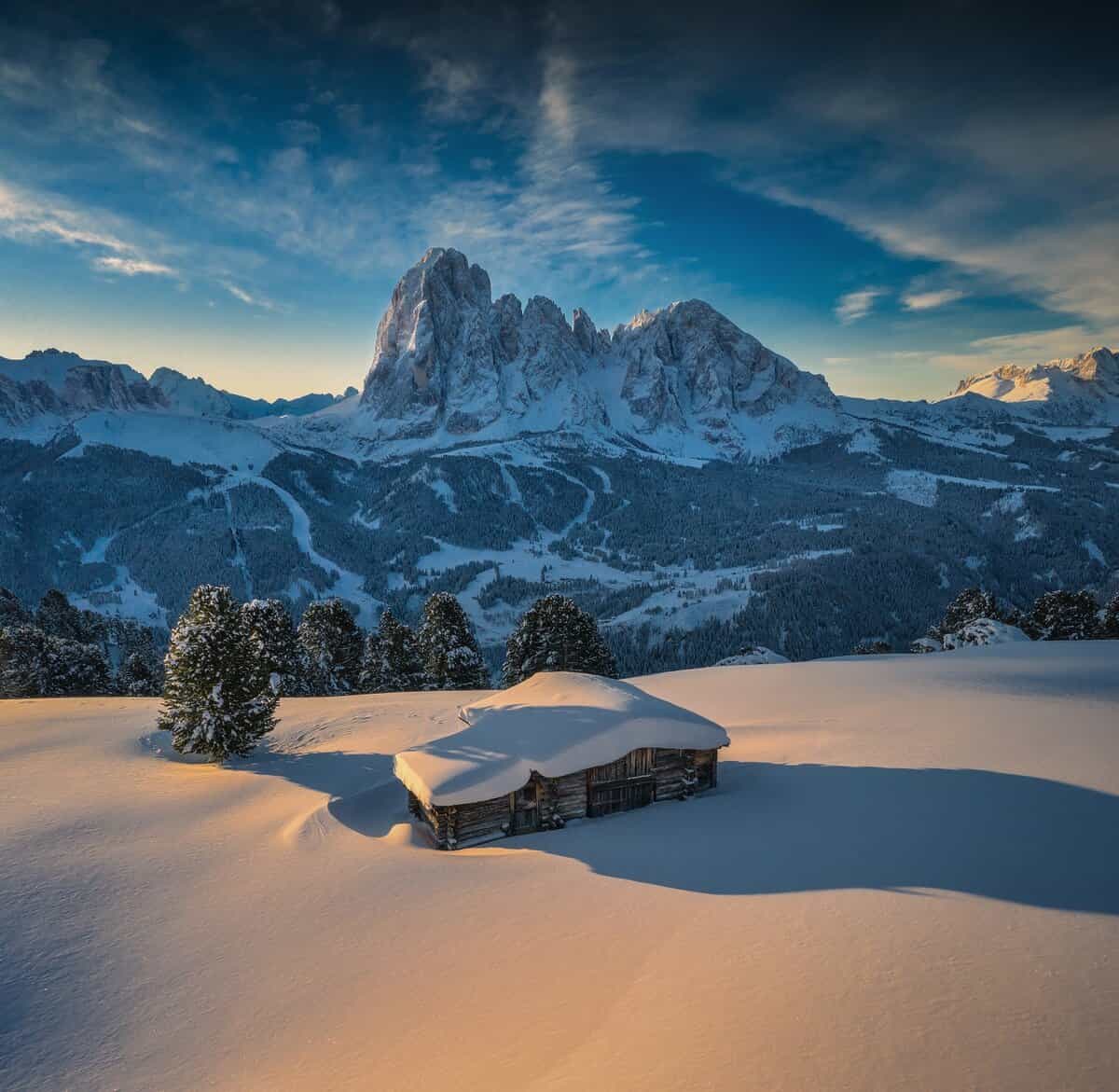 Options are almost endless; each day presents a choice to ski locally or set off on a grand tour to discover world cup runs and ski towns a few valleys away. Sometimes you're covering as much as 50 kilometres a day on a ski safari, during which you never retrace your tracks.
However spectacular the terrain may be—with UNESCO-recognized spiky mountains, deep valleys, steep slopes that are kept in impeccable shape for perfect day-to-day skiing and the glow of pink rock illuminated by 300 days of sunshine annually—Val Gardena offers so much more. It has a unique culture, a strong sense of place and citizens who love where they live.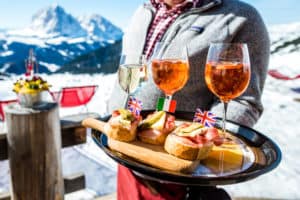 Nestled in South Tirol, this part of the Dolomites only became part of Italy in 1920. Before this, it was part of Tirol, then part of Austro-Hungary. Ask a local how they identify and you'll get at least three different answers: German, Italian, Tirolean. And so, there are three different languages spoken here too: Italian, German and Gardena Ladin, which is a local mash-up that certainly includes some French and Latin, but is, like so many things in this valley, uniquely Val Gardena. This linguistic diversity, and the depth of culture here and in neighbouring valleys, has meant that the region has been granted a special state of autonomy by the Italian Republic.
In my experience, many European ski resorts tend towards party towns. But in Val Gardena, there's more than bars, clubs and après-ski cocktails. Wood carving continues to be an important industry, with talented sculptors selling their creations. They range from traditional large-scale religious icons, smaller nativity sets and Noah's Arks through children's toys to cutting edge contemporary works, such as those of artist Gregor Prugger. Prugger was recently featured in the New York Times for his work in Sicily to commemorate the Mafia murder of two important judges and many innocent citizens. All this to say, culture runs through the valley like the spectacular river that rushes down from the mountain passes above.
And then there's the food. In more than three months, I never had a bad meal. Certainly, I ate simple meals—a basic wood-fired pizza or a traditional board of cured meats, local cheese, pickles and fresh grated horseradish—but in its simplicity, this food was perfect. Mostly, each mountain refuge that called my name offered more spectacular food than the next. Each time I swore I'd return to a certain lodge again and again, I found something different, something better in a different direction the following day. And this was true to the very end of my stay: I was still discovering new skiing and new food after more than three months of skiing six days a week.
On the slopes above Ortisei, the mountain is called Seceda. With far-reaching views across the Dolomites and steep pitches to the valley below, it boasts 21 mountain restaurants. One of the busiest of these is Sofie Hütte, close to the very top. With sophisticated but rustic- cozy mountain design—plenty of pale wood tones, contemporary lighting and velvet chairs—it also boasts its own gin called 8025 (the height of the cabin in feet), and a lengthy menu of Süd Tirol delicacies such as goulash with speck dumplings, and speck (a Tirolean cured ham), eggs and rösti potatoes.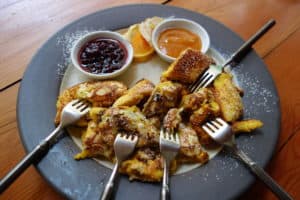 As if endless skiing on excellent pistes that make even intermediate skiers look better than they are, breathtaking scenery, and fantastic food weren't enough, there's also the opportunity to take part in a record-breaking ski race for keen skiers. Time your visit for early April and you too could join over 700 other racers from all over the world, including current and former World Cup skiers, in the Süd-Tirol Gardenissima.
The Gardenissima took place in 2022 after a two-year COVID hiatus. On a radiant sunny day with 75 centimetres of fresh snow, the world's longest giant slalom race carved up the slopes above Santa Cristina. It's a race of epic proportions, stretching over a six-kilometre course with 115 gates and a vertical drop of 1,033 metres. That's nearly three times the average drop of a men's World Cup GS. In the afternoon a further 300 children took part in the Gardenissima Kids', winding through 62 gates, down the steepest part of the course.
It turns out there's just over one minute that separates a World Cup skier from an amateur like me. In a sport where Olympic medals are decided on differences of one one-hundredth of a second, a minute is a lifetime.
However, the remarkable thing is that I had a chance to compete alongside many of the great names of ski racing including current downhill Olympic bronze medalist Nadia Delago, dual Olympic medalist Christof Innerhofer and world cup slalom medalist Alex Vinatzer. You and your children can do this too!
An awesome experience, the Gardenissima left me blowing like a steam train, with burning thighs and aching neck, to say nothing of four days of muscle aches. But the euphoria lasted nearly as long as the pain and the knowledge that the oldest male skier, Michael Kritzinger, 79, posted a time 23 seconds faster than mine was truly awe-inspiring.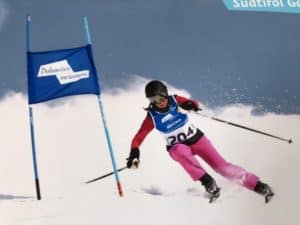 Do you want to know the very best thing about Val Gardena? As an English speaker, you'll be a curiosity. This amazing valley mostly sees tourists from Holland, Germany, Poland and Scandanavia, which means you'll be able to enjoy everything that this special place has to offer without bumping into your neighbour on the ski lift. Now you know the secret.
Registration for the Südtirol Gardenissima 2023 opens at www.gardenissima.eu in November.
To find apartments contact the tourist office in Ortisei: ortisei@valgardena.it
Apres-ski drinks: Bar Pitla Stua: Strada Rezia, 208, 39046 Ortisei BZ, Italy
Excellent pizza: Cascade, Strada Promenade, 1, 39046 Ortisei BZ, Italy
Local specialities: Snetonstube, Streda Sneton, 26, 39046 Ortisei BZ, Italy