Story by Pam Dillon
Photography by Marc Fowler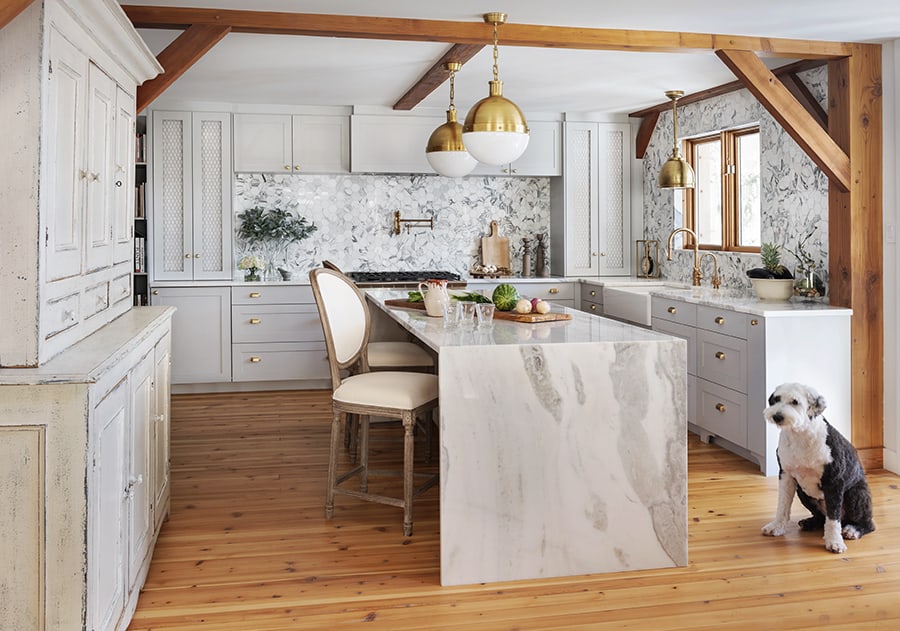 Striking a perfect balance between rustic charm and refined luxury
Meandering through Henrietta Southam's Instagram profile is not unlike wandering gingerly, expectantly, through an art gallery. You know as you move along you will pause time and again to marvel at the alchemy of shape, light, texture and form. The Ottawa-based creative designer is a master visual storyteller.
No wonder one of her IG followers was moved to make a connection. Via email, the then-stranger, a CEO, revealed she liked Henrietta's work, had purchased a home, and wanted the designer to relocate its principal bedroom to the main floor.
In a second email she elaborated. "Our style tends to be eclectic but more Restoration Hardware-ish," she wrote. "We lean towards comfort (we have big dogs) versus formal. I don't shy away from colour and like a wow effect when you walk in our home."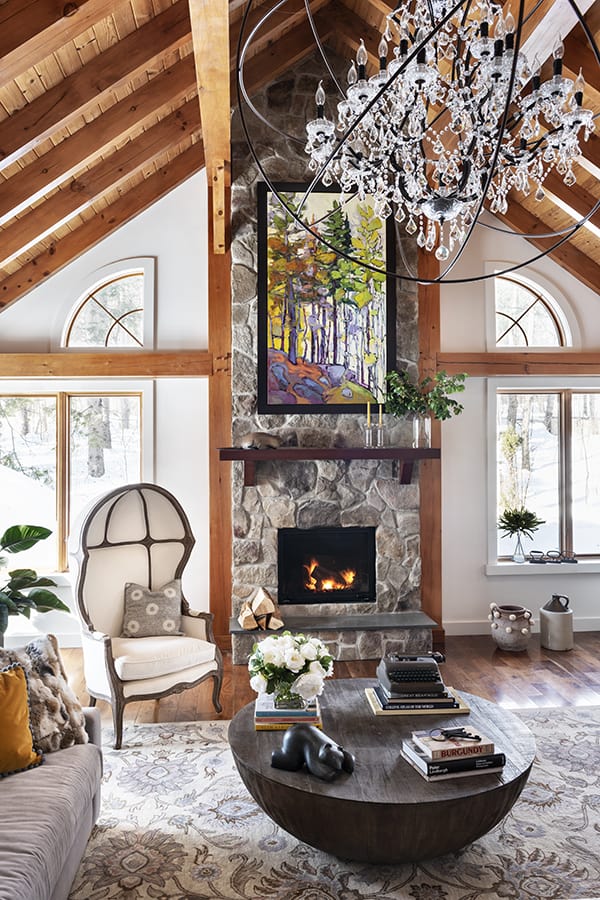 Admittedly, that follow-up message gave Henrietta pause. "My senses go awry when a client foretells the style we will be using," she confesses, adding any concerns were soon assuaged. "I was swayed by her choices and supremely happy that here was a client who put her words into action: Size became the wow factor."
Indeed it did. And not just in the design elements. Once the small project started to take shape and the client recognized the talent at hand, the size of the project grew dramatically. "What was supposed to be a bedroom renovation became a full-out spatial reconfiguration of the two main floors," Henrietta explains.
"Alongside an added walk-in closet and a completely overhauled master bath, I undertook a complete gourmet kitchen revamp, enlarged the secondary entry to become the main, fitted a mudroom with a doggie shower, found room to add a guest bathroom in the guest bedroom, and added a powder room where a pantry once was. Finally, a derelict two-tiered balcony was rebuilt to allow a three-season outdoor dining room veranda off the kitchen."
Long before the hammers came out, there was an introduction. On a winter day at a chalet overlooking a lake near Tremblant, the creative met the client and her husband. "My hosts were vivacious, quick-witted, deliciously intelligent, and immensely welcoming." As they chatted, the designer's eye for style blinked with recognition: "They had discreet, but exquisite taste. It showed in the care placed in their choice of materials. Whether wood, stone or metal, each finish was luxurious to the eye and to the touch."
That's when it dawned on her. "I was being hired as an honest and discerning sounding board to the real ring leader: my impeccably dressed, superbly confident, trailblazing client."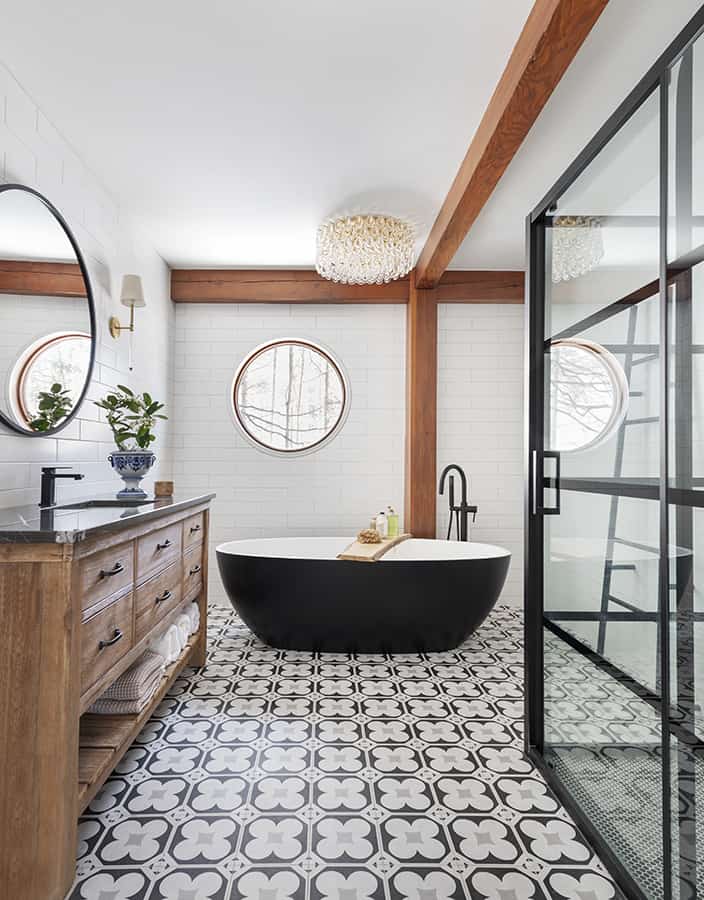 There was no taking a back seat in tackling the design challenge, though. Since the 5500-square-foot house boasted post and beam architecture, there were considerable constraints in finding space and appropriating volume. Not a single beam could be relocated or eliminated. "The process of splicing space was much like solving a Rubik's Cube," Henrietta says. "If you pushed one way you had to contend with a changed space on the other side." Naturally, she was in her element. "This type of conundrum is music to my creative soul."
Practically, the solution entailed moving every wall between every beam of the main floor. A long central hallway became part of the principal suite, off of which a walk-in closet was built. To accommodate a more spacious entry, the laundry room was moved downstairs, while a mudroom was added with a pet shower for the three dogs.
As a concept, the transformation was called Barnyard Beautiful to represent its juxtaposition of different worlds: earthy and elegant. "The rustic pastoral bones and setting are layered with the polish and elegance of a more refined palette," says the designer, adding, "If I had to coin a phrase for the look it would be Haute Chalet, the likes of which you more often see in the European Alps."
The sumptuous kitchen features a hand-picked Mont Blanc granite waterfall island countertop, hexagonal statuary white marble backsplash, lighting from Circa Lighting through Cadieux, and a faucet and pot filler imported from Waterstone Faucets in the U.S.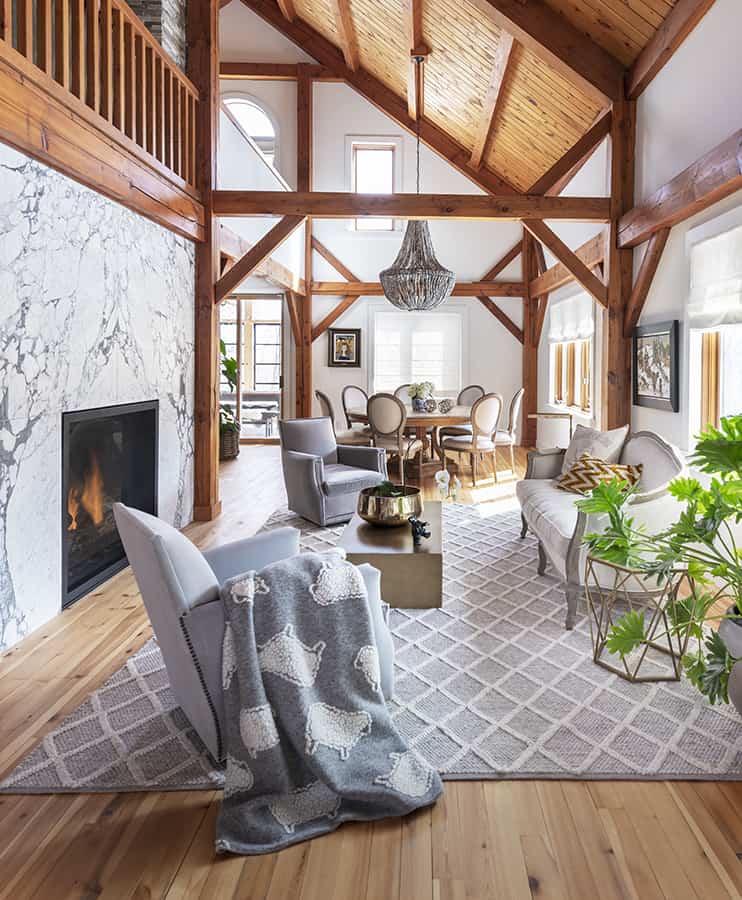 Henrietta says the client discovered the antique hutch at Le Coq Rouge in Saint Jovite. "The hutch had recently been removed from a nunnery where it had been used and useful for over 200 years." The kitchen cabinets also have a story. "This was without a doubt the most complex kitchen cabinetry layout I have ever designed," she declares. Calling symmetry and balance the "cornerstones" to her aesthetic, she describes the complicated process to achieve that equilibrium with unmovable beams in play. "It worked out," she observes, calling it "a magic trick."
Another tour de force, the principal bathroom design, led the rest of the interior in striking a perfect balance between rustic charm and refined luxury. Floor-to-ceiling tiles (a Henrietta Southam signature style), a black bathtub from Victoria and Albert and luxe lighting sparkle with refinement while the dresser-style vanity "brings the earthiness of the beams down into the room."
As for other wow design factors, Henrietta says, "One of the more incredible features of this home is the matchstick marble fireplace surround. Crafted by Paolo Pereira at Arban Stoneworks, it is a floor high and wide and surrounds the largest Napoleon gas fireplace on the market." In addition, she says two clay bead chandeliers, hanging from three stories high, help to make the grand home feel more intimate.
While the designer fulfilled her client's wish to pare down the wood in the structure, she put her foot down when it came to the staircase. The husband and the contractor wanted to replace its wood railings with glass, but she pointed out its visual effect was that of a painting by M.C. Escher: an unending staircase. Taken with the notion, the client then doubled down on it, literally, by adding a mirror wall in the stairwell for twice the stairs.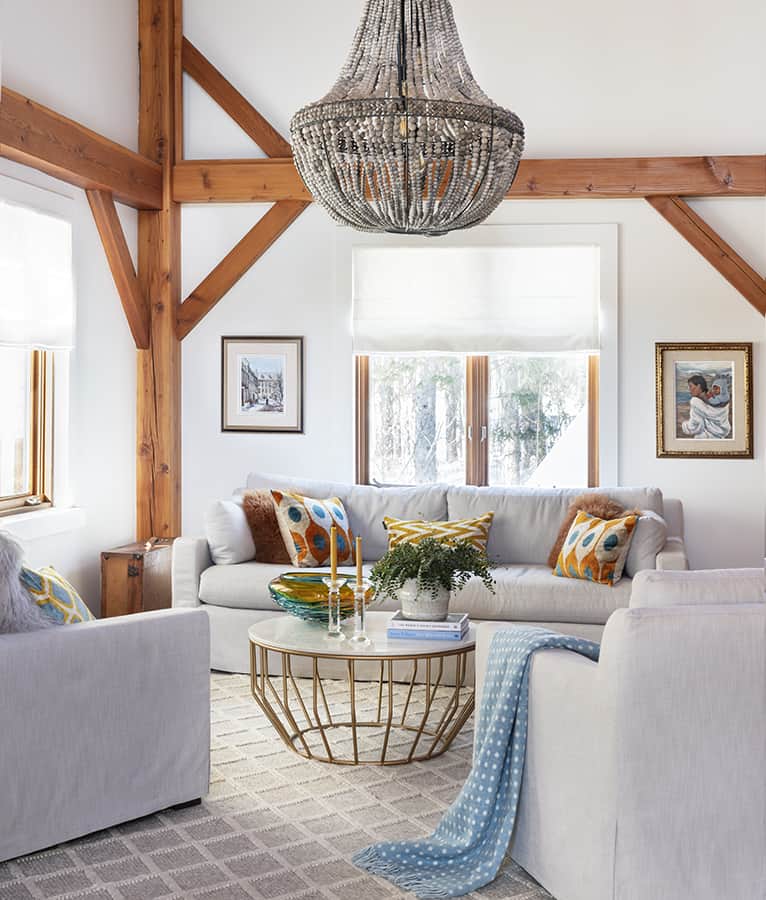 The walls were painted Oxford White by Benjamin Moore and now serve as the perfect backdrop for an art collection the designer describes as "one of the more thorough, thoughtful collections of work by present-day Canadian artists I have had the pleasure of working with."
Fittingly, the yearlong process to create Barnyard Beautiful helped shape Henrietta as a more efficient designer. The client, she says, "taught me time was of the essence, delegating was essential, and putting trust in hand-picked trades was also key to success. I have not looked back since."
Instead she has gone back. "Work was completed before Thanksgiving in 2019 and I was invited to their beautifully set dinner table on the three-season veranda. We gave thanks for the bounty we shared and revelled in our blossoming friendship."