Grand Velas Riviera Maya
By George Coyle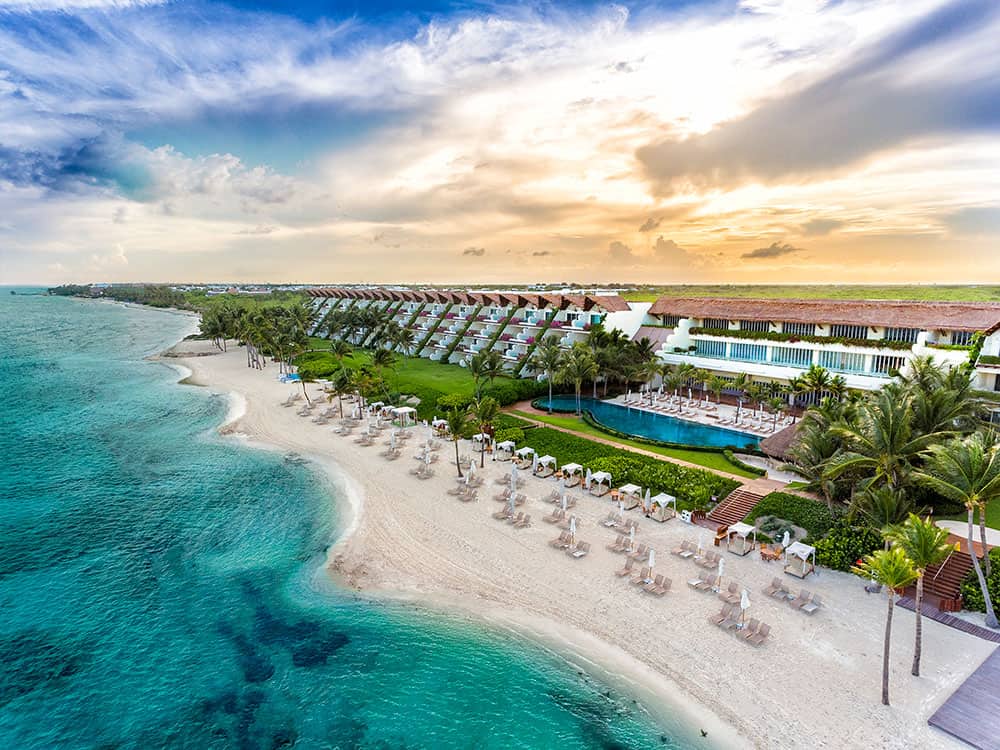 When it's time for sun and sand, I want a luxurious tropical vacation with amenities and services that are second to none. After all, time away is at a premium so the experience should be spectacular. As I discovered earlier this year, Grand Velas Riviera Maya delivers impressively on all fronts. Set on 206 acres in Mexico's Yucatán Peninsula, this sumptuous white-sand beach resort is just minutes from Playa del Carmen, but it's a world apart from the customary all-inclusive Caribbean choices.
I was hesitant to go to an all-inclusive spot, as I don't typically find they are five-star quality, but Grand Velas proved me wrong. This resort was five-star from start to finish. I was also hesitant to go to such a large resort, as sometimes you feel like a number in the crowd and receive perfunctory service to match. Wrong again. The opposite was true at this upscale oasis on Mexico's Caribbean coast.
While Grand Velas does offer all the comforts and indulgences you can imagine—such as gourmet dini ng at five signature restaurants and deluxe pampering at a spa that has been named "Best Spa in the World"—there's nothing impersonal about the approach to hospitality. You can relax and enjoy the VIP treatment, from a 24-hour personal concierge and 24-hour gourmet suite service to personal greetings from beach and poolside waiters who are always ready to assist you.
Set on 206 acres in Mexico's Yucatán Peninsula, this sumptuous white-sand beach resort is just minutes from Playa del Carmen.
Five Diamond food and service
In fact one of the reasons this resort regularly collects prestigious international awards for excellence is that it flawlessly combines the exclusive ambiance of a small, intimate locale with the lavish, comprehensive offerings of an expansive, world-class holiday place. Grand Velas does so by offering three separate and distinctive vacation experiences.
The Ambassador is dedicated to family enjoyment. Situated close to the Kids' Club, Teens' Club and fitness center, this all-ages realm features 195 spacious suites, plus attractions and activities to please both youngsters and grownups. There's even a baby concierge, so parents can unwind and have some fun. The Zen Grand is all about relaxation. A lush jungle sanctuary that's a brief shuttle ride from the main resort, this verdant tropical refuge includes 254 suites, two gourmet restaurants, an inviting pool and koi pond.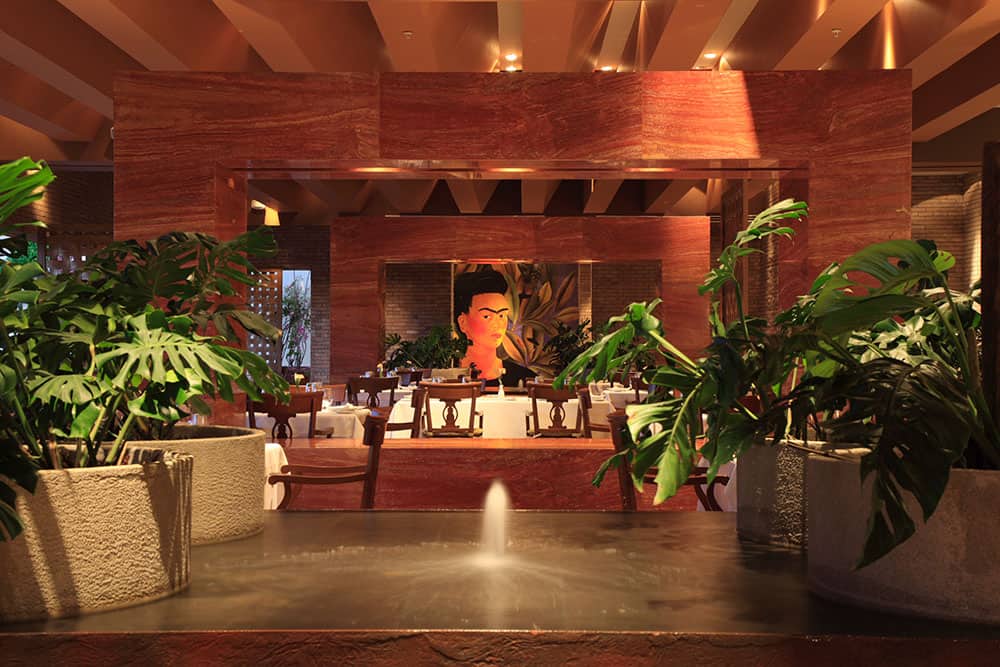 Finally, The Grand Class offers an amazing, ultra-luxurious beachfront experience, and we embraced its advantages and many pleasures. Mere steps from the sand and the scenic waterfront, this enclave is home to just 90 elegant suites. All over 1300 square feet, they feature ocean views, large private terraces, private plunge pools, and well-appointed bathrooms with Jacuzzi tubs and rain showers. From the fully stocked mini bar and artisanal mezcal to the plasma TV and Nespresso coffee machine, we appreciated all the creature comforts. But the service was even more spectacular. This was one of the best service experiences I have ever had at a resort. A personal concierge was available around the clock. Anything we needed they got for us with a smile, and they knew our names everywhere we went.
As we all know, however, while the linens may be fine and the pools inviting, if the food at a resort isn't excellent, the whole holiday is a letdown. Lucky us. Superb cuisine is an integral part of the Grand Velas experience.
Destination for Foodies
Again, one of the reasons I was hesitant to consider an all-inclusive resort was that I questioned the likelihood of it having five-star quality food. Having dined incredibly well, I know better now.

In fact, this resort is considered a destination for foodies. Its AAA Five Diamond restaurant, Cocina de Autor, is the first all-inclusive restaurant in the world to win the prestigious distinction, and three of its other gourmet specialty restaurants, Frida, Piaf and Sen Lin, have earned Four Diamond merit for excellence. Even the simple ordering of lunch on the beach was a noteworthy treat. Refreshing gourmet fare was artfully presented in a wood box and delivered directly. We were very impressed and surprised.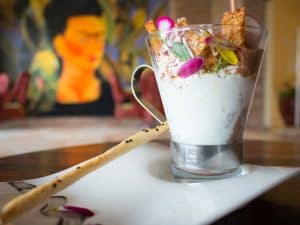 At Grand Velas, there are dining options to suit all tastes and preferences, including French, Italian, Asian, Mexican and international fare, along with settings geared to families and those reserved for guests aged 16 and older. The Five Diamond restaurant, Cocina de Autor, presents fresh, imaginative fusion cuisine that genuinely dazzles. The ambiance is tasteful and the dress code is "elegant-casual," so we reserved a table, discarded our beachwear—however briefly—and sat down to savour a 10-course tasting menu with dishes that rivalled some of the best I have sampled in North America. It was an unforgettable occasion.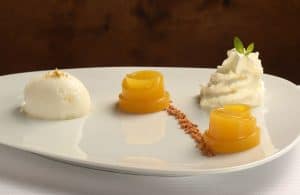 Named after iconic Mexican artist Frida Kahlo, Frida is a family-friendly eatery that offers classic Mexican cuisine with a contemporary twist. You can decide to dine inside or outdoors on a terrace with ocean views. A dining destination to please the senses, Piaf offers an evening in Paris. Named in honour of beloved French chanteuse Edith Piaf, this romantic setting serves up inspired French fare accompanied by great wines, live music and consummate service. Considered one of the finest restaurants of its kind in Riviera Maya, Sen Lin offers diners a taste of Riviera Maya mysticism along with Asian culinary traditions. Combined, the exotic jungle setting and the striking flavours of China, Japan, Korea, Vietnam, Malaysia and Thailand deliver a feast for the senses.
At Lucca, guests tuck into Italian-Mediterranean offerings, from linguini and risotto to tiramisu and semifreddo, and at Chaká, a casual, open-air restaurant sounded by the jungle, the menu features fresh, natural, healthy choices, and flavours that celebrate the landscape. If there are picky eaters in your group, there's something to please everybody at Azul, a casual beachfront restaurant. Sushi and tempura, tacos and quesadillas, teppanyaki and satay, pizza and pasta, chicken wings and burgers, steaks, fish—it's all available. The Bistro is another casual oceanfront dining spot with breakfast, lunch and dinner menus. It's reserved for the 16+ crowd.
There are several different lounges too. From swim-up cocktails at the Aqua Bar and sunset drinks at the rooftop Sky Bar to live music at the Sen Lin Bar and on-screen sports action at the Koi Bar, there's a setting for every mood and inclination.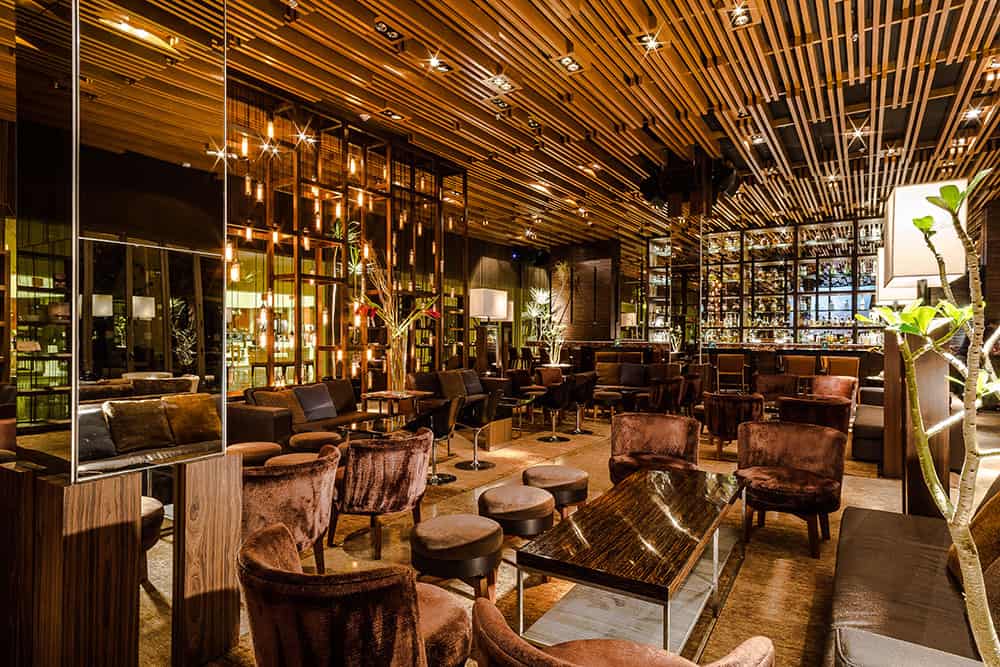 Named Best Spa in the World
It's the spa, though, that will blow your mind. Virtuoso, a network of top luxury travel agencies, has named it "Best Spa in the World" and I'm not at all surprised. I have been to many spas at international destinations, and this one was definitely the best. The space is huge and extraordinary, with 40 treatment rooms, including some for couples. And in keeping with the rest of the resort, service here is superb. Naturally, there's a dedicated spa concierge.
We arrived two hours before our treatment to experience the signature water ceremony. I'm glad we did. Called the Grand Velas Riviera Maya Water Journey, it's a tour through eight different water experiences that offer the healing properties of hydrotherapy. These specially designed features include a clay room, a colour therapy steam room, an ice room with a floor-to-ceiling window, sensation showers, a hot tub and cold plunge, a Jacuzzi, and a sensation pool. This central infinity pool has powerful massaging faucets throughout, along with bubble beds, neck massage jets, a sensory pebble walkway and more. It was truly amazing. By the time the ceremony was over, we were incredibly relaxed and exhilarated.
The spa offers a whole host of other pampering and rejuvenating possibilities, from facials, massage and body treatments to salon services such as haircuts and styling, mani-pedis, waxing and men's grooming. A coffee and cocoa experience, an organic Xtabentun honey face and body massage, a citrus body wrap, a Hindu foot and scalp massage, and a meditation bath are a few of the options you may want to try. Be warned though: the notion of lolling around your personal plunge pool or private terrace while noshing on hand-delivered gourmet treats will seduce you. Why go anywhere when your elegant oceanfront suite offers a slew of luxuries, plus a scenic view?
Go anyway.
You don't want to miss the opportunities here. Let that view of the azure ocean entice you to get moving. Trying kayaking, boogie boarding or snorkeling around a coral reef, then kick back on one of the loungers along the pristine, 1,000-foot-long beach. Work up an appetite for tonight's dinner (or try working off last night's crème brûlée … and dark chocolate soufflé) with a pilates class or a yoga session. There are also two well-equipped fitness centres on site, with personal trainers available, not to mention three inviting pool areas.
And besides taking in the daily entertainment and activities on the grounds, you can head out on excursions to discover ancient
Mayan ruins, explore the Xcaret Eco-Archeological Park, visit the Biosphere Reserve of Sian Ka'an, or snorkel and swim among tropical fish at Xel-Há, a vast natural aquarium.
Wherever you may venture, though, the many indulgences at
Grand Velas Riviera Maya will entice you to return. It's truly a must-visit destination if you want to experience ultra-luxury Five Diamond service and food. There's no worrying about paying a bill, as everything is included. I highly recommend it.