Art & Stone Group earns major kudos for this modern Tudor beauty
By Pam Dillon
Photos by Kevin Belanger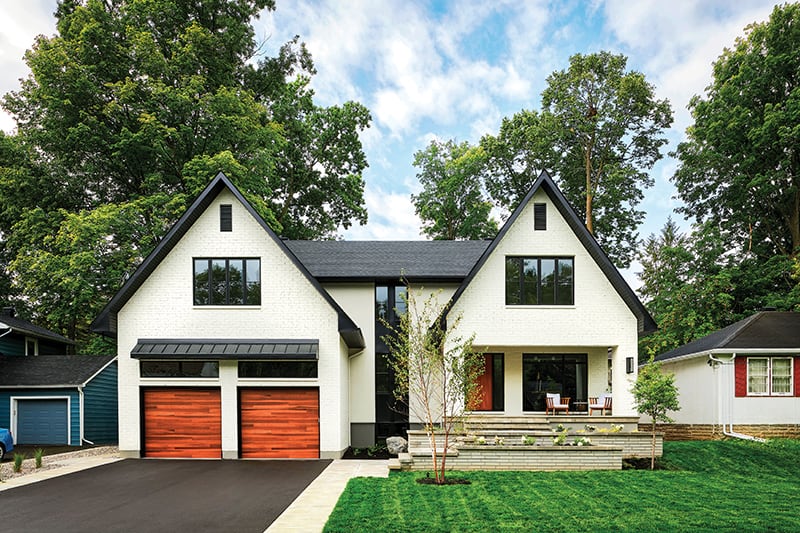 The Brunettas are a busy family. Mom Victoria and dad Josh are sales professionals; she owns Brunetta Real Estate Group and he sells medical devices for Ambu. Their three boys—Niko, 9, Noah, 6, Nathan, 3—and their dog, Bambi, keep things hopping on the home front. No wonder the mudroom, or lack thereof, prompted a big life move.
With too many bodies and not enough cubbies, these Alta Vista residents decided to build their own home. For all involved, the decision proved fortuitous. The Brunettas are thrilled with their new digs, and the builder, Art & Stone Group, earned a slew of top honours at the Greater Ottawa Home Builders' Association's 2021 Housing Design Awards. Not only did Art & Stone win Custom Builder of the Year, the local company took home four additional trophies, including three different awards for this particular home: Custom Kitchen (251 Sq. Ft. or More) – Contemporary $75,000 and Under, Powder Room, and Custom Urban Home (3,001 Sq. Ft. or More) – Contemporary.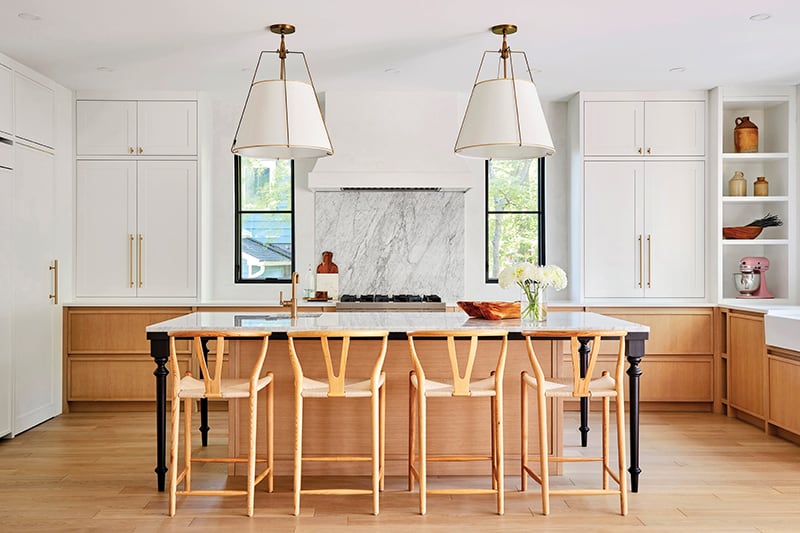 That's a lot of kudos, especially when you consider the new homeowners almost decided to renovate instead. They lived in a mid-century modern Chalmers-built home they adored, but, well, muddy boots and paws were an issue. As Victoria puts it, "With a growing family and surprise third child, the lack of mudroom space, especially in Ottawa winters, was apparent." An extension was considered, so was a second-storey addition; neither choice seemed like the right solution. As luck would have it, an opportunity arose to purchase a tear-down house on Marshall Court, a nearby enclave the real estate pro had long admired. "The street is extremely private and is lined with ancient trees and stately properties. It feels like its own neighbourhood within Alta Vista."
They bought it, then started jotting down priorities for a residence to fit their family lifestyle. Mentioning she and Josh share "a passion for travel, art and entertaining," Victoria says their travels inspired them when it came to the design of their new place. "In our home you will note a small collection of Canadian and Ottawa artists, mostly from Wallack Galleries," she adds.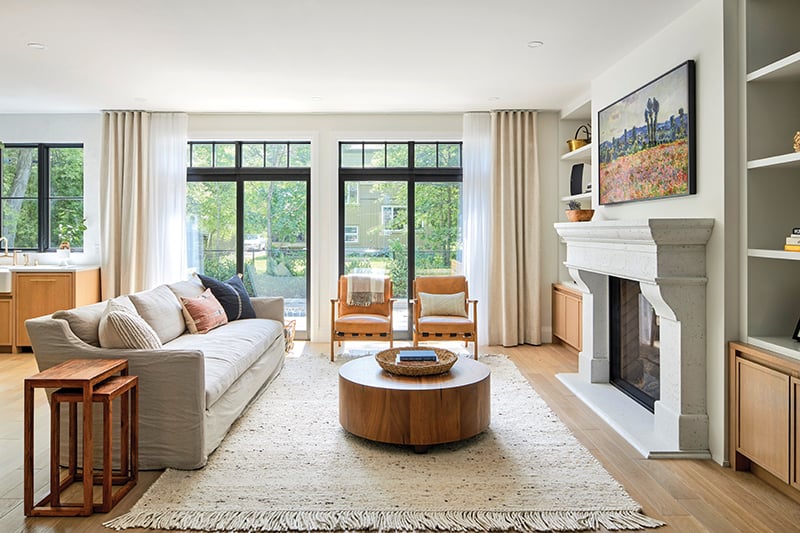 After meeting with Ottawa architect Bill Ritcey and handing over "a three-page summary of needs and must-haves," they went on to work with Bill along with designer Tanner Vine and Art and Stone's Andrew Decristoforo. As a third-generation custom luxury home builder, Andrew has been building homes through his own company for about 11 years. He has also played professional hockey in Europe, earned a bachelor's degree in design and completed a master's degree in economics.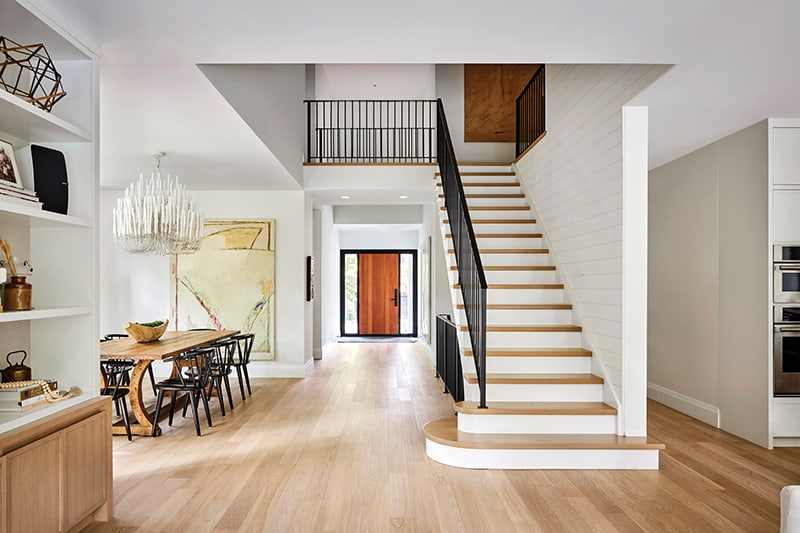 "His incredibly deep knowledge and expertise really show in the end product," says Art & Stone's chief operating officer Alexandra Corriveau, who's Andrew's life partner. She also has high praise for the architect and designer who worked on this project. "Dream team," she calls them.
Undoubtedly, it was helpful that the Brunettas knew what they wanted: a modern Tudor home. As a long-time Ottawa realtor, Victoria says, "It was important to me that the home be unique, and somewhat atypical of the modern infill projects that were going up around the city."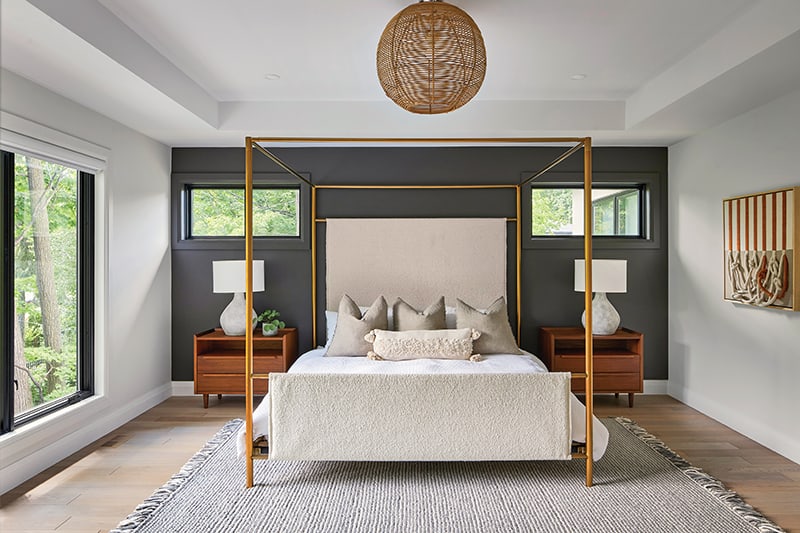 Priorities included a timeless exterior presentation, a warm, modern interior, a good layout and practical functionality to meet the family's needs. "We wanted a lot of natural elements," the mother of three explains. "We wanted art and nature to find rhythm in the design and overall feeling." She also says, "I was adamant about painting the brick and having the masons apply the stonework in a messy, weathered manner to give depth and history despite it being a brand-new home."
The residence, just shy of 4,000 square feet, has white oak flooring and millwork, Carrara marble countertops, Venetian plaster kitchen walls, oversized windows and a front porch. The kids' playroom has a mural by Ottawa artist Robbie Lariviere, the concrete fireplace surround was custom-made in British Columbia and the solid wood front door was handmade by a local craftsman. The striking modern Tudor exterior is unique but also blends beautifully into the established neighbourhood.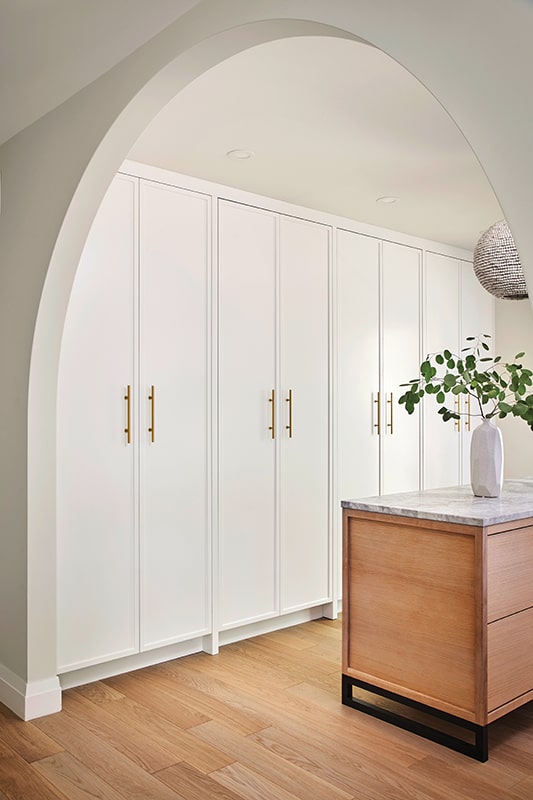 "It's our dream home," says Victoria. "We absolutely love it." In fact, even though building started a week into the pandemic, this "actually was a blessing," she declares, "as we were one of the few with permit in hand when the city went into its first lockdown. Our builders were efficient and wonderful to work with, and we would do it again provided we wouldn't have to move off Marshall Court."