By Reba Wilson
Photos: DreamProperties.com
In the past few months, we have undergone a new shift towards working remotely. With many large firms rethinking their office footprints, it seems working from home will become a long-term trend.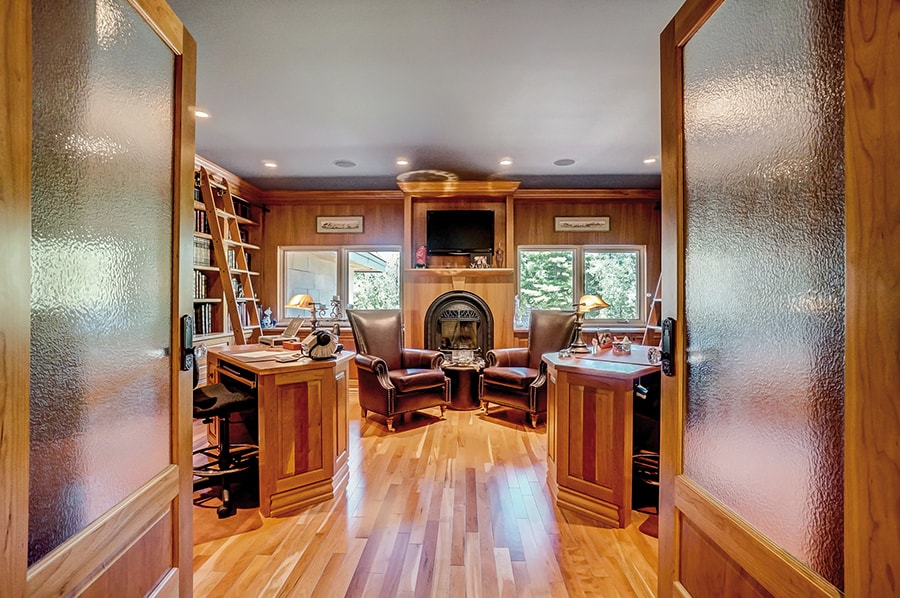 John Lindgren, president and CEO of IPVALUE, has been working remotely for years. The patent commercialization specialist's office is headquartered in Santa Clara, California and has a second outpost in Bridgewater, New Jersey. John has long been on a two-weeks-in-California, two-weeks-in-Ottawa schedule; it was even built into his contract. He explains that roughly half of the company works remotely and appreciates the "save in commute time." Those who are used to travelling into the office have had more of an adjustment during the past few months, with one Silicon Valley-based executive with children, a Work from Home (WFH) spouse and no formal study spending his days working off a card table in a garage with no air conditioning.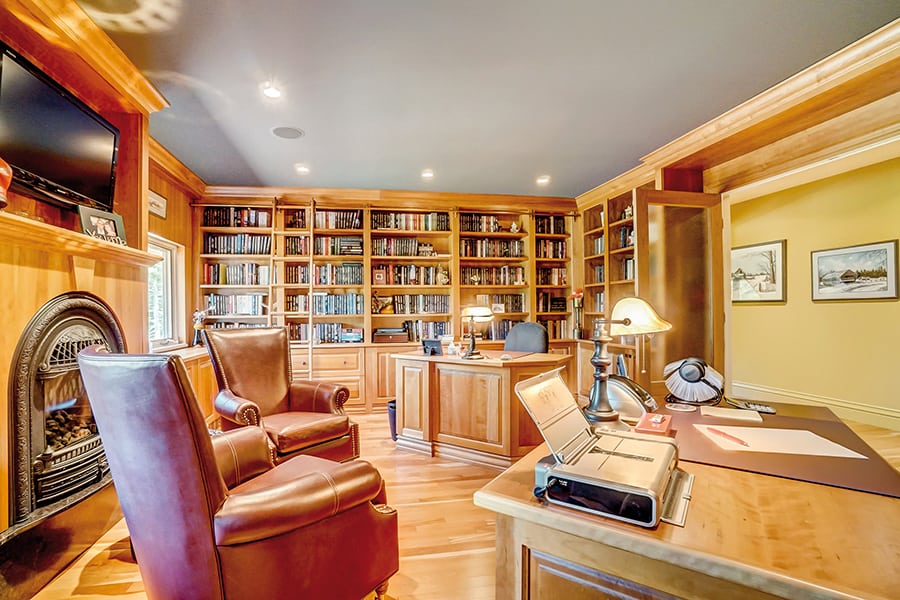 John's work-from-home setup centres around a fantastic main floor study. "It is a place I actually really like going to," he says. The CEO's must-haves for a home office include "space, long sight lines and total peace and quiet." Thankfully, John's study shares just one contiguous wall with the rest of the house and is thus "totally sound isolated." Accessible via his front foyer, the room is private from the rest of the home so any on-site meetings will not interfere with family dynamics. The study occupies its own turret and features a cedar-vaulted ceiling and stunning custom built-in cabinets.
When John's family moved into the home, their renovations included replacing the office's panelling with rich tongue-and-groove cedar planks that extend all the way up to the 25-foot ceiling. They also planked over and stained the cedar crossbeams to match. The room is octagonal with a conical eight-sided roof. "I love it. The shape of it makes me feel more creative," says John, who enjoys views of a picturesque streetscape and side patio from his desk.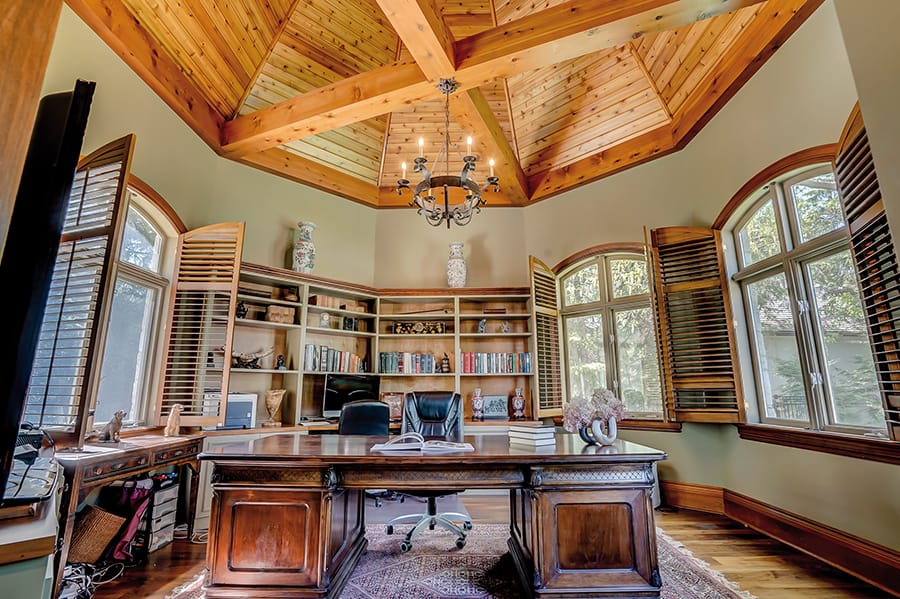 John's workplace privacy is ensured by encrypted email links, virtual private networks and, he admits "the things we discuss on Zoom would be boring to most people because we are a very niche industry." A stable, fast wireless network is a necessity, and John often projects his laptop onto the 60-inch wall-mounted flat screen—though some evenings he retreats to his study to enjoy sporting events and the news on it.
Designer extraordinaire Dylan O'Keefe of O'Keefe Fiorenza Design Group explains that most of his firm's city-based projects always included home offices.
As with real estate, the placement of the home office centres around location, location, location. Clients want "proximity to the front door and to be tucked away from the main living space," explains Dylan. This is to ensure reduced interference with family activities from noise and professional visitors. Though excellent WFH spaces have long been sought after, the pandemic has influenced the designs of Dylan's retreat projects. "Now for the first time, clients are asking for a workspace in their cottage or chalet whereas six months ago that would never have crossed their mind," says Dylan, subtitling working from home as working from anywhere. As such, many clients have reimagined spaces that were "more of a study than an office pre-COVID." Such leisure spaces, previously more aesthetic and relaxing than productive, featured book display and comfortable seating. Now, they've been repurposed as working offices.
When placing at-home offices, Dylan considers sound, but also strives for north-facing rooms when possible as they afford "stable, limited sun" rather than full-on western light that might overwhelm the space and make it harder to concentrate. Rooms with views are excellent options, but windows should incorporate some sort of "light control," such as drapery. And when it comes to light, the designer suggests "a multitude of different light sources" from overhead lights on dimmers to lamps to undercabinet or feature lighting in cabinetry or bookshelves. Calm, neutral colour palettes work best. "I personally don't like strong, intense, loud colours in my workspace. It's tiring," says Dylan, who himself has worked from home for seven years. Softer textures also help as they absorb sound and create ambience.
Personality also plays big: once the study has been placed, every client has their own requirements for the inside of the space. Some niche choices have included a whiskey room off the study for hosting small
gatherings and one client even had the study designed to incorporate a view of his trophy car through a feature window. Dylan anticipates future projects might call for "more elaborate subsidiary spaces, not just the individual office. I think what we haven't really seen yet but will be coming is where the office takes up not just one room," he says, citing the fact that many large companies are reducing or eliminating collaborative office space in favour of a work-from-home culture.
For those looking to build a study from scratch, I turned to Dan Ladouceur, co-founder of custom homebuilder Novera Homes, to offer up tried-and-true advice on home office success. The recipe is a combination of technology strategy, comfort and quality building.
The builder is currently renovating an older Glebe home for a Shopify employee who is converting an alcove over the front porch into a fabulous office. The makeover involves replacing the existing windows with triple-glazed ones to keep the space warm in winter and flattening the floors, as well as installing upgraded Ethernet wiring to ensure optimal Internet speed with a ground connection. Dan explains that in addition to having enough plugs and wiring, including Wi-Fi repeaters for optimal connectivity, you also want to focus on the less technical side. The ergonomics of the office, from excellent lighting to "having a space that is comfortable from an HVAC perspective" are important to.
Dampening sound transfer is another necessity. The use of resilient channels—an insulation technique that involves installing zed-shaped pieces of metal horizontally between sheets of drywall to create noise-minimizing air gaps—goes beyond the Building Code to help soundproof rooms. To take this a step further, you can even add insulation into the wall cavity itself.
"Almost every time we do a house, we end up putting a home office in it," says Dan, who himself shares a home office with his wife. The couple spend a lot of time there and enjoy the view over their backyard as well as the light that this affords.
Home may be where the heart is, but it has now also become where the productivity is. Creating a work-from-home space involves privacy, personal touches and a top-speed Internet connection.
Reba Wilson is a freelance writer specializing in real estate, lifestyle, travel and food articles. She is also a luxury specialist broker with Christie's International Real Estate in Canada.